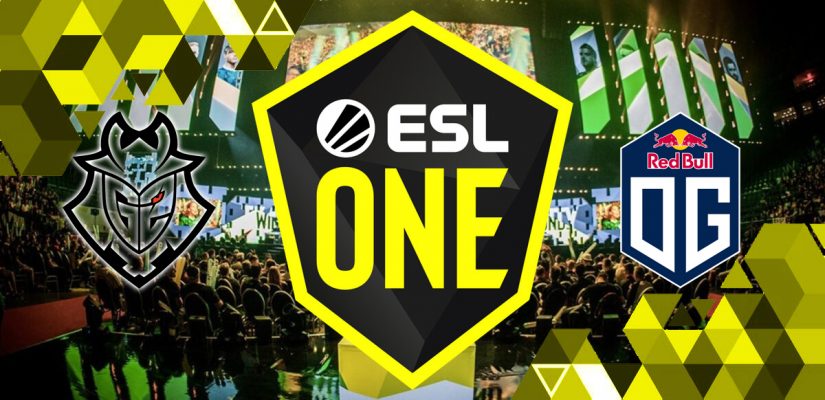 Thus far, we've kind of avoided the European ESL One Cologne event. And for all the right reasons, mind you – numerous "favorites" are already out of the competition following a series upsets that left CSGO betting enthusiasts scratching their heads in disbelief. So, why are we trying to break the deadlock with risky G2 vs. OG predictions? Well, I reckon it's about time our losing streak ends; I reckon it's about time the surprises stop and we finally get a result backed up by the stats.
And stats-crawling is all we do here! Stats-crawling is, at least in my opinion, the best way of increasing your CSGO betting consistency. True, stats let us down every now and then (more often than not during this event, but still), but that doesn't make them any less of a guideline going forward.
That said, we'll base our G2 vs. OG predictions on cold hard facts, just like we always do!
G2 vs. OG Predictions
We're looking at the third quarterfinals match of the European ESL One Cologne event. G2, arguably the best (or second-best, depending on who you ask) French team at the moment, going up against some of the hottest European talents out there.
Tomorrow our AWP shots will echo through the cathedral of esport.

We're facing @G2esports in #ESLOneCologne Quarterfinals and you don't want to miss that!

? 28/08
? 15:00 CEST#DreamOG pic.twitter.com/IEInD4d8ng

— OG pew pew guys (@OGesportsCSGO) August 27, 2020
Remember folks – we're talking about the playoffs here; it's a single-elimination system meaning there's no room for second chances. The team that loses the match is out of the competition – it doesn't get any simpler than that. Both teams will give their A-game, you can bet on that all day any day!
But, in terms of concrete G2 vs. OG predictions, stuff like recent results, map pool info and individual player qualities is what we'll have to check out before making up our mind. It's going to be a lengthy process, just like it always is, so fingers crossed it's worth our while!
Recent Results
OG's path to the quarterfinals was a bit on the rough side. They won against NiP in what was a pretty surprising outcome, but then lost against Sprout in the second round. They battled against MAD Lions for a spot in the playoffs, and absolutely demolished them on both Nuke and Dust 2.
G2 passed the group stage with flying marks. Two matches, two resounding wins. Nexa was an absolute beast on both occasions. Heck, Nemanja had 1.74 rating in the opening match against MIBR, which just goes to show you what a performance he put on…
Map Pool Info
Here's a quick look at the map pool before we start dissecting G2 vs. OG predictions any further: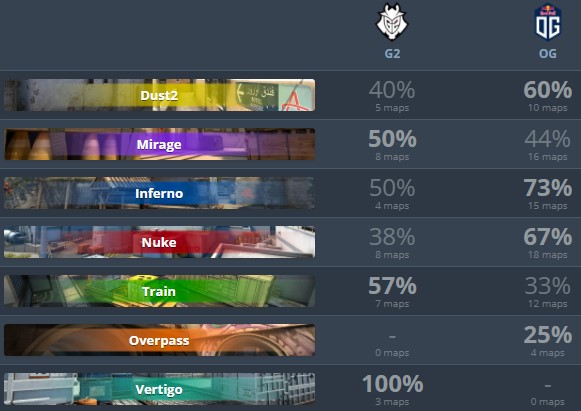 Map pool stats courtesy of HLTV.org
As you can see, OG takes the win in this department. Turth be told, they did play against slightly less-notable teams in recent months, but the difference isn't as drastic as you might think. Don't get me wrong, we're talking mere nuances here, but nuances which point out that OG should snatch at least one round against G2… assuming they play their cards right in the banning phase.
Individual Player Qualities
I don't think we have a clear winner in this department. On one end, we have Aleksib and NBK, both of who are regarded as top-notch players but aren't really in good form. Mantuu and valde are there too; they are the duo that keeps pulling all the strings in this OG squad.
On the other end, we have KennyS' experience coupled with huNter's and nexa's fragging prowess and impeccable game sense. When the Balkan duo is having a good day, G2 is playing like a well-oiled machine. When they're out of touch, G2 is as good as toast… That's something I've taken into account before I cemented my picks:
No need for anything fancier here – a straightforward match-winner on G2 is more than suitable, even as a single. Don't get me wrong, -182 isn't the greatest number out there, but considering the players' forms and recent results, it's more than suitable for this kind of a matchup. Once again, this is an elimination match so you can rest assured both teams will bring forth all they have… in other words, G2 FTW!
That's about it as far as our G2 vs. OG predictions are concerned. Thank you, guys, for sticking till the end and hope you manage to get a few wins before the end of this event. If not, there's always another one just around the corner. ESL Pro League S12 is the next big event glooming on the horizon. It starts next week so you better prepare your betting bankroll for another demanding campaign. Let's just hope it's not as upset-friendly as this one…
Odds are courtesy of Betway. You can check out our Betway review here. And for users in the United States check out Bovada for odds.