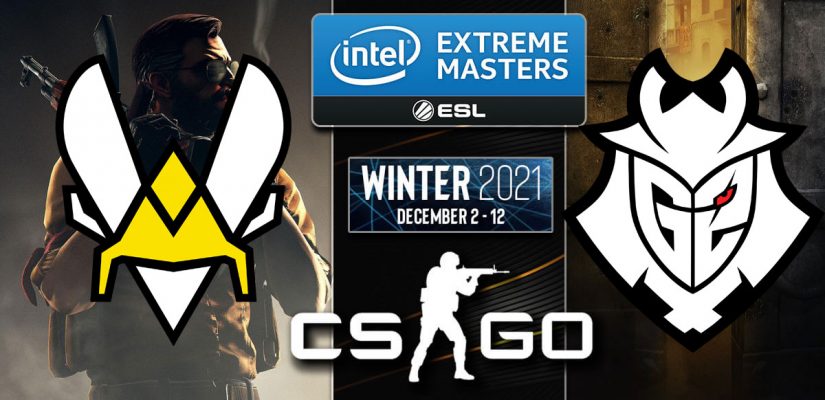 Several top-tier teams have been eliminated from IEM XVI Winter. Astralis and Heroic are probably the biggest names, two world-class teams from Denmark have already said their farewells. Here we have G2 and Vitality fighting for a semifinal spot. Remember, the winner goes straight to the semis, while loser goes to the quarterfinals. Even though elimination isn't on the line here, seeing as both teams will advance to the playoffs, our G2 vs. Vitality betting picks are still in for a thorough assessment. Clashes like these always have value – we just have to find it!
Unfortunately we have to say goodbye to @AstralisCS

This has been their worst ever performance at an #IEM event, we will hopefully see them back in action soon ? pic.twitter.com/gwRH4Z6J70

— Intel®ExtremeMasters (@IEM) December 3, 2021
G2 vs. Vitality Odds
For starters, here are the CSGO odds for this matchup:
Disclaimer – odds are subject to change

G2 vs. Vitality Betting Predictions
Vitality are the favorites coming into this one, though G2 shouldn't be taken for granted. If we take the most recent clashes as a measure, G2's moneyline has far more value. But, let's not get ahead of ourselves here. These two teams have a long history and we'll do our best to unearth everything important surrounding both sides.
G2 Betting Preview
Current Roster
kennyS
AmaNEk
huNter
NiKo (IGL)
JaCkz
Both these teams are two and oh coming into this one. However, we have to point out that G2 had a much simpler path. First off, they defeated TYLOO who gave them a proper headache in the bo1 opener. Then, they took Liquid down 2:0, but both maps went the full length.
As for Vitality, they had to go to the overtime to defeat Mouz, but then won a relatively straightforward 2:0 clash with Ninjas in Pyjamas. What I'm basically trying to say here is that not only G2 had easier opponents, but they also had more trouble with them than Vitality had with arguably better teams.
A part of this goes down to the fact nexa isn't playing on this event. The Serbian IGL had visa issues coming to Stockholm and KennyS had to jump in as the replacement. This pushed NiKo into the IGL role, and we all know just how his IGL spell went with Faze Clan.
With that in mind, this is far from the G2 lineup that reached the PGL Major grand finals, despite having just one substitute. CSGO is a team game, and not having your IGL with you is not good… not good at all!
Vitality Betting Preview
Current Roster
apEX (IGL)
zywOo
shox
misutaaa
Kyojin
Vitality are in great form right now! Even before the opening-round, because NaVi weren't going to compete in this one, Vitality were dubbed as the main favorites alongside Gambit and G2. Fast-forward the first two days and Vitality are two and oh, looking ready to qualify straight to the semifinals without breaking a sweat.
But, even though G2 doesn't have nexa, they are still a very capable team. KennyS adds a dose of AWPing excellence too, though we know NiKo isn't really the best option for the IGLing role. They need him as the main fragger, not as their strategist.
As for Vitality, ZywOo was surprisingly bad in their opener. But, Mathieu turned things around in the second match, getting 46 kills across two relatively short maps, with 96 average damage per round and 1.55 HLTV rating.
ApEX, Vitality's IGL, has been near perfect in both of their matches. We're not just talking about his tactical deployments, but his overall fragging contributions too. He's been carrying Vitality more than ZywOo and that's a nice change of pace for the French prodigy, no doubt about it.
Maps-wise, Vitality are superior on Dust 2, Overpass, and Vertigo. G2 are statistically better on Ancient and nothing else, which gives them a rather big disadvantage seeing as that's Vitality's permaban. As stated earlier, Vitality are the clear favorites here… and I'm sure you now realize why.
Wrapping Things Up
Are you guys ready for final thoughts? If you are, here's what's up:
G2 vs. Vitality Betting Predictions:
Odds are courtesy of BetOnline. Check out our BetOnline review here.
This is going to be an intense match, no doubt about it! I honestly would've gone with G2 here if they had nexa in their starting roster. This way, with kennyS onboard and nexa's IGL role transferred to NiKo, I can't see them defeating a team as solid as Vitality.
With those words, I reckon the end result for our G2 vs. Vitality betting predictions are quite clear. Moneyline on Vitality at -167 is what we're here for!