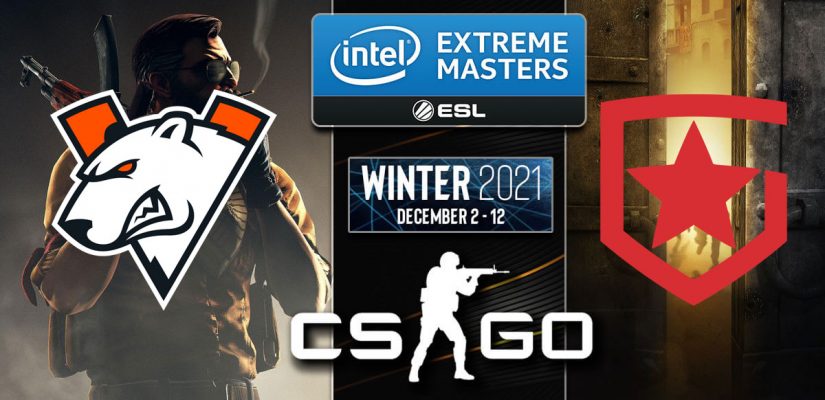 The first day of IEM XVI Winter is behind us. There were some technical difficulties, but overall – it was a pleasant day of CSGO! It didn't bring forth any noticeable surprises, which I honestly didn't see coming. I always expect bo1 upsets, guess this one was not meant to be.
What was meant to be is our Gambit vs. Virtus.pro betting pick! Yesterday, we suggested going total maps over 26.5 on ENCE vs. Virtus.pro, but emphasized riskier over bets too. In the end, the match went to overtime with Virtus.pro taking the narrowest of wins. Gambit, on the other hand, outperformed Fnatic and cruised to the UB R2 clash with their CIS brethren.
What a day it has been, full of some great CS!

More is to come for day 2 of #IEM Winter 2021. In the meanwhile, check out how the brackets are currently formed ? pic.twitter.com/KTxgPhrOcu

— Intel®ExtremeMasters (@IEM) December 2, 2021
Gambit vs. Virtus.pro Odds
For starters, here are the CSGO odds for this matchup:
Disclaimer – odds are subject to change

Gambit, unsurprisingly, are the favorites here. They're one of the toughest teams in the game right now, and they've shown us exactly that against Fnatic. Even though the Swedes took nine rounds on Ancient, the match never looked like it was going in their favor, hobbit and Ax1Le made sure of that.
Gambit vs. Virtus.pro Betting Predictions
Head-to-head matches reveal Gambit's superiority. Virtus.pro have won just one match in recent months, and it was a tiebreaker on IEM Fall CIS, right before the PGL Major. Other than that, Gambit have been the dominant side, and something tells me we're going to see more of the same tomorrow.
But, we won't rush things with our Gambit vs. Virtus.pro betting predictions. We're going to take things one step at a time and dissect both ends of the server.
Let's roll!
Gambit Betting Preview
Current Roster
nafany (IGL)
sh1ro
Ax1Le
Hobbit
interz
It's no wonder real money esports betting websites see Gambit as the strong favorites in this one. They are the only team that can beat NaVi with enough consistency, and they've won not one, not two, not three… but five big events and three smaller ones. In fact, they've only missed out on top four spots three times this year.
Individually, sh1ro is Gambit's strongest player. He's closely followed by Hobbit and Ax1Le, two potent fraggers who often explode in times of dire need. Nafany is known for doing wonders in the strats department. He's often the difference maker even when he doesn't top the contribution charts. Game sense can't be described by raw numbers – bear that in mind if you plan on investing in Gambit vs. Virtus.pro betting lines!
Their map pool is nothing short of impressive too! When compared to VP's, Gambit are slightly superior on all maps. Their map pools are very similar – they even have the same permaban, Nuke! Overpass is one map that I fancy Virtus.pro on, but take it with a grain of salt since Gambit is on the other end of the server.
There's plenty of room for maneuvering in the map veto phase, and if it comes to that, Gambit are destined to win it.
Virtus.pro Betting Preview
Current Roster
Jame (IGL)
YEKINDAR
SANJI
qikert
buster
Virtus.pro and Gambit know each other very well. But, like I said earlier, Gambit are the dominant h2h side here. And while I do value Jame and YEKINDAR more than Gambit's top fraggers, Gambit's teamwork is often times a level above Virtus.pro's.
In fact, their teamwork is what's going to decide this match. It was often the deciding factor in their previous clashes, especially in lengthier best-of series which would almost always go in Gambit's favor. Their impressive team cohesion combined with high clutch potential is something Virtus.pro can't play against.
In fact, we've seen them struggle against ENCE too. Jame and YEKINDAR were in main roles once again, but they almost lost the match even though YEKINDAR accumulated 31 kills. If they had massive issues with ENCE, Gambit are bound to exploit all of their weaknesses with pinpoint precision.
Wrapping Things Up
It's time to end our Gambit vs. Virtus.pro betting picks and call it a day. Here are my CSGO picks for this match:
Gambit vs. Virtus.pro Betting Predictions:
Odds are courtesy of BetOnline. Check out our BetOnline review here.
I know the odds on Gambit to win this one aren't the best. At -263, the value is definitely there, but the return might not be ideal for people not interested in investing large sums of money here. If you're looking for a riskier bet, you can always go for Gambit to cover their spread hee. At +148, it's definitely a viable option, though I'm not exactly sure if they can take VP down on Overpass that easily.