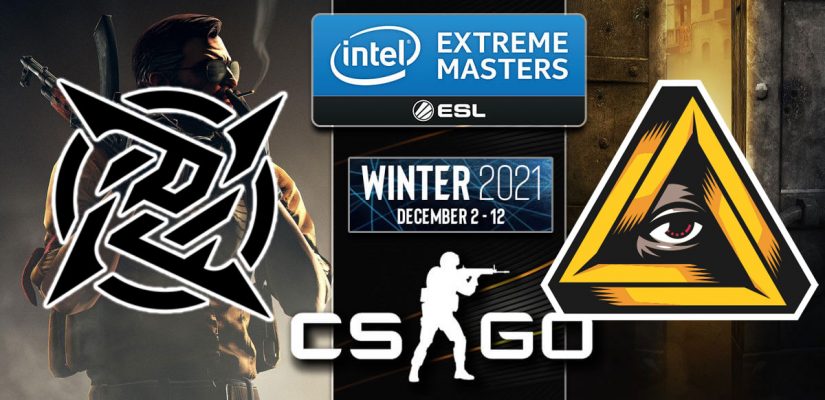 The third day of IEM XVI Winter is just about to be wrapped up. Fnatic and Gambit are still going strong, displaying one of the beauties of the event so far. But, we're slowly turning our attention to day four. More precisely, to GODSENT vs. NiP betting predictions, which are bound to possess plenty of value. That said, if you're going to be betting real money on CSGO this weekend, you better check out our CSGO tips!
We are going ALL the way tonight!@GambitEsports pull back on Vertigo and force @FNATIC over to the third map: Overpass#IEM pic.twitter.com/1hFBPD6U4o

— Intel®ExtremeMasters (@IEM) December 5, 2021
GODSENT vs. NiP Odds
For starters, here are the CSGO odds for this matchup:
Disclaimer – odds are subject to change

As you can see, GODSENT are the heavy underdogs here. They did venture into the playoffs, but they didn't really show that much grit thus far. Sure, defeating Heroic in a bo1 is not to be taken for granted, but I feel like they would've lost to any other team but BIG in the following round. And, mind you, it was a very tough match, one that the Brazilians had to reverse sweep to win.
GODSENT vs. NiP Betting Predictions
So, should you bet on the heavy favorites or test your luck with a high-risk moneyline on GODSENT? Well, that's what our GODSENT vs. NiP betting picks are all about. If you want to get to the bottom of this one, don't stop reading now!
GODSENT Betting Preview
Current Roster
TACO (IGL)
felps
latto
dumau
b4rtiN
GODSENT had a good run coming into this one. Sure, sure, haters will say they didn't really take down any major names… does Heroic mean anything to you? Sure, it was a bo1, but GODSENT still emerged victorious in what was everything but a straightforward game.
They showed plenty of tenacity against BIG too. Latto and TACO excelled against the Danes, while dumau and b4rtiN did the same against BIG. Perhaps GODSENT weren't the best team in the world in these two games, but they sure as heck made their plays count and advanced to the playoffs.
But, we have to point out that Virtus.pro exploited all of their weaknesses without too much hassle. YEKINDAR and the boys stomped over the Brazilians and are rightfully through to the semifinals.

Now the question is – does GODSENT stand a chance against NiP? Well, I honestly don't think they'll do anything notable against them. They might take a map, but I honestly don't even think they'll go that far here.
NiP Betting Preview
Current Roster
REZ
Plopski
hampus (IGL)
device
es3tag
NiP are looking pretty good! They seem to have hit the sweet spot with es3tag shortly after his arrival, and are sprinting towards the semifinals of IEM XVI Winter. Of course, they will not underestimate the Brazilians, but general feeling is that NiP are safe to go through to the semis where they'll have to face G2.
The real question is – can NiP do it without going to the deciding map?

Well, statistically, Vertigo and Mirage are the only maps GODSENT are superior on. But, Vertigo is NiP's permaban, which leaves GODSENT with Mieage and nothing else. NiP, on the other hand, has slight advantages on pretty much everything else. Even though, on paper, these statistical differences are within margin of errors, they're pretty significant once we take into account the quality of both teams' opponnets.
Wrapping Things Up
A straightforward moneyline on NiP isn't worth it here. But, NiP to cover the spread and win the match 2:0 at -106 seems like a much better deal. In fact, that's what we're going with for this one!
GODSENT vs. NiP Betting Predictions:
Odds are courtesy of BetOnline. Check out our BetOnline review here.
There you have it, boys and girls! Thanks for checking this piece out – fingers crossed we get some green just in time for the start of BLAST Premier World Finals.