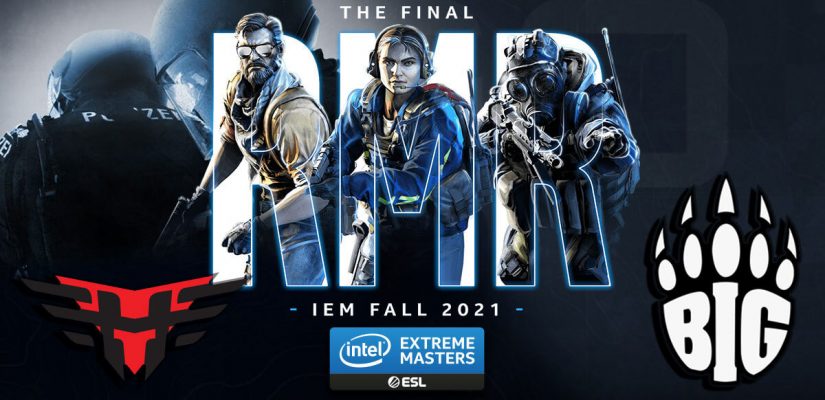 Heroic vs. BIG betting predictions focus around the highly anticipated 9-10th place match. Yep, such a round exists here on IEM XVI Fall EU, and it's about to decide whether or not BIG go to the Major. That's right, Heroic are already through, though they still want the best possible starting point. As for the Germans, this match is going to make or break their Major dreams.
Ahead of week 2 of #IEM Fall kicking off, check out our compendium to catch up on everything that's happened in the Oceania, CIS, SA and EU RMR events so far – and what to expect from the EU playoffs, Asia and North America RMR events that begin tomorrow!https://t.co/Hq9N8bFbU4

— Intel®ExtremeMasters (@IEM) October 4, 2021
The math is rather simple – BIG need to win tomorrow if they are to reach within the top eleven in Europe and clinch the PGL Major in Stockholm later this month. If they lose, they won't have enough points and will go down and out like Fnatic. Could their marvelous tiebreaker wins end up being irrelevant? That's what our Heroic vs. BIG betting predictions are here for!
Heroic vs. BIG Odds
Heroic are the favorites coming into this one. Despite their form having major oscillations, CSGO bookies still believe in their ability to finish off a team like BIG. Let's find out if that's really the case or could the Germans rise up to the challenge in such a crucial clash!
Heroic vs. BIG Betting Prediction
Historically, Heroic have been far superior in head-to-head clashes with BIG. They played three times this year and Heroic won on all three occasions. All three were bo3s, just like this one, which means bookies are right for favoring Heroic despite this being a far more important match for the Germans.
BiG Betting Preview
As stated earlier, BIG have win as a heavy imperative here. If they lose, they won't qualify for the PGL Major, and that's obviously going to be a BIG issue… pardon the pun. They still have things in control, they don't have to rely on any other matches – all they have to do is defeat Heroic and they're through.
But, easier said than done, right?
I mean, even though Heroic are through to the Major, they still want to finish among the Legends spots. That means they have to get every last point they can, and finishing ninth would definitely do that for them.
BIG's form prior to this event wasn't exactly perfect. However, they turned things around in the group stage, finishing on a high note with two crucial tiebreaker wins to stay in the equation. They have to keep building on those performances; syrsoN has to wake up – he has to start performing like TabseN and k1to. If he can, I'm sure we're going to see a fine BIG display tomorrow.
But, will syrsoN be enough to push BIG through to the next round and clinch the Major? I guess we'll find out tomorrow!
Heroic Betting Preview
Moving forward with our Heroic vs. BIG betting predictions, we need to talk about the Danish team! CadiaN and TeSeS have been the leading performers for Heroic thus far.
Even though they failed to get out of what should've been a pretty straightforward group for them, their chances of clinching a spot from the Legends stage are still high.
Form-wise, they played poorly on IEM XVI Summer and Cologne, though their ESL Pro League Season 14 performance was completely different. We can't hold a tight semifinal loss to NaVi against them, can we now?
What about their tiebreakers?
Well, I know you'll hate me for saying this… but it's a lottery more than anything else. Yeah, luck plays a big part too, and Heroic had none of it.
But, no point in crying over spilled milk.
If they want to go to the PGL Major as Legends, they have to defeat BIG and whoever wins OG vs. Faze Clan clash.
Wrapping Things Up
Yep, we're all about done here. Here's the deal guys and gals:
Heroic vs. BIG Betting Predictions:
Odds are courtesy of BetOnline. Check out our BetOnline review here.
Even though I reckon Heroic will win the ninth overall place, BIG will win at least one map tomorrow. They are well-aware of the importance of this match and they are going to execute their map pick to perfection. It might even be worth it in the end – the upset potential is real.
If you believe in the Germans, feel free to go with their moneyline on +174. The value is there, that's for sure. If you're not exactly a risk-taker, then -189 on BIG +1.5 is a great choice!
That'd be all from our Heroic vs. BIG betting predictions. Thanks for reading the whole piece and make sure you come again soon for more awesome CSGO predictions and picks!