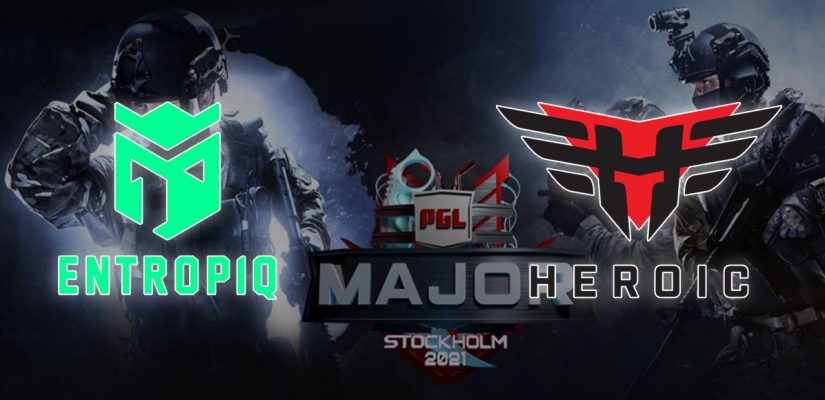 The third day of 2021 PGL Major Stockholm is fast approaching. Two teams have already been eliminated; two Brazilian sides, Sharks and GODSENT. Astralis are still in the tournament, having gone oh from two on opening day. Faze and CPHF, the biggest surprise of the Challengers Stage, are through to the next stage, with just six more spots left up for grabs. The winner of Heroic vs. Entropiq will join them, meaning there's a lot on the line coming into this one!
Here are the current Challengers Stage standings:
Copenhagen Flames 3-0
FaZe 3-0
Virtus Pro 2-1
Spirit 2-1
Heroic 2-1
Entropiq 2-1
BIG 2-1
ENCE 2-1
Movistar Riders 1-2
TYLOO 1-2
MOUZ 1-2
Renegades 1-2
Astralis 1-2
paiN 1-2
GODSENT 0-3
Sharks 0-3

— ESL Counter-Strike (@ESLCS) October 27, 2021
Heroic vs. Entropiq Odds
Here are the odds for this CSGO matchup:
Disclaimer – odds are subject to change
Even though Heroic are the heavy favorites coming into this one, their moneyline might still be the most valuable option here. At -312, it won't make you rich all by itself, but it's fairly risk-free and could give you a much-needed boost… especially if you love accumulators.
Heroic vs. Entropiq Betting Predictions
Heroic Betting Preview
Current Roster
Stavn
cadiaN (IGL)
TeSeS
Refrezh
Sjuush
Xizt (coach)
Yep, despite going 2:0 on the opening day, Heroic disappointed CSGO Pick Em maestros by losing to CPHF in the round three high clash. It was a great match, an even contest that went down to the wire, really. CPHF just had that extra bit of luck on their side, as well as in-form roeJ and Zyphon.
But, there's no point in crying over spilled milk. Heroic failed to go 3:0, but they should be all set from joining Faze and CPHF by defeating Entropiq tomorrow. Stavn and the boys have been brutal thus far and are objectively a much better team than the Russians.
But, CSGO is a game of momentum and they'll be ready for whatever the CIS side throws at them, They have superior map pool, though, so I can't see the Danish side losing more than a single round here.
Congrats @CPHFlames you wrote history

— cadiaN (@caspercadiaN) October 27, 2021

And that's the catch with Heroic vs. Entropiq picks – we can't go for spreads as we've seen Entropiq do crazy stuff once they get an advantage early on. I'm afraid we're limited to moneylines, and the thing is – I'm not quite sure Heroic moneyline is worth the hassle here.
Entropiq Betting Preview
Current Roster
El1an
Lack1
NickelBack (IGL)
Krad
Forester
Hooch (Coach)
Entropiq lost in an opening-round nail-biter against BIG. The Germans needed 29 rounds to take the CIS team down, much more than anyone had predicted. However, El1an and the boys got right back up and played what has to be the most surprising bo1 thus far on the event. Yep, they defeated Astralis 16:6 on Dust 2 and went on to deal the killing blow to Movistar Riders in the third round too.
Despite coming into the Challengers Stage as one of the main outsiders, Entropiq are currently 2:1 and will be fancying their chances against Heroic. Obviously, though, they are well-aware of the fact they're the underdogs here. Plus, they can't really count on bo1 upset potential anymore… and let's just say Heroic isn't really a team that often loses against objectively weaker opponents.
Despite three great matches thus far, I doubt we'll see Entropiq through to the Legends stage.
Should they lose to Heroic tomorrow, and chances of that are high, they won't have a much easier opponent in the final round. They will have to give 120% of themselves to go through, and I for one don't believe they have it in themselves. I'd love to be proven wrong, though… not against Heroic, but in the final round!
Wrapping Things Up
Here's the wrap-up:
Heroic vs. Entropiq Betting Predictions:
Odds are courtesy of BetOnline. Check out our BetOnline review here.
I know, I know… this has to be one of the lowest odds we've ever picked here on TheSportsGeek. But, come on – for an accumulator, this thing rules! Feel free to check out other CSGO picks for tomorrow's PGL Major clashes and perhaps tie them all into a three-way accumulator. That's one way of upping your returns!
As for our Heroic vs. Entropiq betting predictions, I'm afraid we've talked you through everything you need to know. Thanks for reading the whole think and may lady luck be on your side no matter what you opt to go with for tomorrow's PGL Major clashes.