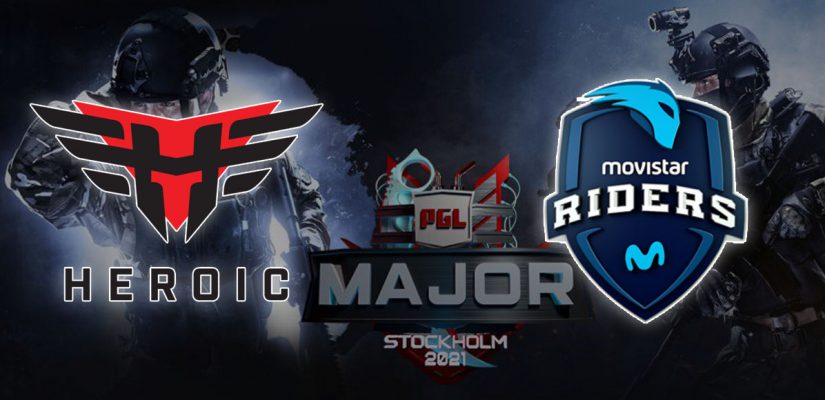 Let's go through Heroic vs. Movistar betting predictions and see if there's any value here. Obviously, just by looking at the odds, we won't see much value over at Heroic. It's understandable, though, seeing as Heroic have been one of the best teams in the world for a big portion of this year.
The Spaniards, on the other hand, can be really happy they've made it this far. But, now that they got a taste of the Major action, they're playing this final match without any pressure on their shoulders. Should they qualify for the Legends Stage, it would be an even bigger surprise than CPHF.
? Day 4 Schedule#PGLMAJOR pic.twitter.com/uzl04Drnjo

— PGL (@pglesports) October 28, 2021

But, can they do it? We all know just how powerful Heroic's teamwork is. There's definitely value to be found here. +362 is not to be taken for granted, that's for sure!
Heroic vs. Movistar Odds
Here are the odds for this CSGO matchup:
Movistar Riders to Win:
+362
Movistar Riders +1.5:
-108
Disclaimer – odds are subject to change

Heroic vs. Movistar Betting Predictions
Heroic and Movistar Riders played twice over the last 30 days. First clash was a bo1 and Heroic took the win on Dust 2. The second clash was actually a tiebreaker in which Movistar Riders stole the show with 4:1 on the scoreboard. So yeah, we could say these two aren't that far away off each other, not nearly as much as the odds suggest.
As always, we're going to take you guys for a spin and check out detailed info on both teams. Obviously, Heroic's moneyline isn't worth squat here. If we're going for them, we have to opt for the spread. But, are Heroic really capable of covering it?
On the other end, we could go with a highly profitable Movistar Riders moneyline… but it'll be way too risky for some of you. The safest option is probably Movistar spread at -108, but we need to take a closer look to see if that's really the case here.
Heroic Betting Preview
Current Roster
cadiaN (IGL)
stavn
TeSeS
refrezh
sjuush
Xizt (coach)
Heroic are a force to be reckoned with, not just in Europe but internationally too. Perhaps they haven't been the most consistent team out there, but they definitely belong in the same discussions as the likes of Astralis, NiP, NaVi, and G2.
Individually, as you'd expect, Heroic have no special accolades.
They are, as they've always been, a teamwork-oriented team.

They will come at you with sheer team cohesion, and that's what makes them so darn special.
Coming into the New Challengers Stage, Heroic were dubbed as the 3:0 team. And, mind you, everything went smooth on the first day. Two bo1 wins, over TYLOO and Mouz, meant Heroic are on the right trail. However, they messed up against CHFP which created one of the biggest surprises of the tournament.
Can Heroic be in the middle of another massive surprise in Stockholm? Seeing Movistar qualify for the Legends Stage instead of them would be a big one, that's for sure!
Movistar Riders Betting Preview
Current Roster
mopoz
DeathZz
SunPayus
dav1g
AELX (IGL)
bladE (coach)
What's there to be said about Movistar Riders? Well, one of their three new arrivals is doing extraordinarily well. Of course, I am talking about the 22-year-old Alvaro "SunPayus" Garcia who hasn't just been their best player on the Major, but the best individual on their way to Stockholm as well.
Mopoz has been right up there too, but SunPayus has to be pointed out as the most creative individual in Movistar's ranks.
If Heroic manage to stop him, they've practically won the match. It's as simple as that.
Maps-wise, Movistar will fancy their chances on Nuke and Ancient, though the latter is likely to be banned right off the bat. Still, it gives them enough breathing space should they win their map pick, especially considering their solid performances on Inferno and Vertigo. Movistar are not to be underestimated here!
Wrapping Things Up
Here's the wrap-up:
Heroic vs. Movistar Betting Predictions:
Odds are courtesy of BetOnline. Check out our BetOnline review here.
Which side are we opting for in this one? As stated earlier, Heroic's moneyline just doesn't make any sense here. Both spreads look fine, but they both have equal potential.
Instead, we're going with a bold moneyline on the Spaniards. I know we're going high-risk here, but all I'm asking for is a small stake. At +362, we can't ignore the value.
That would be all for today, boys and girls! Our Heroic vs. Movistar betting predictions are all wrapped up. As always, thanks for reading the whole piece!