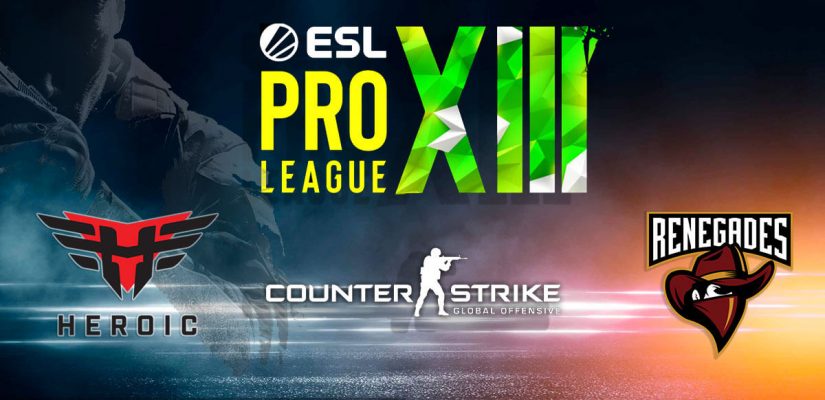 Group A of ESL Pro League S13 looks pretty nicely packed. It's not the group of death, group D has that flattering title, but it's still bound to produce top-tier competitive CSGO.
Just what we need, right?
Well, we're here not just to hype the action but to come up with some winning Heroic vs. Renegades tips. We're all about staying in the green here, so let's analyze both sides and see if there are some valuable options to go with here!
Heroic vs. Renegades Predictions
Heroic are the favorites here! Even though they aren't close to their last year's form, they're still a level above Renegades. They have a superior roster (more on that later), a solid map pool, and shouldn't have too many issues in the opening round.
However, if there's something that the recent CSGO events have taught us, it's that opening-rounds tend to be packed with surprises.
Are we going to see one here? Is a match-winner on Heroic the go-to CSGO bet here? Well, continue reading our Heroic vs. Renegades predictions and you might just find out!
Form
Heroic have won just four of their last ten outings. However, those four victories came against solid opponents. BIG, OG, and MIBR twice – not bad! But, much of Heroic's performance depends on how well they do on DreamHack Masters Spring Closed Qualifiers.
That event starts tomorrow and packs a solid punch in terms of competition.
Only three EU spots are up for grabs, and the likes of Cloud9, Complexity, Heroic, and OG are all eyeing the main event.
Let's go ? https://t.co/t9Mx0dXmkt

— HEROIC (@heroicgg) March 5, 2021
Heroic is set to open up the event against VOYVODA, but it's likely that they'll be going up against Cloud9 in the next round. If they can get a few good results there and qualify for the main event, that'd definitely give them the boost they need to fling past Renegades next week.
As for renegades, IEM Katowice World Championship was their first big event in quite a while. They held their ground against Mousesports (but lost 16:14 in the end), and won against oNe… only to lose against Virtus.pro in the elimination match. A lack of competitive action ought to affect players' readiness ahead of Monday's clash.
But, that's not enough to wrap our Heroic vs. Renegades tips up! There are still two important categories we need to address, map pool stats being the first.
Map Pool Stats
What can we say about the map pool stats? Well, not much for Renegades, unfortunately. Heroic, on the other hand, have been solid on Nuke and Vertigo. However, Mirage and Inferno haven't looked good for the Danish team over the last few months.
Just three wins in the last eleven encounters – those are some alarming numbers.
Renegades aren't exactly superb on those two maps either, but I can see them rising up for the occasion and snatching one away from Heroic… though I doubt it'll have an effect on the overall result. Yep, I believe Heroic are going to win this. Why? Here's why:
Individual Aspects
INS is the player Heroic have to be careful with! The 21-year-old rifling prodigy is showing off sick stats over the last half a year or so. He's averaging 92.3 damage per round and 1.45 impact; sick numbers despite the fact he's mostly been playing against Oceania-based teams.
This new Heroic roster looks good! Refrezh and sjuush are going to be excellent upgrades for the Danish side, that's for sure. We're talking about two solid ex-MAD Lions' players here. They do have big shoes to fill, but their potential is more than obvious. The question is – can they start delivering right off the bat?
Well, result-wise, I do think they'll grab the W on Monday. But, they might succumb to the pressure early on and set up a reverse sweep. Renegades are a level beneath the Danes, but they know how to bite, and they sure as heck won't back down without a fight.
With that in mind, I'm going with a rather risky entry here!
Heroic vs. Renegades Betting Predictions
Odds are courtesy of BetOnline. You can check out our BetOnline review here.
It wasn't my intention to start our ESL Pro League S13 betting adventure with such a risky bet… but it just kept growing on me while I was collecting the stats for this piece. It's going to be an interesting match, no doubt about that. On one end, we have a brand-new Heroic roster about which we can't really say anything with enough certainty. On the other end, we have a well-coordinated Aussie side that hasn't been playing well on international events.
We've seen quite a bit of upsets lately, and while Heroic to win 2:1 isn't that big of an upset, it most certainly isn't the probable outcome here. People expect Heroic to swing past the Aussies here, and I for one think INS and the boys will put up one hell of a fight.
Otherwise, we'll be in for a proper L here…