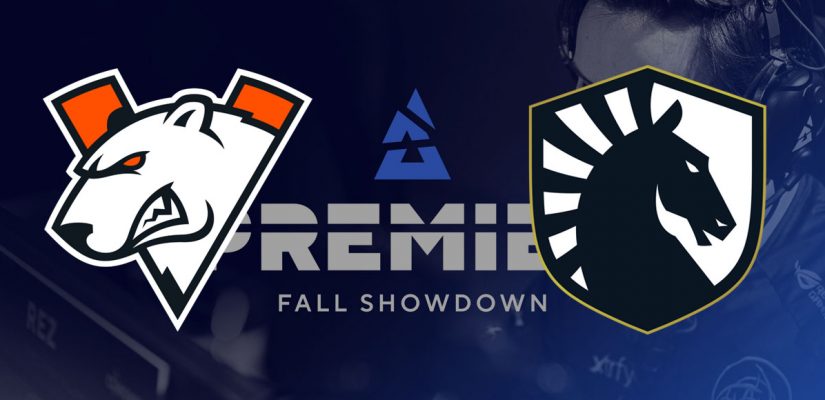 How is this match going to turn out? On one end, we have Virtus.pro who asserted their dominance against tough-to-beat Movistar. On the other end, we have Team Liquid, who absolutely destroyed 9Z in the opener. Now, our they meet in an h2h that's going to leave one of them without a spot on the Season Finals. Continue reading our Liquid vs. Virtus.pro betting predictions to find out which of these two has the upper hand coming into this one!
It's time for Day 4 here at the Showdown!

We've got our last Opening Match with @EvilGeniuses vs @MADLions_EN before we begin our Semifinal matchups ?

It's all happening on https://t.co/mKPHu9DdJ3 and https://t.co/rGfSC1kGeO pic.twitter.com/YUgvwxDOBL

— BLAST Premier ? #LetTheBattleBegin (@BLASTPremier) October 15, 2021

Today, we have the final opening match as well as the first batch of semifinals. EG meet MAD, Heroic go up against Dignitas, and Complexity are up against OG. Three interesting clashes that are going to determine a lot of matchups going forward. It's going to be interesting, to say the least.
Liquid vs. Virtus.pro Betting Odds
Let's check out the odds real fast before moving onto more concrete insight and stats!
Disclaimer – odds are subject to change
Liquid are the moneyline favorites coming into this one. However, there's far more to this match than meets the eye right off the bat. There are several important areas we need to cover if we are to reach a research-driven conclusion. Let's kick things off with some historical background!
Liquid vs. Virtus.pro Betting Predictions
Liquid and Virtus.pro met twice already this year; It's actually quite surprising considering the fact we're talking about teams from different regions, CIS and NA. However, their historical clashes don't shed much light onto this one since both Liquid and Virtus.pro took one win. Liquid won on ESL Pro League S13 in late Match while Virtus.pro took them down on IEM XV World Championship in February.
Virtus.pro Betting Preview
Virtus.pro managed to qualify for the PGL Major. IEM XVI Fall CIS wasn't their prettiest campaign ever, but they had some brilliant moments. Their gameplay proved to be just enough to clinch a spot on the grandest-ever CSGO stage later this month.
But, as far as qualification for the BLAST Premier Fall Finals go, they aren't out of the woods just yet! True, their opening-round win against Movistar took a lot of weight off their shoulders. However, they still need to win two more matches to qualify… and let's just say their opponents won't be easy.
First off, they have to assert dominance over superb Team LIquid. Then, if they go through to the final round, they'll play against the better of G2 vs. MAD/EG. It's going to be quite the show, right?

But, VP have nothing to be afraid of. True, they are the underdogs coming into this one… and that's likely to continue should G2 qualify for the Finals. But, the CIS side are no strangers to winning from underdog positions.
Plus, their key players, YEKINDAR and Jame, were shooting off all cylinders against Movistar. The Spaniards stood their ground on Vertigo but were ultimately unable to steal a map off of the CIS champs. One more good match from YEKINDAR and Jame is all VP needs to take Liquid down, and I for one think they'll do it!
Team Liquid Betting Preview
Team Liquid are also through to the 2021 PGL Major in Stockholm. But, they won't be satisfied with their overall performances over the last few months. Sure, they're still a force to be reckoned with in NA. But, as soon as they start matches against European teams (good European teams, mind you) their gameplay sinks down, and they look unrecognizable.
In my books, I reckon their biggest issue is Grim.

The young NA prodigy had a good spell with them earlier this year, but his form continues to drop lower and lower as time goes on. He's becoming a true liability for the Boys in Blue and I'm afraid they'll be forced to mix things up should Liquid fail to do anything notable on the Major.
If Liquid win this one, and all reputable esports bookies are giving them the slightest of advantages over VP, they're going to be in an uphill struggle in the Finals… unless G2 does what G2 does best and bottle their semifinal clash.
To finish on a brighter note, Liquid's EliGE is back! He's been brilliant over the last few weeks and could be all the difference tomorrow. Of course, he'll have wicked opposition in YEKINDAR and Jame, meaning rest of the Boys in Blue will have to follow in his footsteps if they are to justify their position as the favorites here.
Liquid vs. Virtus.pro Picks
At the end of it all, it's time to wrap it all up. Here's what I will be going with for this particular CSGO matchup:
Liquid vs. Virtus.pro Betting Predictions:
Yep, I went with Virtus.pro here. At +100, their moneyline is by far the best option for this one. Yes, I know Liquid will fancy their chances in this best of three encounter, but all it takes for VP to win this one is in-form YEKINDAR. The Latvian wunderkind has been on fire lately, and two more brilliant matches is all his team needs to qualify for the BLAST Premier Fall Finals.
The value is through the roof here and I'm going with a medium stake. We have to get things rolling here; otherwise, our PGL Major betting bankroll might suffer.
As always, thanks for reading the whole thing, and fingers crossed we hit the sweet spot with this one.
Until next time,
May the odds be in your favor!