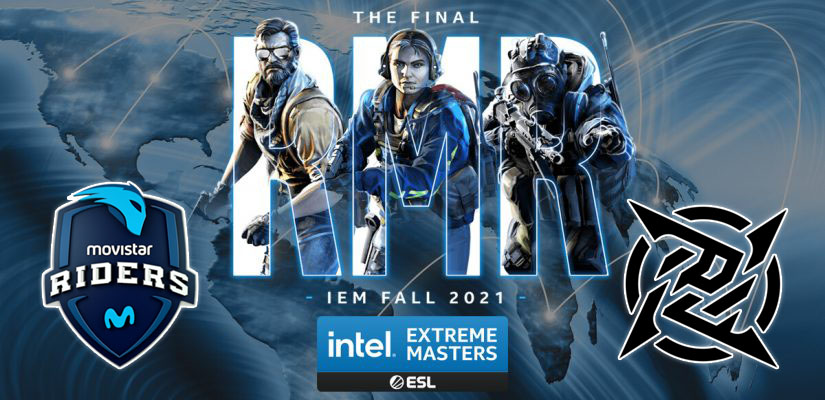 The IEM XVI Fall EU quarterfinals are upon us. Numerous teams have already secured their sports on the Major. However, Movistar isn't among them. At the moment, Movistar is one of five teams that still haven't cemented their spot on the upcoming PGL Major. They need every point they can get their hands on, which means defeating NiP is of utmost importance for them. Our Movistar vs. NiP betting predictions will address that; no worries.
What about NiP? Well, they have to progress to the next round to potentially qualify as Legend. They might have to go all the way to the finals, though, since Vitality, Astralis, and G2 are still in the mix.
Movistar vs. NiP Odds
Let's kick things off with the odds:
Disclaimer – odds are subject to change
Moneyline on NiP at -500 is absolutely ridiculous. There's absolutely no value to it at all! Movistar won't win this, though, meaning seemingly ideal +323 isn't a viable option. However, spreads are likely the place where all the fun is at!
Find out more by reading the remainder of the article!
Movistar vs. NiP Betting Predictions
Believe it or not, this will be the first time Movistar play against NiP. They did play against Young Ninjas, but that was a long time ago and bears no importance for our picks.
However, Movistar's map pool suggests they will be able to contest NiP on three maps.
Inferno, Nuke, and Vertigo are all lined up for them.
But, and this is a big one – Vertigo is NiP's permaban which means it'll be out of the equation.
Movistar Betting Preview
Movistar isn't a top-tier team by no means. But, their group stage performances suggest they might be a proper contestant after all. However, two out of three wins came after going the extra length of all thirty rounds.
Complexity and Sinners stood their ground against Movistar. And while every win is a win, tight ones can drain a team out. Plus, it goes to show you Movistar aren't as good as the playoff qualification made them look.
Alex and SunPayus have been the driving forces behind Movistar's playoff qualification. They will have to keep up with splendid performances if they are to clinch the Major without needing to sweat other teams' results.
NiP Betting Preview
What's in it for Ninjas in Pyjamas? Well, as stated earlier, they need every last point they can get here. Obviously, a team of NiP's reputation has to aim for Legend tier. It's not going to be easy, but if they can push Movistar out of it and then tackle the better of Vitality vs. CPHF, they should be in the pole position.
Make sure you set up your alarms for tomorrow's match, guys. Don't do that NA CS thing. ?@dev1ce @REZcsgo @hampuscsgo @LNZcsgo @Plopski @THREAT_CS

— Ninjas in Pyjamas CS:GO (@NIPCS) October 6, 2021

When it comes to driving forces, device is the man we need to talk about. As always, the brilliant Dane prodigy hasn't stopped making waves. No matter who he's playing against, he's always delivering the fragging stats and winning crucial rounds. He's one of a kind; he's just built differently!
Even though his fragging output isn't like that of, for instance, ZywOo or S1mple, he contributes in different ways. He has impeccable game sense, excellent counter-play ability, as well as clutch potential.
We have to give credit where it's due and device isn't the only praiseworthy player on NiP. Hampus has been the second-best NiP player on IEM XVI Fall. But, LNZ is the player we have to emphasize here. The young Ninja prodigy is doing well fragging-wise, finishing just behind device over the initial five maps. Not bad coming from an 18-year-old, huh?
Wrapping Things Up
No matter who wins this one, I'm sure we're up for an aggressive, attack-minded match. But, we have to give you guys some concrete predictions, so here goes nothing:
Movistar vs. NiP Betting Predictions:
Odds are courtesy of BetOnline. Check out our BetOnline review here.
Yep, we're going with a sweaty spread on the Spaniards here. As stated earlier, Movistar will pose a threat to NiP on Inferno and Nuke. And while I do think it won't really matter in the end, I also expect the Spaniards to snatch their pick early on. NiP to win makes no sense value-wise, which is why I suggest you go with Movistar +1.5 at -106!
That would be all for today, boys and girls! Join us again tomorrow, hopefully following a two-match winning streak. Fingers crossed!