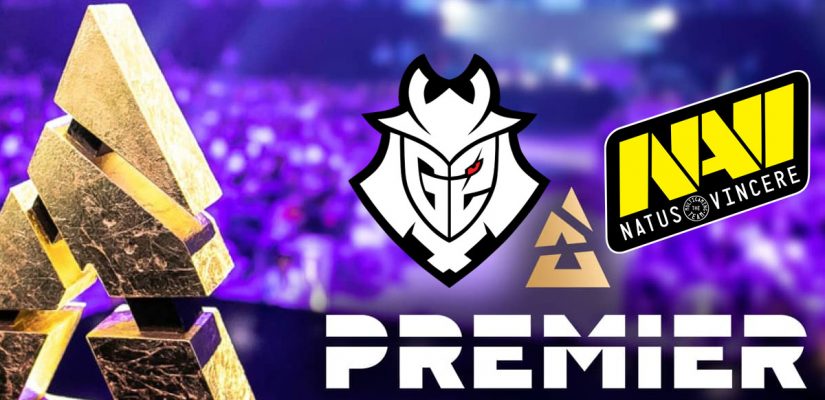 Three full days of BLAST Premier World Final action are behind us. We've said our farewells to two teams thus far, Heroic and NiP. Two Scandinavian powerhouses are out of the equation, with the fourth day potentially eliminating another one. Considering the matchups that are in store for us today, we have to say they're both equally interesting. However, I reckon NaVi vs. G2 betting lines offer slightly more value, so that's the first clash we're going to be inspecting today.
LOOK AT THESE MATCHUPS! ?#BLASTWorldFinal pic.twitter.com/HrdpXQyX1P

— DAY 4 – 4 PM CET FRIDAY? (@BLASTPremier) December 16, 2021

We're two from three yesterday, and five from seven since the start. Let's keep up with such a good overall score and see which betting line is the ideal option here!
NaVi vs. G2 Odds
For starters, here are the CSGO odds for this matchup:
Disclaimer – odds are subject to change

G2 are the underdogs here, just like they were against Vitality too. Mind you, the odds for them to win this one are almost double what they were against ZywOo and the boys. As for NaVi, I just don't think -526 is worth the money, especially knowing it's NiKo on the other side of the server.
But, we won't be drawing any formal conclusions here. Let's check out more important facts surrounding this clash so that we can come to a research-driven (and potentially winning) conclusion!
NaVi vs. G2 Betting Predictions
Yep, it's the PGL Major grand finals all over again! NaVi and G2 are ready for a replay, one that will leave one of them without a spot on the tournament after today. Let's have ourselves a closer look and try to figure out the best course of action for our NaVi vs. G2 betting picks!
G2 Betting Preview
Current Roster
nexa (IGL)
NiKo
JaCkz
huNter
amaNEk
G2 had a ton of issues with Ninjas in Pyjamas in the opener. Yes, they did win and remained in the upper bracket, but at what cost? Not only was it a marginal victory, but one that required NiKo to give 120% of himself. The BOSSnian gave so much that he wasn't even top fragger in their second-round clash against Vitality.
Coming into this one, though, G2 fans will hope NiKo freshened things up and that he'll be ready for the battle against NaVi. If he comes into this one on the right foot, we're bound to see G2 budge. If, however, NiKo remains out of it following poor performance against Vitality, we might see a blowout here, similar to the one we've see on PGL Manor grand finals.
Let's not forget about another important fact here – this is G2's last dance in the current lineup. Nexa, hunter and NiKo are here to stay, with JaCkz and AmaNEk set to be replaced by m0nesy and ropz (probably). Vitality and Liquid are in a similar scenario too, and look at how good they've been performing.
Can G2 with zero pressure on their shoulders eliminate Natus Vincere from this event?

Natus Vincere Betting Preview
Current Roster
Boombl4 (IGL)
S1mple
Perfecto
B1T
electronic
Natus Vincere didn't really kick things off on the right foot here. They lost to Team Liquid in the opener, following a solid performance by NAF and an unremarkable one by S1mple. And while no one believe Liquid will have it in themselves to wrap that one up, our picks got it right. To be more precise, we went with Liquid to win at least one map… and they went on to win two and wrap the match up.
Back to NaVi – despite losing the opener, NaVi got back to their senses and stomped over Heroic in the first lower bracket round. Heroic was on the receiving end of it, and let's just say it wasn't fun for them at all.
On the bright side, electronic stepped up fro the occasion in that one. But, S1mple was once again playing well below his standards. If the Ukrainian CSGO deity doesn't pick up the slack against G2, we could see NiKo and the Balkan connection run away with the win.
Wrapping Things Up
So, without any further ado, let's check out the safest betting options for this particular CSGO match:
NaVi vs. G2 Betting Predictions:
Odds are courtesy of BetOnline. Check out our BetOnline review here.
I just have to go with G2 to cover their spread at +157. Even if they don't play at an all-time high, G2 should be able to take a map off NaVi… either Mirage or Inferno. I know NaVi are quite strong on both, but G2 should be able to take one off them, especially if Niko provides another fantastic display.
With those words, I'm afraid you've come to the end of our NaVi vs. G2 betting predictions. Hope you enjoyed the show – make sure you join us tomorrow as we dig through the next stage of the competition!