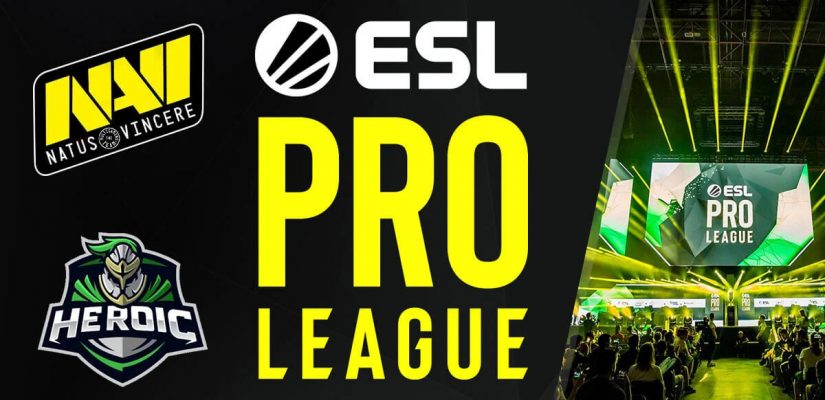 Natus Vincere and Heroic are going to be deciding one of two grand finalists later today! Yep, these two of all teams are going to decide the upper bracket finalist. Need I remind you, there's not just the grand finals' spot to play for here, but an extra map advantage that usually proves to be critical in such high-tension environments. If you'd like to place a few CSGO bets before the end of the event, our NaVi vs. Heroic predictions might be just what you need! If, on the other hand, you consider this contest too risky, check out our esports picks selection. You're bound to find something suitable!
Be that as it is, let's focus on the task at hand, NaVi vs. Heroic predictions, and see what sort of a competition these two bring to the table!
NaVi vs. Heroic Predictions
It really is crazy to see these two teams go at it in what's basically the ESL Pro League Season 12 semifinal. Even more so considering the teams they had to overcome to get here, especially Heroic who swept past both Astralis and BIG.
Looking at the grand scheme of things, Natus Vincere is the stronger side here. However, if we're comparing recent results, individual form, and those sorts of things, then I'm afraid the superiority falls to Heroic's side.
Considering all that, we have quite the task ahead of our NaVi vs. Heroic predictions. Both teams are in it to win it, and we can expect plenty of chaos tonight. So, without further adue, let's start our analysis!
Form
It's safe to say Heroic are in better form here. They're one of the best European teams at the moment, having won ESL One Cologne in late August and lost in the grand finals of DreamHack Open Summer EU. The all-new Heroic roster that was created earlier this year (in April, to be more precise) means business… Even without es3tag, they're looking like a proper team, ready to win more regional titles.
WE ARE YOUR #ESLOne COLOGNE 2020 CHAMPIONS!
We clean sweep the final 3-0 versus @TeamVitality, GGWP! ?

Our boys have shown that they are here to play among the best teams in the world!

Thank you ALL for your support this tournament! ❤️#BeHeroic pic.twitter.com/VDP8q7zPNp

— HEROIC (@heroicgg) August 30, 2020
Natus Vincere don't have a lot of great things to remember 2020 for. They did win two events, though, WePlay! Clutch Island and IEM XIV World Championship, but NaVi's consistency still isn't at an admirable level. Take the last event they participated on as the perfect example. ESL One Cologne was the occasion, and NaVi were eliminated in the group stage following defeats against Complexity and NiP…
So yeah, as far as the overall form is concerned, Heroic is the winner! But, we do have to mention the fact that NaVi took Heroic down in the group stage. It was a ferocious, tightly contested match, featuring 16-14 on the first map, and then 16-19 overtime on the second map, followed by NaVi's domination on Overpass.
Map Pool Depth
Depth-wise, Heroic takes the title yet again. Their map pool has been nothing but spectacular in recent months. Niko and the boys showed everyone they can play five maps at the highest level. Vertigo is still not their safest choice, and Dust 2 is their permaban. But, other than that, they're looking pretty solid.
Where could NaVi test Heroic – what's the map they'll feel the most comfortable on against the tenacious Danes? Well, I reckon it'll be either Train or Nuke. Dust 2 would be a no-brainer, but Heroic is going to strike it with the ban hammer right off the bat. NaVi's odds on either of the two aforementioned maps are solid, so I wouldn't be surprised if this one goes the extra length of the decider map.
Individual Stats
Individually, I can't side with Heroic… even though I probably should. It's S1mple guys! Even when he's playing at 50% of his usual "power", he's still among the best players on the server. Whatever the enemy team throws at him, he's able to handle it seemingly effortlessly. It's just how he rolls.
Still, even though I believe NaVi has superior individuals, my final picks are going in the opposite direction:
Here's another risky one for you! You can find the correct score 2:1 in favor of Heroic at around +220. If that's too risky for you, and I can't blame you really, a straight-up match-winner on the Danish side goes for -134. Not too bad considering all the circumstances, don't you agree?
Odds are courtesy of Betway. You can check out our Betway review here. And for users in the United States check out Bovada for odds.