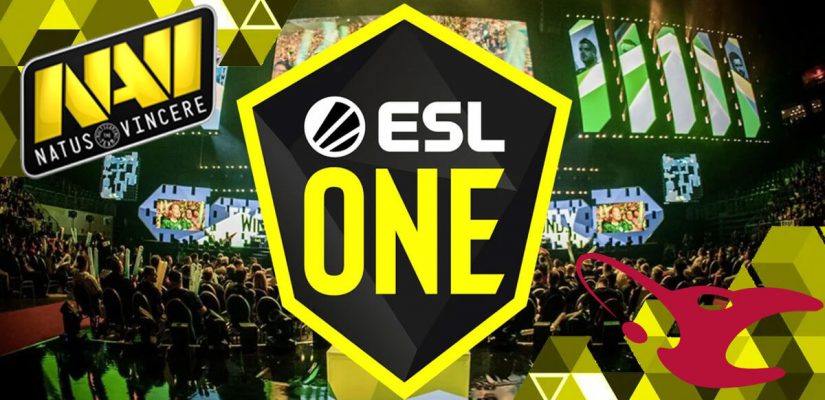 The next big CS:GO event is just around the corner. We've all had the chance to enjoy a couple of splendid DreamHack Open Summer matches, but now let's get ready for the main course! ESL One Cologne betting frenzy is just about to start, but worry not young padawans, our NaVi vs. Mousesports picks are here to tackle the action right from the kickoff!
NaVi vs. Mousesports Picks
We're looking at two top-notch European teams that know each other very well. In 2020 alone, Mousesports and NaVi faced off on eleven maps. Just three matches, though (Gamers Without Borders, ESL Pro League S11, and ICE Challenge), and Mousesports has been arguably the superior side.
When @karriganCSGO actually leaks the secret game plan to defeating NaVi at #ESLOne Cologne on Wednesday, live on stream… ???

(pssst: don't tell s1mple ?)#ReadyWillingAble pic.twitter.com/jMjyTX8FV8

— mousesports (@mousesports) August 17, 2020
Of course, head to head matches isn't the only thing we're going to base our NaVi vs. Mousesports picks on. Alongside that, we'll also be checking out recent matches and campaigns of both teams, exploring their map pool depth, and pinning up their best players against each other to find out which team is superior on the individual level.
As always, we're taking our predictions very seriously, and the same goes for today's dose of esports picks! You can expect a lengthy article, but a beginner-friendly one. In fact, we're all about beginner-friendliness here, so much that we've prepared a short 101 to help you get the most out of your go-to CS:GO bookie!
Key Virtues of Good Esports Bookmakers
What are the key virtues of good esports bookies? What makes a good online bookmaker in the first place? Are esports betting sites the same as sports betting sites but with an extra esports category?
Well, technically, yes! Nowadays, the best esports betting sites are typically sites that made a name for themselves via online sports betting.
But, beware, not all of them are made equal. If you haven't been in the esports betting hobby for too long, you might not know the key virtues that make good esports betting platforms. In that case, this short bullet list ought to bring you up to speed:
Good variety of esports markets
Deep coverage, not just match-winners
Solid odds on esports betting opportunities
A healthy dose of esports bonuses
Reputable customer support
Good online reviews
Easy to use website interface
Mobile-friendly website
With that out of our way, let's turn our attention back to NaVi vs. Mousesports picks!
Recent Results
NaVi's last notable title dates back to March this year. That's when they defeated G2 in the grand finals of IEM XIV World Championship in Katowice. They had two additional titles afterward, WePlay! Clutch Island and Gamers Without Borders. The first was a tier-B event; the second was a show match… please note that NaVi defeated Mousesports in the grand finals of GWB. They did have two solid campaigns in June. Two fourth spots on European installments of BLAST Premier Spring Finals and DreamHack Masters Spring. All in all, their form seems to be pretty consistent except for that ESL One Road to Rio fiasco.
As for Mousesports, they've been an absolute mess ever since the start of online events. Online events just don't seem to be up their valley.
They make frequent mistakes, can't adapt to opponents' playstyles, and have whole heaps of additional gameplay issues that aren't typical for a team of their caliber. The only solid campaign woxic and the boys have put together in 2020 is April's ESL Pro League S11 EU. That was the first post-measures online event, and the only one Mousesports players were somewhat decent at.
Map Pool Info
A quick look at the map pool stats reveals NaVi's true power. They're superior on every map except Vertigo, but neither of them plays it on a regular basis so we can't really count it in. The biggest discrepancy is on Inferno where NaVi are sitting at 80% compared to Mousesports' 20%.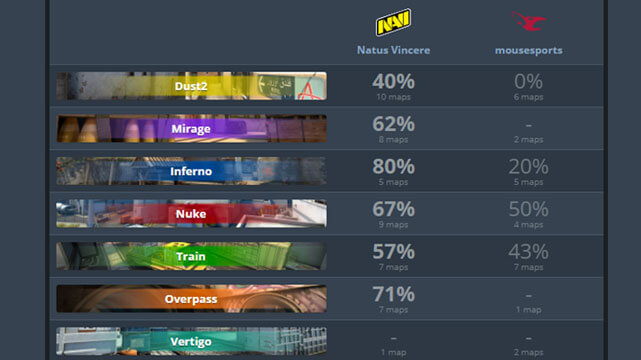 However, as you can see from the image above, this map pool depth comparison might not be a legit data source for our NaVi vs. Mousesports predictions. You see, both teams haven't been that active in the last three months or so. The players' break ran its course, leaving single-digit map numbers across the board. These single-digit records aren't that good stats-wise, but I guess something's better than nothing, right?
Individual Player Qualities
Even though Mousesports has a fine roster, plus they've just signed Bymas as their sixth man, I still have to side with Natus Vincere here. I mean, the reason is pretty s1mple (pun intended). He's just a beast; nothing more and nothing less. Especially when big tournaments come around, S1mple takes no prisoners and he'll likely start ESL One Cologne off on the right foot.
What lineup will Mousesports use against Natus Vincere?
Will they throw Bymas in right off the bat or will they keep him as sort of a secret weapon once he syncs up with the rest of the team. What sort of lineups are we going to see from Mouz going forward – which player is Bymas most likely to replace? There are many questions regarding Mousesports at the moment, but it all boils down to this – individual player qualities go in favor of Natus Vincere, just like everything else mentioned thus far in our NaVi vs. Mousesports predictions.
NaVi vs. Mousesports Picks
There's just no other way to see this one out – our NaVi vs. Mousesports picks are pretty straightforward. A simple NaVi win should do the trick here, no matter which starting lineup Mousesports decides to go with tomorrow. At -178, the value isn't top-notch, but seeing as this is one of those low-risks bets, I reckon it's alright… There's just no way S1mple and the boys will lose to Mousesports in the first round, to put it bluntly.
Another thing you could go with here is map 3 most clutches won on Natus Vincere. Mousesports' clutch potential is long gone. On the other hand, NaVi has S1mple and electronic – a wicked clutching combo that ought to be enough to settle it.