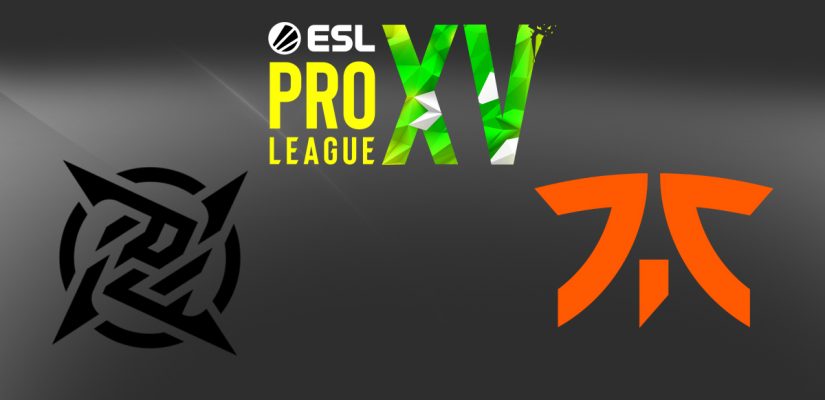 It's almost time for another big CSGO event, boys and girls! That's right – ESL Pro League Season 15 is just around the corner and our NiP vs. Fnatic betting pick is the first in line for next week's CSGO portfolio. Group A is, obviously, the first one to go, so let's jump right in and see which of these two will start this event with a much-needed win!
Who is hyped for ESL Pro League? ? pic.twitter.com/zUZ1nZP7J4

— Ninjas in Pyjamas (@NIP) March 3, 2022

What is there to be said about this one? Well, it's not going to be that straightforward to predict as it's the opening round and both teams are already labeled as playoff contenders. So, we're in for a cracker of a contest, that's for sure… but you know what that means – it's going to be packed with value!
NiP vs. Fnatic Odds
For starters, here are the CSGO odds for this matchup:
Disclaimer – odds are subject to change

Ninjas in Pyjamas are the favorites, and quite heavy favorites, mind you. That's not because they're in the best of form, but because Fnatic have been nothing but terrible this year. With that said, there's room for an upset, which is why we'll be taking a closer look at both teams before wrapping up our NiP vs. Fnatic betting picks!
NiP vs. Fnatic Betting Predictions
The last time these two faced off was back in October last year. It was on IEM Fall Europe and NiP stole the win with 16:7 on Nuke. Ninjas in Pyjamas were the dominant force in that one, but it doesn't necessarily have to mean they'll act that way in this one. For starters, this is not a bo1 but a bo3. Plus, NiP had device, and it has been confirmed that the Danish AWPer won't play for the Swedish team in Cologne.
That's about it as far as the basic info goes. Let's move on with more concrete stuff in the remainder of our NiP vs. Fnatic betting picks!
Ninjas in Pyjamas Betting Preview
Current Roster
hampus (IGL)
Plopski
REZ
es3tag
phzy
Ninjas in Pyjamas still can't count on device. Honestly, at this point, we might never see the legendary Dane play for NiP again. It wouldn't come as a huge surprise, especially considering the latest rumors. Phzy is still serving as the go-to replacement, and with how things have been going for NiP, I doubt they'll make emergency roster alterations anytime soon.
They're coming into this match as the heavy favorites, you can't deny that. CSGO bookies agree – NiP should be comfortable in this bo3, especially with Fnatic dropping smooya three days ago and opting for regali instead.
NiP aren't exactly in the best form right now. Their recent matches have been hit or miss, for the most part. Nip had a few good wins (against Gambit and NaVi), but a couple of disheartening losses too (VP and CPHF). Overall, they're solid… which should be enough against struggling Fnatic.
Fnatic Betting Preview
Current Roster
KRIMZ
Brollan
ALEX (IGL)
mezii
regali
We've already told you about regali, the 19-year-old Romanian AWPer who's just joined Fnatic instead of smooya. Will he be a good fit considering the current distribution of roles/positions in Fnatic? Well, it's hard to say anything right off the bat, but one thing is certain – Fnatic will have to go through a lengthy synchronization period.
Through its duration, I don't expect Fnatic to win any notable matches. That said, I don't think we'll see them clinch the playoffs here… unless regali pulls a m0NESY on us and shocks the world of CSGO right off the bat.

Fnatic are playing against L4O in the next round and, should they lose both, it will practically be game over for them. I really love Brollan and KRIMZ duo, I do… but I think it's wasted potential with constant roster alterations leading nowhere.
So yeah, long story short –Fnatic will lose this one and will probably continue doing so until regali properly syncs up with the rest of the team.
Wrapping Things Up
NiP vs. Fnatic Betting Predictions:
Odds are courtesy of BetOnline. Check out our BetOnline review here.
This here is a straightforward pick for what ought to be a straightforward match. Fnatic will now go through another synchronization period and there's no way they can do anything notable throughout the duration.
As for NiP, even though they still don't have device (and will likely never have him again), their solid form will be enough to cement this one!
That'd be all from this NiP vs. Fnatic betting picks. Join us again tomorrow for another batch of exciting esports picks!