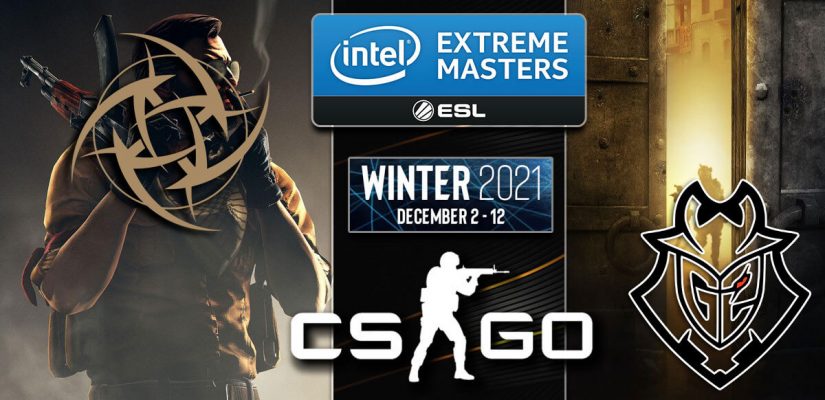 NiP vs. G2 betting lines are live, boys and girls! There's a ton of options available, and we're going to be focusing around the most popular ones. The second IEM XVI Winter semifinals involves Virtus.pro and Vitality. It is also going to be a rather interesting clash, well-worthy of being the semifinal of such a big event.
THE #IEM WINTER 2021 TOP FOUR!@virtuspro ??????@TeamVitality ??@G2esports ??????@NIPCS ????

Semi-Finals will be played Saturday, December 11th! Starting with VP vs. Vitality at 16:00 CET!

See you then! ? pic.twitter.com/yO1CuKUowf

— Intel®ExtremeMasters (@IEM) December 5, 2021
NiP vs. G2 Odds
For starters, here are the CSGO odds for this matchup:
Disclaimer – odds are subject to change

G2 are the slightest of favorites here. At 1-47, CSGO gambling sites expect G2 to win this one.
That's because G2 are quite dominant in terms of h2h matches this year. There were seven, and G2 won five, only one of which was bo1. Truth be told, most wins came after going to the decider map, which suggests we're in for a similar match here as well.
NiP vs. G2 Betting Predictions
But, NiP won't back away from this one that easily. Device and the boys are coming into this one with heads held high. Both teams are in for a thriller, and that we can say with plenty of certainty!
But, which way should our NiP vs. G2 betting picks go?
In fact, should we take a risky moneyline wager (and by risky, I refer to betting on either end), or perhaps bet on this one to go all the way? All that and more awaits in the remainder of our piece.
NiP Betting Preview
Current Roster
hampus (IGL)
Device
es3tag
Plopski
REZ
Let's start with Ninjas in Pyjamas!
Device and the NiP boys outclassed Astralis in the bo1 opener. They took them down on their second consecutive bo1 – 16:8 on Nuke. Unfortunately, they got their own portion of ass whooping in the second round. Vitality was there to show them who's the boss with a relatively straightforward 2:0 win. NiP couldn't reach double-digits on either of the maps.
And when we all though NiP were going down and out against OG, device showed up and saved the day. He was the best player in NiP's ranks with 68 kills across three heavily contested maps. REZ's contributions on decider Nuke have to be emphasized too. If push comes to show against G2, if REZ can step it up, he could be the deciding factor!
As for device, there's no need for further introduction. The Great Dane is in a league of its own. Perhaps he's not getting as much kills as he used to, but his contributions often times aren't quantifiable. He's a master of the game, and if NiP is to win this, he'll need to step up to the challenge.
G2 Betting Preview
Current Roster
NiKo (IGL)
JaCkz
huNter
kennyS
AmaNEk
What do we have on the other side of the server? Well, it if isn't the PGL Major grand finalists G2! NiKo and the company, despite losing nexa for this entire event, managed to reach the semifinals. KennyS has been playing surprisingly well, and while I didn't expect them to come here, I reckon they now could go all the way.
NiKo seems to have taken up the IGLing role, and we all know that's not too good against tactically solid teams. Not bashing on the Bosnian fragger – that's just the reality of the situation at hand.
NiKo can't concentrate on both IGLin and fragging simultaneously. Sure, he's not the sole IGL in nexa's absence, but he's definitely the one pulling all the strings in clutch situations. He's one of the best fraggers in the world, that's for sure, but if he lets the tactical side of things get the better of him, I reckon NiP will be the winning team here.
Wrapping Things Up
With those words, we're ready to wrap this piece up. Roll the predictions:
NiP vs. G2 Betting Predictions:
Odds are courtesy of BetOnline. Check out our BetOnline review here.
G2 are, according to most statistics, the dominant side here. But, the lack of nexa ought to be more apparent in these high-intensity clashes, and we can be almost certain NiKo won't be able to hold the reigns, especially if the match goes the extra length… and I for one think it will go there!
That's what I'm going with for our NiP vs. G2 betting pick – total maps over 2.5 at -101. The value is here, and the past head to head contests are on our side. Fingers crossed we wenture into the grand finals with two wins to our tally!