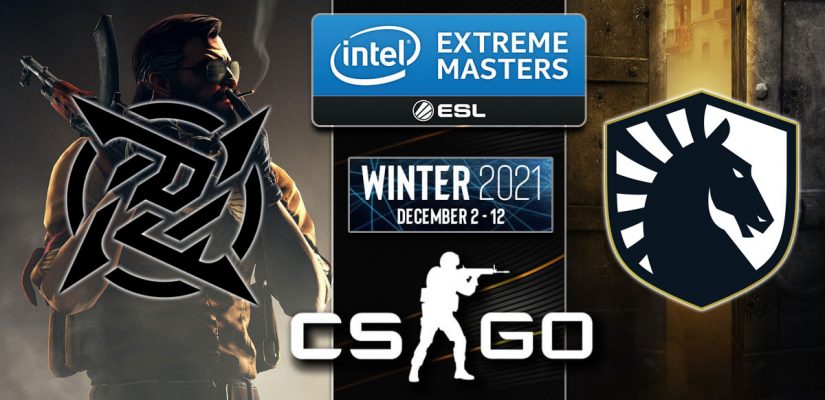 The group stage of IEM XVI Winter is halfway done. We're looking at an elimination match here, one that's bound to be the jewel of the day. The winning team is through to the quarterfinals, while the losing team will be eliminated. It's NA vs. EU – join us in our NiP vs. Liquid betting predictions and we'll tell you more about this game's value bets!
Day two of #IEM Winter is over and we already have 4 teams through to the playoffs!@G2esports @TeamVitality @virtuspro @GODSENT

Check out the brackets for both Group A & B below ⬇️ pic.twitter.com/1KO4zGCRLG

— Intel®ExtremeMasters (@IEM) December 3, 2021

NiP are only the slightest of favorites coming into this one. It's no wonder, considering their PGL Major campaign and a roster that's in much better state than Liquid's. But, knowing this is one of (if not the) last events for this Liquid roster, are we going to see them make one final budge? Let's find out!
NiP vs. Liquid Odds
For starters, here are the CSGO odds for this matchup:
Disclaimer – odds are subject to change

Both moneylines are solid. But, as stated earlier, NiP are the slightest of favorites – at -133, the value is definitely there! Liquid aren't half bad, though, but do they have the tenacity needed to bring NiP down and eliminate them?
NiP vs. Liquid Betting Predictions
As far as head-to-head matches go, NiP aren't in the best position here. Just a few days ago, these two met on BLAST Premier Fall Finals. NiP was on the receiving end of it, with Liquid taking the big W thanks one of NAF's best performances in a while. But, can the 24-year-old repeat such a display – now, that's the real question!
Ninjas in Pyjamas Betting Preview
Current Roster
hampus (IGL)
Plopski
device
es3tag
REZ
Ninjas in Pyjamas have played three matches on IEM XVI Winter so far. They won the opener against Astralis, though it wasn't nowhere near 16:1 this time around. Still single digits for Astralis, mind you. But, device and the boys stood no chance against Vitality. ZywOo's well-oiled machinery swept them aside, allowing just fifteen rounds on both maps combined.
OG awaited in the lower bracket. OG lost their bo1 to Liquid, but took down TYLOO without too much hassle. Things were perfectly set up for a class act, and a class act it was. The game went to the decider on Nuke, and OG boys just couldn't keep themselves together in the first half to do anything notable in the second.
Device has been NiP's key player ever since his arrival from Astralis. But, I'll dare to say, he hasn't brought forth that much of an individual impact as some had expected.
On the bright side, we've seen his teammates improve instead! It could be that device really does improve everyone he plays with…

Team Liquid Betting Preview
Current Roster
FalleN (IGL)
eliGE
Stewie2K
Grim
NAF
As for Team Liquid, they're enjoying a solid run here. No one had high expectations for them coming into this tournament, not with G2, NiP, Astralis, and Vitality in the same group. But, with Astralis out of the equation following a 2:0 stomping by in-form Liquid, Liquid will now fancy their chances against NIP.
They have every right to! Amidst speculations of a massive roster rebuild, this Liquid roster wants to prove once and for all that they are worth something. They had their ups and downs, they keep battling with inconsistency… and they keep losing key matches in domestic competitions. Internationally, they don't have much to show off either, which is why this is basically their last chance to do something right this year. Well, this and BLAST Premier World Final, but I'm sure you caught my drift.
One last thing – don't let Liquid's statistical superiority on maps like Mirage and Overpass trick you.

Yes, they're better on paper, but you need to understand the quality of Liquid's teams (in NA competitions) aren't really comparable to EU powerhouses NiP had to deal with.
Wrapping Things Up
I guess we're all done with the informative part! Here's our take on the picks:
NiP vs. Liquid Betting Predictions:
Odds are courtesy of BetOnline. Check out our BetOnline review here.
Yep, just a straightforward moneyline on Ninjas in Pyjamas. Even though they got stomped by Vitality, NiP survived against OG, showed plenty of grit, and are the rightful favorites here. I believe in device's ability to lead his team through. Plus, we all know what he did to Liquid in the past when he was playing for Astralis.
That leads us to the end of our picks.
Thanks for reading the whole thing boys – good luck out there!