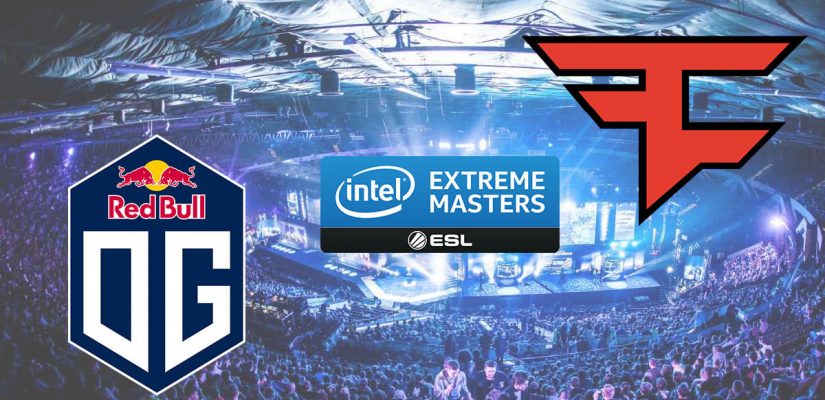 The European iteration of IEM XV New York is almost over! There's just one more match to be played and that's it! Worry not, though, as we won't have to wait for the next big event for too long. In just a few days, DreamHack Open Fall kicks off with an exclusive event for teams from the Old Continent.
With $115,000 in the prize pool and sixteen ferocious European teams, it's bound to be a proper clash!
We'll have in-depth coverage of that event too, in a day or two. For now, let's focus on OG vs. Faze picks; let's try to figure out which team is going to lift the virtual IEM XV NY trophy!
OG vs. Faze Picks
Believe it or not, this is OG's first grand finals match on a notable event. The closest they've got since jumping into the CSGO scene was on DH Open Summer and CS_Summit 6. They got eliminated by BIG in the semifinals on both occasions.
Another interesting fact is that this is Faze Clan's first grand finals in 2020! They do have more close calls (AKA semifinal eliminations) than OG, but that's not that big of an advantage, really…
Grand Finals incoming. @FaZe_rainCS @fazeniko @coldzera @brokycs @KjaerbyeCS #FaZeUp

— FaZe Clan (@FaZeClan) October 10, 2020
Regarding our OG vs. Faze picks, we're going to start off with the form, then work our way through the group stage encounter, individual qualities and map pool stats. We're doing everything as usual, so let's cut to the chase!
Form
Coming into this event, Faze was in the worst form of their lives. The entire 2020 has been one big mishap for NiKo and the boys. They just couldn't seem to get things going, they developed a habit of losing crucial playoffs matches… and it reflected in several roster changes.
The newest one, Kjaerbye, has people hyped up, but it's too far of a stretch to label things right now. We need to give the Dane more time to properly sync up… The thing is, though, when Faze reaches grand finals, they rarely lose them. They played four grand finals since the start of 2019 and won three of them. The only loss was against Team Liquid on BLAST Pro Series LA.
As for OG, the only two notable events are the earlier-mentioned DH Open Summer and CS_Summit 6. Other than that, this OG roster has nothing else to showcase. It's understandable, though – online events in Europe are harsh, the competition is brutal, and newly formed rosters are always going to have difficulties.
OG players are showing great effort, though. They're packing quite the punch in terms of individual experience, but it's teamwork that seems to be lacking. As time goes on, they're bound to improve in that department… and they might even become a bigger threat on the European stage. Who knows, when this whole pandemic thingy is done and dusted, maybe they'll get to showcase their might on the international level too!
Last Head to Head Match
As stated earlier, OG and Faze played a head to head match in the group stage. You probably know that OG topped the group, meaning they took Faze down in the winners' match. Now, our CSGO picks already missed Faze on two of our slips. They're ruining our record, guys! But, it is what it is, so here's hoping they won't mess things up for the third time!
As for the match, it was a hard-fought contest. Faze couldn't even take their map pick, losing 2:0 on Dust 2 and Overpass. Nuke was set to be the decider map, but the match didn't go the extra length.
What can we conclude from that match, though? What sort of value can we extract for our OG vs. Faze picks?
Well, for starters, NiKo was missing! If the Bosnian superstar can make a comeback in the grand finals, I believe we'll see a completely different Faze Clan. We know he has the magic touch, we've seen it times and times again. Heck, he's been superb against both Vitality and BIG, two matches following the defeat against OG in the group stage. If he shows up for the occasion tomorrow, we're going to see a completely different match, mark my words!
You can check out the replay of the first map here
You can check out the replay of the second map here
Map Pool Depth
I don't want to get into too much details map pool wise. The group stage match showed us that both Faze and OG are ready to play as chaotic as possible just to get their way, even on maps that aren't their natural picks. That said, I don't think we can point out the winner here. Both teams have their strong points, and it's up to them to play their cards right in the banning phase.
Individual Qualities
Just like last time, I need to point NiKo out as the player with the most potential. He's the target man coming into every match… and it's safe to say OG targeted him perfectly in their group stage encounter. NiKo was blocked on all fronts, he just couldn't get his game going. His inability to lead upfront is what caused Faze to lose crucial rounds… rounds that could've pushed the match in their direction.
On the other end, valde was running circles around the opposition! The Danish maestro is in the form of his life, and he's taking no prisoners. He finished that head to head match with 50 kills and a 1.45 HLTV rating.
Who will we be playing against tomorrow in grand final?@TeamVitality or @FaZeClan?

Before their own semifinal, Captain @AleksibCSGO has already made his salty pick!

We can't wait. #DreamOG #IEM pic.twitter.com/LHCbTBEiO8

— OG CS:GO (@OGesportsCSGO) October 10, 2020
With that in mind, here are some concrete picks for you:
Faze vs. OG Betting Predictions
Bookies trust OG! They've had enough of Faze Clan, it seems! And I can't blame them – Faze Clan messed up two of our recent wagers, making our betting bankroll greatly suffer.
How to Find Good CSGO Bookies | Key Factors to Consider
We're not done just yet! Even though our OG vs. Faze predictions are done and dusted, there's still useful info we need to share with you. Despite the fact CSGO betting is a fairly old niche, newcomers are joining the show in ever-increasing numbers. For that reason, it's our duty to bring forth extra information that might be of some use towards both beginners and experienced esports betting enthusiasts!
For starters, let's talk about CSGO bookies! The most important question was always going to be the following: where to find a good online bookie?
You might think I'm joking, but the answer is in the question itself – online!
But, a simple Google search won't do you a lot of good. Instead, try clicking on the above-featured link. It will lead you to our CSGO bookmakers guide, an in-depth piece focusing on all things CSGO betting! The key characteristics you should look for are as follows:
On-Page Navigation
Fluid on-page navigation is an essential factor for beginners. If you're yet to place an online bet on CSGO, pick a bookie whose interface feels comfortable. It's difficult to explain this factor because it's not 100% objective and there are massive discrepancies across the board… but I'm sure you'll know what good on-page navigation is once you come across it.
Payout Speed
You'll want to get your money as quickly as possible, preferably within 24 hours after placing the withdrawal request. However, some bookies take their time with processing users' bets, probably hoping they'll cancel it and splurge through the winnings. Needless to say, our favorite bookies (the ones you'll find if you check out our CSGO bookies guide) belong to the top of the food chain as far as payout speed is concerned. If getting paid ASAP is your top priority, you know where to look!
CSGO Betting Options
Obviously, you need to look for a bookie that has excellent CSGO coverage! In addition to standard match-winners, look for bookies that aren't afraid to mix things up in the specialties department.
We're talking round totals, map totals, correct score, pistol round bets, player vs. player kills, and similar fun stuff. That's what CSGO betting is all about – specials are what makes it the number one esports title to bet on!
That's pretty much it as far as our OG vs. Faze picks are concerned!
Fingers crossed we finish the European IEM XV NY event with a banger.
Donnie out…