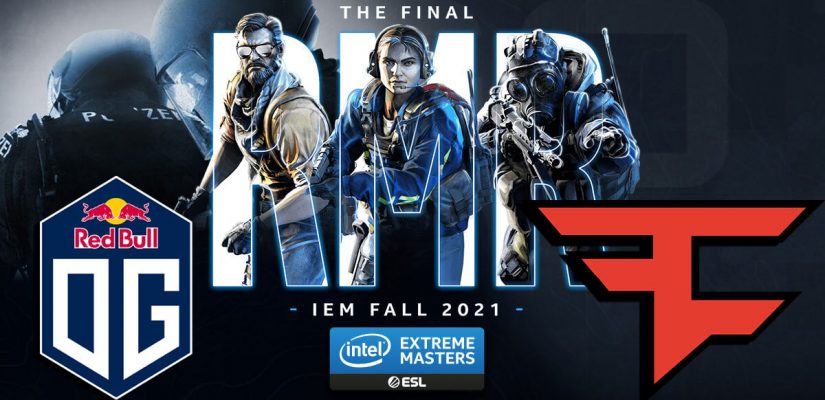 OG and Faze Clan failed to get through their respective groups. But, they are still in the mix to snatch one of just a few remaining EU spots for the PGL Major. The math is simple – the winner of this matchup remains in the equation.
This is going to be a fiery best-of-three, but don't you worry – our OG vs. Faze betting predictions will give you all the necessary info to make the best-possible choice here.
I'll join you tomorrow 17:00 CEST. Don't worry. https://t.co/tRALLmz07V

— OG CS:GO (@OGcsgo) October 4, 2021
OG are poking Faze on Twitter, but that's understandable as there was nothing else to do on social media earlier today – everything but Twitter was down. Real talk, though – there won't be any love between these two, which means we're in for a real cracker!
OG vs. Faze Odds
Here are the odds for this CSGO matchup:
The odds make it quite clear that this could be anyone's game. The bookies slightly favor OG, but that doesn't necessarily mean anything going forward. That said, let's kickstart out OG vs. Faze predictions by exploring what each of the two teams has to offer.
OG vs. Faze Betting Prediction
This year, OG and Faze met four times. The last h2h happened just last month on BLAST Premier Fall Groups. Overall, they're 2:2… though Faze took the last match that eliminated OG from the event and pushed them down into the Showdown.
OG Betting Preview
OG have been in excellent form over the last two months. They won Spring Sweet Spring #2, placed second on IEM XVI Summer and finished third/fourth on ESL Pro League Season 14. In between the last two, though, they had a small mishap on IEM XVI Cologne where they got eliminated right off the bat.
Mantuu and Aleksib have been their key performers thus far.
FlameZ, their usual top fragger, has plaed well… but knowing his past performances, we all expected more. This could be a mitigating circumstance for OG – if FlameZ finally shows up for the occasion tomorrow, OG might have that extra spark to push through and keep in the PGL Major battle.
Maps-wise, OG will fancy Dust 2 and Inferno. They are statistically superior on both of those maps… though I have to admit Faze Clan aren't too far off either. Which maps should favor Faze, then? Mirage is the obvious number one choice for them, a remnant dating back to NiKo's era. Additionally, Overpass and Ancient could be solid options too, depending on what OG ends up banning in the end.
Faze Betting Preview
Moving on with these OG vs. Faze betting predictions, let's not forget about the second part of the equation, Faze Clan. They might not have been in the best of forms this year, but they're in an upward spiral. Solid campaign on IEM XVI Cologne, followed by an unlucky EPL S14 group stage elimination bear the most importance.
We have to mention their good BLAST Premier Fall Groups encounters too. In fact, one of them was against OG – the deciding match that sent them through to fight Complexity. But, they always seem to choke in the most crucial matches. Now, with a Major ticket hanging on a thin line, the choke potential is real…
But, then again, Faze Clan's roster is packed with talent. Not just talent, mind you – a whole heap of experience too. Rain, olofmeister and karrigan are some of the most experienced players out there. When they're on a roll, they form a rock-solid core. Twitzz and broky, on the other hand, are there for fragging input.
Wrapping Things Up
I guess we're all done with the main part. Here's the pick:
OG vs. Faze Betting Predictions:
Odds are courtesy of BetOnline. Check out our BetOnline review here.
Why am I going with Faze here? Well, the odds are perhaps the highest they've ever been for this Faze Clan roster.
It's basically make it or break it for them.
They have some of the world's biggest talents and failing to qualify for the first CSGO Major Championship in two years ought to be worth disbanding the entire roster. You've heard it here first!
But, I don't think it will come to that – Faze Clan players will rise up to the challenge tomorrow and push through to the ninth-place match, probably against Heroic.