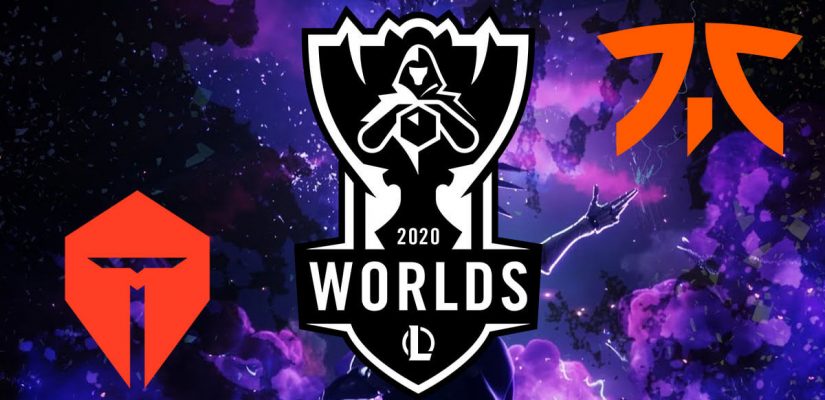 The first quarterfinals match of the ongoing League of Legends World Championship has just ended. DAMWON defeated DRX in what was a pretty confident 3:0 blowout. There's one less LCK participant on the event, but one is already in the semifinals, and the second one could be there too, if Gen.G defeats G2. Today, though, we're here to talk about the LPL champion taking on the second LEC seed. Yep, Top Esports vs. Fnatic predictions are here, but before we start analyzing the match, let's take a closer look at the best LoL betting sites to use during the 2020 LoL Worlds!
#TESWIN https://t.co/9Y2UEZQ0Cz

— TOPESPORTS (@TOP_Esports_) October 12, 2020
Where to Bet on LoL Worlds | Best LoL Betting Sites
Betting on LoL Worlds is the hottest thing in the entire esports betting sphere. The scene's biggest event this year was always going to attract numerous bettors… good old esports fans too. However, even though the biggest esports event in 2020 has plenty of betting action going on, you ought to stumble upon issues with finding good bookies.
You see, there's no lack of quality esports bookmakers.
However, they might not be that easy to find. You'll have to dig far and wide for them – your typical Google search just won't be able to suffice here. The best place to find good LoL betting sites is to click on the link.
Is LoL Betting Dangerous?
This is a common question related to betting on League of Legends. And it's totally understandable, seeing as people don't want to invest time and money in something that could potentially lead them into bigger problems.
And, in all honesty, LoL betting can indeed be dangerous… if you don't pay attention and you're not willing to control yourself and your cravings.
If you're one of those people that just want a quick cash boost and believe they'll get it by betting on LoL Worlds, I got a news flash for you – you're not going to make it! The only thing you could make is a whole heap of financial problems that'll take months on end to resolve. I'm not even exaggerating here. Online betting is not dangerous for responsible people… irresponsible individuals, on the other hand, should stay away!
Top Esports vs. Fnatic Predictions
Let's get ready to rumble, fellas! Here comes the main part of our Top Esports vs. Fnatic predictions, the part you're all most interested in!
The third #Worlds2020 Quarterfinal:@TOP_Esports_ vs @FNATIC

Who will advance to Semis: #TESWIN or #FNCWIN? pic.twitter.com/L9eQmhbGGw

— LoL Esports (@lolesports) October 14, 2020
This was always going to be an interesting match… knowing Fnatic's issues with LPL teams, and knowing the complexity of the matchup itself. Obviously, Top Esports is the heavy favorite here. Their only group stage loss came against FlyQuest, but it meant nothing really. TE cruised to the top spot and are now going up against Europe's second seed.
Can Fnatic Create a Massive Upset Here?
Well, it's about time we address this in our Top Esports vs. Fnatic predictions! As stated earlier, Top Esports was always going to be a favorite. Heck, they're going to be the favorites no matter which team they play against. They're the best team of the best region, enough said.
But, does Fnatic have the quality to make an upset here?
Well, their group stage was pretty consistent, having lost only to LGD and Gen.G. They defeated both, though, which goes to show their tenacity. However, Top Esports will bring forth the next level of competitiveness. LGD is a good team, Gen.G too… but TE is on a whole different level.
Karsa and knight had an excellent group stage. We can say the same thing about JackeyLove too. Heck, everyone on this TE roster is capable of doing plays, no matter the role. Top carrying – say no more. Fed mid – sure thing! Carrying from the bottom a la yuyanjia – not a problem!
Fnatic will throw everything they have at TE and are likely to win at least one map. They've shown us they mean business… but the curse of LoL Worlds eliminations from LPL teams is bound to continue here.
Wrapping Things Up
I guess it's time to wrap things up!
Top Esports are the favorites here, and I reckon they'll cruise to the semifinals against the better of Suning and JDG.
However, I also believe Rekkles and the boys will give 120% of themselves to put up a proper fight. Honestly, I doubt it will be enough to turn things their way… but it should be enough for at least one map. One good banning phase and one good composition, that's all we need from Fnatic to win the following wager:
Top Esports vs. Fnatic Predictions
Yep, we're going with a correct score wager here. It's risky, I know, but you don't have to follow me. This bet works best as a part of a low-stake accumulator. Not a big one though – find one or two additional wagers with similar odds and hope for the best. The return should be good enough to warrant the risk.
Odds are courtesy of Betway. You can check out our Betway review here. And for users in the United States check out Bovada for odds.
We're all done, fellas! Hope you've enjoyed the show; hope you'll follow my LoL Worlds betting tips to find more value in upcoming playoffs matches.
As always, thanks for sticking till the very end!