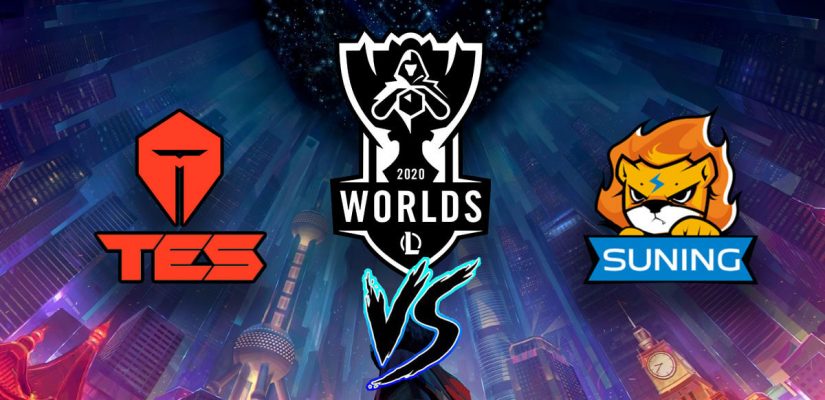 The second semifinal clash of this year's Worlds isn't exactly as hype as the one preceding it, but what it lacks in narratives and storylines it'll more than make up for in the gameplay department — of that you can be certain! On paper, this is an absolute barnburner, but how the series will develop once these two teams step foot on stage to compete is anyone's guess.
One thing needs to be said:
No one's quite sure how high to rank Suning. We knew they were a talented bunch, but no one expected them to make such big waves coming into Worlds. But it seems as though Suning cared very little when it came to what the community felt they could or couldn't accomplish.
They beat last year's finalists G2 Esports in pretty convincing fashion (2:1 in their head-to-head record) and then proceeded to dismantle JD Gaming with relative ease. Simply put, both outcomes took us by surprise. Their 3:1 win over JD Gaming even more so, given how G2 has a tendency to improvise and fool around whenever they're playing in the Best of 1 format. JD Gaming, on the other hand, was widely considered as one of the best and most dangerous teams in the world; a line-up that definitely knows its way around a five-game series. But none of it mattered once they stepped foot on stage to face Suning — a team they always got the better of throughout the regular season.
The fact that Suning evolved so much in so little time is a true testament to their work ethic and the long-term potential which they possess.
JDG kept things fairly even, but they still came up short. Suning was clutch in every sense of the word, and while they didn't exactly blow JDG out of the water, they were consistently better in the most crucial of ways. Their team fighting, in particular, was downright spectacular. They didn't always have a lead they could leverage, but that ultimately didn't matter much as they fought like their lives depended on it.
Top Esports, however, is on a whole 'nother level.
Why is Top Esports Favored?
The answer to this question is relatively quick and simple:
They're among the best and most dominant teams in history.
Granted, their staggering run began mere months ago, but the fact that they're already deemed as a legendary roster of unparalleled strength tells you all you need to know. Their meteoric rise, however, shouldn't come as much of a surprise, as it's in line with a very fascinating trend that's been so prevalent over the last couple of years — we see these incredibly dominant and impressive line-ups pop up seemingly out of nowhere, only to deteriorate and plummet performance-wise immediately after winning Worlds.
This is especially true for LPL champions, including Invictus Gaming and FunPlus Phoenix — neither of whom have qualified for this year's Worlds. Newer and more dangerous line-ups are brought into existence therefore making older and more established ones somewhat "obsolete." Quite a fascinating cycle.
Top Esports hails from what is currently the best region in the world, and yet they ran circles around their opposition with relative ease throughout the year. If you're after the best and most mind-blowing League of Legends, then you can't go wrong with Top Esports.
All of that said, their Best of 5 against Fnatic did leave a sour taste in one's mouth. They didn't look nearly as good as people thought they would. Whether that was because Fnatic overperformed or something else is up for debate. To their credit, Top Esports definitely stepped up when it mattered most and adjusted as the series went along, but someone else — a team that's more dangerous than Fnatic — might not give them as much wiggle room.
Fortunately for Top Esports, Suning shouldn't be able to exploit their (few) flaws and weaknesses. Regardless, a closely contested series is all but guaranteed.
Wrapping Things Up
Make no mistake: Suning is a force to be reckoned with, but the fashion in which Top Esports annihilated everyone back on home soil was nothing short of mind-blowing. Suning definitely stepped up over the last couple of weeks, but they still pale in comparison to the LPL champions.
Granted, the gap between them might not be as big as most of us originally thought, but it's still there, and those small, nuanced differences always end up being the difference between victory and defeat. It's their laning, the way they set up objectives, the speed at which they rotate around the map, and how well they sync up once those hectic five-on-five team fights start to break out. Suning is amazing at most of these things, but Top Esports — at least based on their regular season run — has always been better, and very much so.
Again, it might not be a huge difference, but it exists and that's the only thing that matters at this point. That, of course, is what we're betting on here, the fact that Top Esports know whom they're up against and how to prepare.
If they were facing a different opponent, they'd face a much harder challenge. But a well-known challenger from their own region shouldn't be able to accomplish much. Still, expect an absolute barnburner that might even go the distance, depending on how well Le "SofM" Quang Duy and his allies perform.
We're gonna side with the LPL champs on this one, and the rest of the world will probably do the same as well. They're simply too good at this point in time and even though they probably won't outclass Suning as hard as some expect, they should still be able to get the win. Either way, we're in for one heck of a ride!