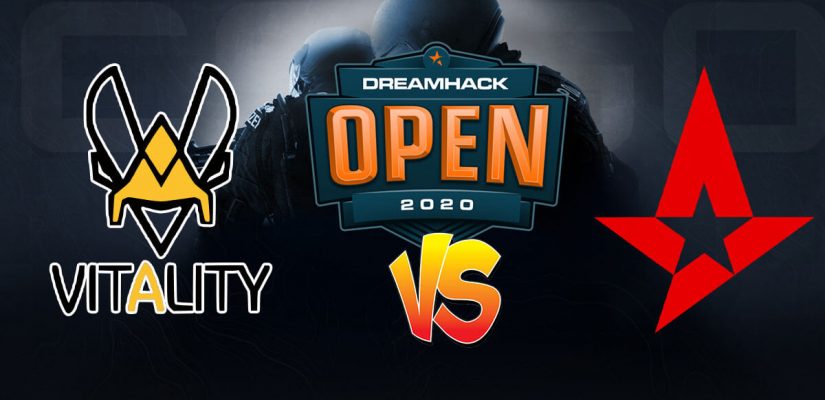 DreamHack Open Fall 2020 is close to being done and dusted. With just a couple of matches to go, we need to step our game up with a high-value win… and that's exactly what we hope our Vitality vs. Astralis picks will bring forth! It's the upper bracket finals, meaning the losing team isn't out of the equation just yet. They'll be going down to the lower bracket final where they'll get another shot at reaching the grandest of stages. Still, there's everything to play for here, even though the team that reaches grand finals through the upper bracket doesn't have a map advantage.
If you're just starting out and you're looking for all the help you can find, our guide for online betting on CSGO is something you should check out ASAP! It will guide you through the basics and help you place an online CSGO wager. It's also a good place to find reputable online bookies that feature CSGO betting. It's a must-read for all beginners!
Vitality vs. Astralis Predictions
Nothing like a good old upper bracket final! Nothing like the good old rivalry between Vitality and Astralis! Let's dig right into recent performances of both sides as they ought to tell us more about the complexity of this match!
Forms
Fnatic gave Astralis a proper run for their money last night. It was one of those push and pull matches that could've gone either way… but Astralis finally took control of the match in the decider map (Overpass), securing 11:4 halftime lead on the T side. Device was by far the best player on the team. If the 25-year-old Danish fragger has another one of those days, Vitality won't have a fun time tomorrow.
Overpass was definitely @dev1ce his best map today! Look at these stats! ?

What a performance to help his team claim that final map in the series! ?#DHOpen pic.twitter.com/wXl5KWzbwO

— DreamHack Counter-Strike (@DreamHackCSGO) October 21, 2020
Then again, the Frenchmen haven't made it this far by accident. They took down Mousesports and Fnatic in the group stage, as well as Nip and BIG in the playoffs… and lost just one map in the process. Talk about a winning mentality, huh?
Campaign-wise, Astralis' last event ended as a major success. ESL Pro League was the occasion, and Astralis came out on top after defeating NaVi in the grand finals. That was one of the best matches this year if we're being totally honest.
Map Pool Depth
Even though both teams are in good form, Astralis takes the W in terms of the map pool. The Great Danes will prefer Vertigo, Nuke, and Train… although the latter is Vitality's permaban so it doesn't really count. On top of that, the Great Danes are statistically better on Inferno, but it's somewhat of a far stretch.
Typically, Astralis and Vitality love to play Nuke and Dust II… and the Frenchmen keep sticking with those maps even though keep losing matches. I mean, they did win on Nuke during BLAST Premier Spring Showdown, but that's about it…
Long story short, Astralis should have the upper hand maps-wise.
They're yet to lose against Vitality in a Bo3 in 2020, which goes to show you their superiority. Yep, I reckon you already know in which direction these Vitality vs. Astralis picks are going!
Individuals
It's difficult to pick the winner here… I mean, it's nothing surprising – it was always going to be the case with these two teams. On one end we have an absolute monster of a player, zywOo, but on the other end, we have an absolute monster of a collective. Both teams have been playing well and are stringing together wins against notable opponents, which just makes our Vitality vs. Astralis picks that more challenging.
Even though Astralis doesn't have xyp9x (he's set to return for BLAST Premier Fall), es3tag is finally looking like a notable substitute. I hope I didn't jinx him there, I really do, because:
Vitality vs. Astralis Betting Predictions
Yep, Astralis is my match-winner here! The Great Danes only lost one match against Vitality this year, and it was a Bo1 so it doesn't really count.
That said, Vitality already has a reputation of bottling crucial matches, and this here is exactly that. I doubt they'll be able to break their curse…
Not against Astralis, at least.
I expect them to reach the grand finals though, they'll be the favorites no matter who they play against in the lower bracket!
Odds are courtesy of Betway. You can check out our Betway review here. And for users in the United States check out Bovada for odds.