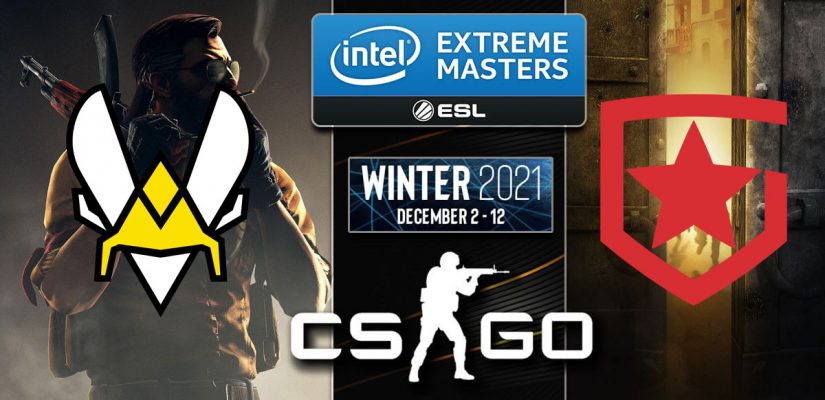 Just six teams remain in the event. Just six teams are still in the equation for IEM XVI Winter title discussions. G2 and Virtus.pro are already through to the semifinals where they await their opponents. As for the remaining four, they have to go through the quarterfinals for a spot in the semis. GODSENT vs. NiP winner goes up against G2. Vitality vs. Gambit winner goes up against VIrtus.pro
The #IEM Winter play-off bracket is LOCKED IN ?@NIPCS vs @GODSENT
Winner plays @G2esports @GambitEsports vs @TeamVitality
Winner plays @virtuspro pic.twitter.com/emXCK9Z2ha

— Intel®ExtremeMasters (@IEM) December 5, 2021

The latter is what we're here for! Yep, Vitality vs. Gambit betting is the main topic here. This is basically the grand finals before the grand finals. Two teams who had been dubbed as the avorites before the opening round. Now, one of them will go through to the top four while other will have to bid their farewells. Who will be on which side? Let's find out in the remainder of our Vitality vs. Gambit betting picks!
Vitality vs. Gambit Odds
For starters, here are the CSGO odds for this matchup:
Disclaimer – odds are subject to change

As you can conclude from the odds, this is going to be a very intense matchup. To make matters worse, we don't have a whole lot of h2h stats to back our claims up with either. There are just two head-to-head match in the history of these two. On a slightly brighter note, the last happened just two months ago on ESL Pro League S14. Vitality won 2:0, beat OG after that, but failed to assert dominance against NaVi in the quarterfinals. The previous h2h also went in Vitality's favor – IEM Summer was the occasion and ZywOo's boys won 2:0 on Overpass and Dust 2.
Vitality vs. Gambit Betting Predictions
Looking back at that match, coupled with previous IEM XVI Winter results, I have to admit I am slightly leaning towards Vitality here. But, nothing is set in stone just yet. We need to take a good hard look at both sets of players to determine the value picks here!
Vitality Betting Preview
Current Roster
apEX (IGL)
ZywOo
shox
misutaaa
Kyojin
Even though Vitality had a shaky start to this tournament with a fragile overtime win over Mouz, they turned things around with a stomping over Ninjas in Pyjamas in the second round. And right when we all thought Vitality were going through to the semifinals due to G2's roster visa issues, ZywOo and the boys stumbled and got pushed to the quarterfinals.
Here they are now, in an elimination match – the very first match on this event they are not the favorites in. We're talking slight difference here, but difference that should mean a lot coming into this one.

We're looking at a very important match here. Not only have these two been at the top of the best CSGO teams list for quite a while, they're also direct competitors on the upcoming BLAST Premier World Final next week. Winning this match doesn't just open the road to the semifinals here, but also gives the winning team a mental advantage should they face again next week.
Gambit Betting Preview
Current Roster
Nafany (IGL)
sh1ro
Ax1Le
interz
Hobbit
Next up, let's talk about Gambit! The CIS side came into this tournament as the team to beat for the title run. All real money CSGO bookmakers favored them to win this title, and we can safely assume they are on the right track. But, a big match is ahead of them; a match that won't have an easy winner.
Gambit can consider themselves lucky because their key players are in fine form. Even more so, their support players are coming up in the world too. They are one of just a few teams that can actually rely on any of their five starts and come out on top.
Maps-wise, Gambit are statistically dominant on Overpass and Ancient. Everything else is either Vitality's ace, or a statistically level playing field. However, we have to mention the fact Ancient is Vitality's permaban and Gambit's 71% win rate in last seven matches won't mean much. The same goes for Gambit's Nuke – it's also a permaban, though they might even switch things up with Vertigo or >Inferno instead, seeing as Vitality love playing those.
Wrapping Things Up
There you have it boys – the informative part is all wrapped up. Here's what we have in store for you as far as concrete Vitality vs. Gambit betting picks are concerned:
Vitality vs. Gambit Betting Predictions:
Odds are courtesy of BetOnline. Check out our BetOnline review here.
So far, Vitality and Gambit played just two h2h clashes. Both ended with the exact same result, and both had the same winner. Are we going to see things change in this one? Well, I for one, think we will! While I'm not that confident in Gambit's ability to win here (I'd say the chances are as level as they come), I am positive we're going to see this one go the full distance!
At -108, we're looking at solid value here. Make sure you don't sleep on it!