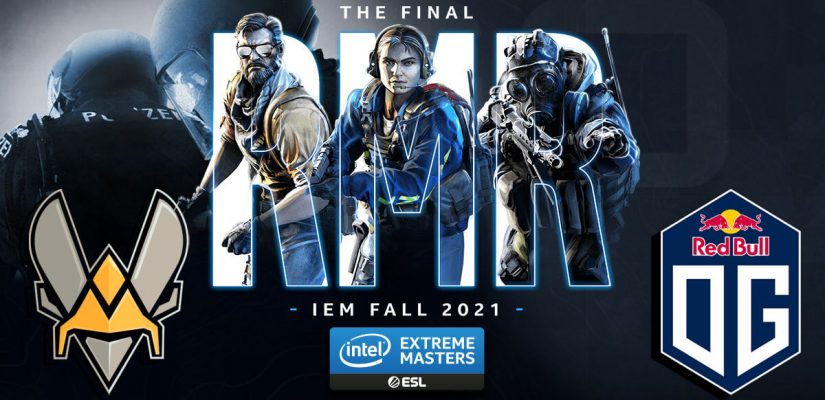 I told you that -164 moneyline on G2 was a steal. Hope you followed that one through with a medium stake. We're here, however, to continue our IEM XVI Fall EU betting coverage. This time around, we're ready to present you our Vitality vs. OG betting predictions.
Our group A match-up results are coming in! #IEM

A Stream@BIGCLANgg 8-16 @G2esports

B Stream@FPX_Esports vs. @mousesports
? https://t.co/YTQexuLupl

C Stream@CPHFlames 16-14 A U R A pic.twitter.com/JehWhd4VSA

— Intel®ExtremeMasters (@IEM) September 30, 2021
It's another detailed look into an IEM XVI EU group stage clash. Thus far, G2 and Copenhagen Flames are leading the charge in group A, but they're set for a head-to-head tomorrow. No worries, we'll give you our opinion for that match as well.
Group B matches are still live, with Astralis, Heroic, and Sinners taking wins in their openers. As for the final two groups, C has OG and Vitality, today's contestants, up top with 2:0; group D has Double Poney and NiP.
Back to main topic, though, let's start analyzing Vitality vs. OG!
Vitality vs. OG Odds
The best way to start our Vitality vs. OG betting predictions is with a quick look at the odds:
Total Rounds Over 26.5
-120
Total Rounds Under 26.5:
-112
Total Rounds Over 25.5:
-179
Total Rounds Under 25.5:
+130
Vitality vs. OG Betting Prediction
Even though both teams are coming into this one with two straight wins, Vitality are the obvious favorites. ZywOo is, as always, in clinical form and will be ready to pounce at in-form OG.
OG's mantuu and flameZ aren't to be taken for granted, though!
FlameZ was absolutely crazy in that overtime drama against ENCE. He was the leading player, followed in close fashion by mantuu. 93.4 ADR for flameZ tells you a lot.
Vitality Betting Preview
What about ZywOo? What do his recent stats have to tell us? It's safe to say he was the deciding factor in Vitality's close, 30-round thriller against Sprout. ZywOo finished the map with 107 ADR and 86.7% KAST – CRAZY!
He took a more lenient approach and finished with eleven kills, 89.4 ADR, and 83.3% KAST. Why are we so focused around ZywOo here? Well, it's because he's all Vitality has to offer in certain matches.
Historically, Vitality are much better than OG! They played four h2h matches this year and Vitality took three wins. OG, however, took arguably the most important one on IEM XVI Summer. These two have some bad blood between them, that's for sure!
OG Betting Preview
Now, let's talk OG! They're not exactly considered as the best team in Europe, but when they're in good form, they're not far from it. At the moment, we can safely conclude that they are, indeed, in fine form! They're coming into this clash with 2:0 and, despite finishing poorly on BLAST, had a great outing on the far more important ESL Pro League Season 14.
FlameZ and mantuu are setting the tempo for the rest of the team. They're fragging at will, really, pushing the team forward and serving as proper catalysts in their victories. They will definitely need an excellent match against ZywOo and the boys. But, as stated earlier, they know how to defeat Vitality. It wasn't that long ago… true, it was a tight 2:1 ordeal, but OG stood their ground and made it happen.
That said, if push comes to shove (value-wise), we'll have to keep OG moneyline as a viable option here.
Wrapping Things Up
Here's the deal guys:
Vitality vs. OG Betting Predictions:
Odds are courtesy of BetOnline. Check out our BetOnline review here.
The over/under bets, ALL OF THEM, could go either way. This is a bo1 and we can't know which map will end up as the one. In some instances, when you have teams with poor map pools, these bets are viable. For this one – no way!
We're doomed for a moneyline and Vitality's -192 is just too low in my books. That said, I suggest you bet low stake on OG upset. At +142, it's not the highest return, but OG aren't strangers to defeating Vitality and they'll definitely fancy their chances.
That'd be all for today, boys and girls!
Join us again tomorrow as we continue our IEM XVI Fall betting coverage!