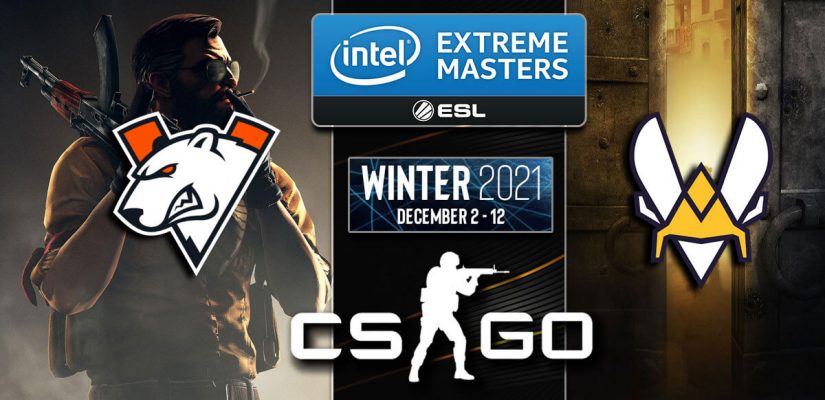 Vitality vs. Virtus.pro betting picks is what we're here for! It's the first of two semifinals clashes at IEM XVI Winter, one that has the audience eagerly waiting at the edges of their seats. It's going to be a thrilling encounter, one which I wouldn't want to miss for the world.
THE #IEM WINTER 2021 TOP FOUR!@virtuspro ??????@TeamVitality ??@G2esports ??????@NIPCS ????

Semi-Finals will be played Saturday, December 11th! Starting with VP vs. Vitality at 16:00 CET!

See you then! ? pic.twitter.com/yO1CuKUowf

— Intel®ExtremeMasters (@IEM) December 5, 2021

As for our Vitality vs. Virtus.pro betting predictions, we're looking at their fourth match this year. Two were bo3, with both sides taking one.
The third one was a bo1 in Stockholm and Virtus.pro emerged victorious on Vertigo with full 30 rounds on the clock.
This goes to show you just how tight this match is going to be. It's a best of three, though, so there's plenty of stuff for us to analyze!
Vitality vs. Virtus.pro Odds
For starters, here are the CSGO odds for this matchup:
Disclaimer – odds are subject to change

As you can see, the bookmakers also reckon this is bound to go the extra length. At -159 and +132, the moneylines are pretty close. The same should stand for the match itself – it's going to be a real cracker, that's for sure!
Vitality vs. Virtus.pro Betting Predictions
As mentioned earlier, Vitality and Virtus.pro played three times this year. Two were bo3's and each team won one. The third one was a bo1 on the PGL Major and it went to full thirty rounds with VP taking the much-needed win.
These matches don't really tell us a lot though, especially when it comes to the map poolside of things. For instance, take Inferno as the perfect example – in five total h2h maps, Inferno was the location on three of them. Vitality won one with 16:10, while Virtus.pro took two, one 16:14 and other 19:17.
It's just chaos, pure chaos… but that's just a part of the whole CSGO betting experience, right?
Vitality Betting Preview
Current Roster
apEX (IGL)
ZywOo
shox
misutaaa
Kyojin
Let's start off with Vitality. They are one of the best teams in the world and have been for quite some time now. They do, however, have problems with consistency. Well, more like choke problems, especially in grand finals. And while the latter hasn't been that prominent of an issue lately, it definitely plagued them in the past.
More recently, though, Vitality have been playing much better. They reached well into the PGL Major but ended up getting eliminated by eventual winners NaVi. It was a rough match for them, one they never stood a chance in.
As for this one, it will as always largely depend on how ZywOo comes into the match. If he starts blasting on all cylinders, we can expect a great performance from Vitality. But, then again, the same goes for Jame and YEKINDAR on the other side of the server.
Virtus.pro Betting Preview
Current Roster
Jame (IGL)
Buster
FL1T
YEKINDAR
qikert
VIrtus.pro have been no strangers to success this year.
They won Pinnacle Fall Series #1 and CS_summit 7, and also placed second on EPIC CIS League Spring and IEM XV World Championship.
As for the PGL Major, they did manage to reach the playoffs, which was no small feat by any means, but Heroic was just a tad bit too strong for them in the end. There's nothing bad to say about their performance in Stockholm… and not just for the Major but for IEM XVI Winter too.
The real question now is:
Can they defeat Vitality in this one? If they do, it would be their fourth grand finals this year. By looking at the other end of the semifinals bracket, they'd rightfully fancy their chances coming into that one.
Map-pool-wise, Vitality are better on Nuke and Mirage, though Nuke is VP's permaban. The CIS teams should be better on Overpass and Ancient, but again, the latter is Vitality's permaban. The rest of the map pool is pretty neck and neck, which suggests this ought to go to the third!
Wrapping Things Up
It's time to cement our picks and wrap it all up:
Vitality vs. Virtus.pro Betting Predictions:
Odds are courtesy of BetOnline. Check out our BetOnline review here.
I just can't say with enough certainty that one side will win the match. There's nothing suggesting one side over the other. In these types of matches, it's best to assert the map pool. We've done exactly that here, which is why we're going with total maps over 2.5 at -106. The value is there, and I reckon it also possesses far less risk than either moneyline.