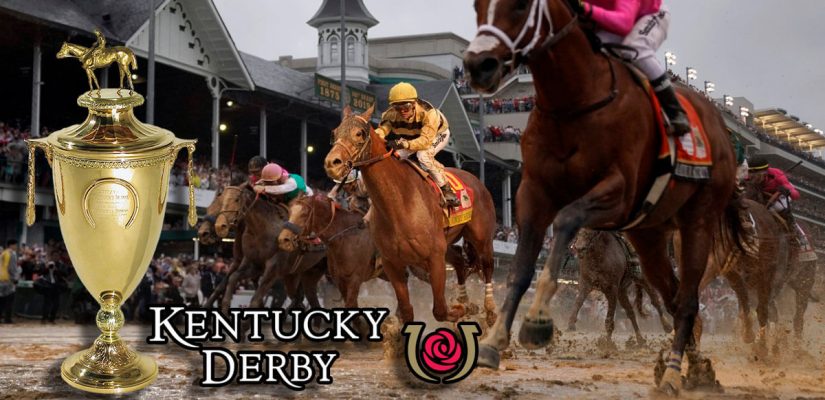 The 148th Kentucky Derby is scheduled for May 7 on Saturday afternoon at Churchill Downs. It's a packed card with eight stakes races. The day before, on Friday, the next biggest event of Kentucky Derby Weekend is the running of the Kentucky Oaks (Gr. 1).
Our favorite time of the morning.😀 pic.twitter.com/eNe6sQgG4T

— Kentucky Derby (@KentuckyDerby) May 4, 2022
The Kentucky Oaks is for the girls, as the fillies have a chance to get the spotlight for a $1,250,000 purse. If you're new to betting horses or just a fan of the Triple Crown, yes, fillies are permitted to race in the Kentucky Derby. You aren't going to find many trainers confident in pointing their girls to the Derby, though.
Hence, the Kentucky Oaks is only for 3-year-old fillies, with no colts permitted to race in this one. The Kentucky Oaks/Kentucky Derby Double is always a popular bet online and at racebooks. With the Oaks and Derby Double, you must correctly choose both winning horses to win your ticket.
Like a parlay, if either horse losses, your ticket is dead. The payout will, of course, be more rewarding if your ticket is successful, though.
Along with our best 2022 Kentucky Derby win bet and winner prediction, we'll have an Oaks/Derby Double pick, best show bets, matchup bets, and our superfecta wagers. Keep it locked to TheSportsGeek for all of your Kentucky Derby picks coverage.
You won't see us talking about a Bob Baffert horse because he's suspended from Churchill Downs and is not permitted to race in Kentucky for the next two years. Taiba and Messier were transferred to Tim Yakteen.
We have a Bob Baffert drinking game over at the Kentucky Derby party ideas page and more party game ideas. If you want our best 2022 Kentucky Derby bet to win head below.
Best 2022 Kentucky Derby Bet To Win
(1) Mo Donegal
+1000 (10/1)
(2) Happy Jack
+3000 (30/1)
(4) Summer Is Tomorrow
+3000 (30/1)
(5) Smile Happy
+2000 (20/1)
(7) Crown Pride
+2000 (20/1)
(8) Charge It
+2000 (20/1)
(9) Tiz the Bomb
+3000 (30/1)
(11) Pioneer of Medina
+3000 (30/1)
(13) Simplication
+2000 (20/1)
(14) Barber Road
+3000 (30/1)
(15) White Abarrio
+1000 (10/1)
(16) Cyberknife
+2000 (20/1)
(17) Classic Causeway
+3000 (30/1)
(18) Tawny Port
+3000 (30/1)
(20) Etheral Road
+3000 (30/1)
The Kentucky Derby covers 1 ¼ miles on the historic grounds of Churchill Downs. Zandon and Epicenter are the leading candidates to win, with Zandon the morning-line favorite at 3/1 to win the 2022 Kentucky Derby.
Is Zandon the best value bet, though? I'm circling Smile Happy and Epicenter as my two favorites to win on Saturday. Zandon certainly isn't going to fade away, but Smile Happy and Epicenter carry nice value.
Smile Happy is 20/1 on the morning-line, which I'm not so sure about, that doesn't look right. In my view, Smile Happy has a better chance to win that those odds indicate.
"There's not that much that separates us and the favorites."

Lexington's @KennyMcPeek has TWO @KentuckyDerby horses in Smile Happy and Tiz the Bomb. 20-1 and 30-1 odds, but anything can happen on Derby Day. pic.twitter.com/O9O45INwCV

— Alex Walker (@AlexWalkerTV) May 4, 2022
The colt has finished 1st, 1st, 2nd, 2nd in four career races. He won back-to-back outings and his graded debut on November 27. In the biggest win of his career, Smile Happy beat Classic Causeway by 3 ¼ lengths in the $400,000 Kentucky Jockey Club Stakes (Gr. 2).
His only two losses? He placed 2nd behind Epicenter in the Risen Star Stakes (Gr. 2) on February 19 and then another leading contender.

Smile Happy came back to place 2nd behind Zandon, the next biggest contender in the Derby in the Toyota Blue Grass Stakes (Gr. 2) most recently on April 9.
Along with his only losses to two top contenders, Smile Happy draws the most favorable post position in Derby history. The No. 5 has produced the most winners and top-3 finishers.
Epicenter turned on the jets to pull away and win the Louisiana Derby and earn 100 points! 💨

TV: CNBC pic.twitter.com/4f8oyhIz2x

— NBC Sports (@NBCSports) March 26, 2022
Epicenter is going to be a big test for Smile Happy and the rest in this field. He is going to be well-lined, and I'm surprised isn't the morning-line favorite over Zandon. Epicenter has finished 6th, 1st, 1st, 2nd, 1st, 1st in his career.
Since a shaky debut, Epicenter has been one of the best horses in the US. With Joel Rosario aboard, Epicenter is coming off back-to-back wins in the Risen Star and the $1,000,000 Louisana Derby (Gr. 2).
He finished 2 ½ lengths ahead of Zozos and was never in danger. Epicenter cruised into the stretch with a 1 ½ length lead and held strong. At 7/2 on the morning-line, Epicenter is not a bad option to win the Kentucky Derby at all.