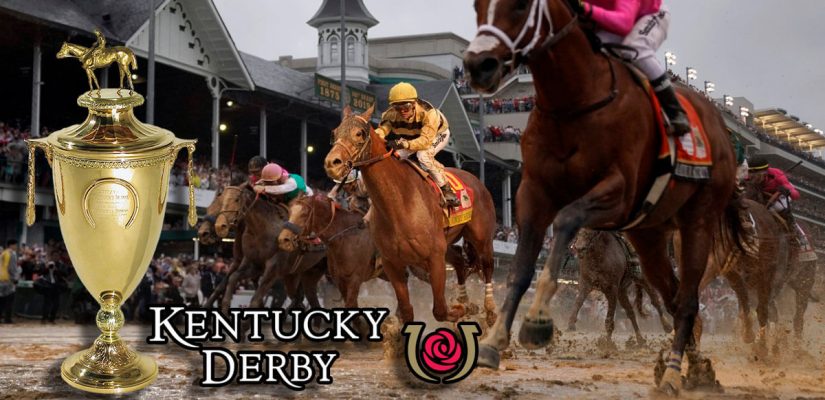 TheSportsGeek has everything you need for the 2022 Kentucky Derby on May 7 from Churchill Downs. It is the first year since 2019 that there are no health and safety restrictions at Churchill Downs in Louisville.
Post Positions for the 2022 Kentucky Derby.#KyDerby pic.twitter.com/TCuaiHrhF1

— Kentucky Derby (@KentuckyDerby) May 2, 2022
In 2020, the Derby was pushed back to October with no fans. Last year the race took place in May with restrictions in place, but there will be none of that on Saturday. The grandstands will be packed with fans eager for a fun day at Churchill Downs.
Friday is supposed to be a rainy day with the potential for storms. While Saturday is not calling for rain, it is going to be overcast, and that rain should stick on the track. It could be a moderately sloppy course at Churchill Downs, but fortunately, it appears this won't be a washout.
Unfortunately, the Kentucky Oaks on Friday could have some problems with storms. That's another big day on the Churchill Downs calendar and has the first led of the Oaks-Derby Double. What you won't find at Churchill Downs and racebooks is matchup betting.
What I mean by matchup betting is head-to-head wagering between horses. In other words, the winner of the Kentucky Derby isn't as important as your horse beating their opponent. Finishing ahead of the other horse in the bet is what matters.
BetOnline Covers Matchup Betting
Not all sports betting websites have head-to-head Kentucky Derby betting. It's important to check ahead of time. What we can confirm is that
BetOnline
does in fact, have matchups.
Head below for our best Kentucky Derby matchup bets for May 7, 2022 at Churchill Downs.
Best 2022 Kentucky Derby Matchup Bets
Smile Happy vs. Simplification
I've said this before: don't sleep on Smile Happy in the 148th Kentucky Derby. Ken McPeek feels good about his chances, and Smile Happy might be good for an upset on Saturday.
Smile Happy is 1st, 1st, 2nd, 2nd in his young career and has only lost to the top contenders in the Kentucky Derby. After striking for a win in the $400,000 Kentucky Jockey Club Stakes (Gr. 2), Smile Happy placed 2nd in the $400,000 Risen Star Stakes (Gr. 2) and $1,000,000 Toyota Blue Grass (Gr. 1).
The only horses Smile Happy lost to in those races was Epicenter and Zandon, the two favorites to win the Kentucky Derby. He was involved as well and less than 3 lengths away from both of them. Hanging with those two is something to applaud.
Simplification is 3 for 7 and could surprise, but will need better than his performance in the $1,000,000 Florida Derby (Gr. 1). He is 3 for 7 in his career and coming off showing 3rd in the Florida Derby on April 2.
The colt finished behind Charge It and White Abarrio for a fairly decent effort. For $50,000, Simplification is one of the cheaper horses in the race, and reaching the Kentucky Derby is a nice accomplishment for trainer Antonio Sano.
Simplication might be good, but Smile Happy should be better in the Kentucky Derby.
Kentucky Derby Matchup Bet
Taiba vs. Messier
Taiba and Messier are teammates that are in Tim Yakteen's stable. They weren't that long ago, though.
As a result of Bob Baffert having to give Taiba and Messier up because of a suspension, Yakteen benefits by acquiring Taiba and Messier.
Taiba is an interesting prospect as the most lightly used horse going into this race. Lightly used with only two races of experience under his belt.
Despite the inexperience, Taiba has been a fast horse. In two outings Taiba was recorded with a speed rating better than 100. Some of the best Kentucky Derby winners had consecutive speed ratings over 100 before the Derby.
In his most recent start, Taiba beat Messier by 2 ¼ lengths in the $750,000 Santa Anita Derby (Gr. 1). He was coming off a 7 ½ blowout in a $67,000 assignment.
Taiba will be good on Saturday if he's interested in running. He's fast when he wants to be. Probably fast enough this weekend to beat his barn mate.
Kentucky Derby Matchup Bet
Epicenter vs. Zandon
Epicenter and Zandon are the most highly regarded horses in the Kentucky Derby. They are the favorites to win, with Epicenter currently more well-liked than Zandon. Both have claims and could go all the way to a Kentucky Derby win.
However, I'm pointing towards Epicenter to win the first leg of the Triple Crown after an impressive performance in the $1,000,000 Louisiana Derby (Gr. 2). Epicenter turned it on late to pull away from Zozos for a 2 ½ length win on March 26.
He can make it a hat-trick after winning the $400,000 Risen Star Stakes (Gr. 2) over Smile Happy by 2 ¾ lengths on February 19. That was another case of Epicenter winning in a race where it didn't even look like he was working hard.
Epicenter made it look easy and is 1st, 1st, 2nd, 1st, 1st in his last five going into Churchill Downs. If Joel Rosario needs more from him in the Derby, he should be able to get it from this 3-year-old.
Kentucky Derby Matchup Bet