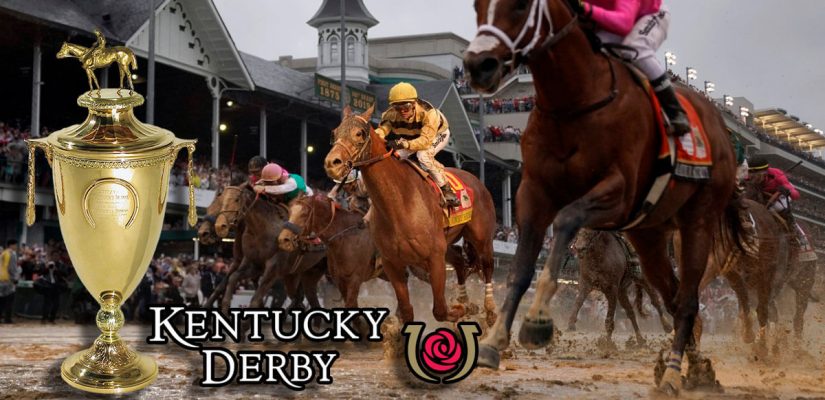 The Kentucky Derby is quickly arriving at Churchill Downs. This is far from only two minutes of horse racing, though. Derby Week has festivities all week. The business really starts to pick up on Friday, though.
Does it count if we have cinco Mint Juleps? 😉 pic.twitter.com/1Grgokf0kG

— Kentucky Derby (@KentuckyDerby) May 5, 2022
Kentucky Oaks Day is a marquee day on the calendar and will attract a crowd at Churchill Downs. You can feel the anticipation in the air growing on Oaks Day. There may be a problem with the weather on Friday, though.
Mother Nature May Be The Wildcard
There are storms expected on Friday at Churchill Downs. The forecast for Louisville on Friday doesn't appear pretty. Expect delays and a sloppy racetrack for the Kentucky Oaks.
So what is the Kentucky Oaks Derby Double exactly? If you are familiar with multi or parlay betting, then that's pretty well everything you need to know.
The Oaks Derby Double is a two-part bet that requires both legs to be correct on your ticket. If you lose on the first day at the Kentucky Oaks, forget about the Kentucky Derby for as far as this bet is concerned.
You must successfully predict the Kentucky Oaks and Kentucky Derby. The Oaks is known as the Run for the Lillies and is a stacked field in 2022. It's going to be wide-open. Your objective is to find the best value for the Kentucky Oaks and Kentucky Derby.
It isn't any secret what I think of the Kentucky Derby at this point, but I haven't touched much on the Oaks. We'll dive into our Kentucky Oaks Derby Double best bet below.
2022 Kentucky Oaks Derby Best Bets
Race 11 – Kentucky Oaks
(1) Secret Oath
+600 (6/1)
(2) Nostalgic
+1500 (15/1)
(3) Hidden Connection
+2000 (20/1)
(5) Goddess of Fire
+1500 (15/1)
(8) Venti Valentine
+2000 (20/1)
(9) Desert Dawn
+2000 (20/1)
(10) Kathleen O.
+350 (7/2)
(11) Cocktail Moments
+3000 (30/1)
(12) Candy Raid
+3000 (30/1)
(13) Shahama
+1500 (15/1)
(14) Turnerloose
+2000 (20/1)
(15) Beguine
+3000 (30/1)
It's expected to be a sloppy track for the girls at Churchill Downs on Friday afternoon. These aren't going to be ideal conditions for racing, but some horses like playing in the mud.
For the Oaks I'm circling Kathleen O. and Nest. If you want an upset contender, look at Hidden Connection at 20/1.
Hidden Connection nearly caught Echo Zulu earlier in the year, just running out of room in the Fair Ground Oaks (Gr. 2) on March 26 in his most recent attempt.
Longines Kentucky Oaks Post Positions🌸
1️⃣ Secret Oath
2️⃣ Nostalgic
3️⃣ Hidden Connection
4️⃣ Nest
5️⃣ Goddess of Fire
6️⃣ Yuugiri
7️⃣ Echo Zulu
8️⃣ Venti Valentine
9️⃣ Desert Dawn
🔟 Kathleen O
1️⃣1️⃣ Cocktail Moments
1️⃣2️⃣ Candy Raid
1️⃣3️⃣ Shahama
1️⃣4️⃣ Turnerloose

— Kentucky Derby (@KentuckyDerby) May 2, 2022
I may play an extra ticket with Hidden Connection as the winner of the Kentucky Oaks. The odds certainly make Hidden Connection worth considering.
Kathleen O. and Nest are going to be tough, though. Kathleen O., who the public appears to be falling more in love with as post time approaches, should be a top contender.
She is a perfect 4 for 4 and coming off a win in the $250,000 Gulfstream Park Oaks (Gr. 2) on April 2. Kathleen O. beat Goddess of Fire comfortably by 2 ¾ lengths.
This was a nice run from Kathleen O. after she won her graded debut on March 5. Kathleen O. won the $200,000 Davonva Dale Stakes (Gr. 2) by 2 lengths on March 5.
Nest is being passed over by many people, but I think that's a mistake. She is 4 for 5 and 1st, 3rd, 1st, 1st, 1st in her career.
Kentucky Oaks filly, Nest, breezed 4 furlongs in 48.60 at @ChurchillDowns on Friday. pic.twitter.com/NMJCOBIvnX

— Kentucky Derby (@KentuckyDerby) April 29, 2022
She is on fire and coming off a dominating showing in the $600,000 Central Bank Ashland Stakes (Gr. 1) for Todd Pletcher. Nest drew off from the field, winning by 8 ¼ lengths over Cocktail Moments.
Best Should Be In Fine Form
This field is going to be tougher in the Oaks, but another effort like that would be enough in my book. It was incredibly impressive regardless of the competition and she was fast with a speed rating of 106.
I will put Nest to win the Kentucky Oaks for my first leg in the Oaks Derby Double. Hidden Connection if you want an upset ticket.
Kentucky Oaks Derby Double First Leg
Race 12 – Kentucky Derby
(1) Mo Donegal
+1000 (10/1)
(2) Happy Jack
+3000 (30/1)
(4) Summer Is Tomorrow
+3000 (30/1)
(5) Smile Happy
+2000 (20/1)
(7) Crown Pride
+2000 (20/1)
(8) Charge It
+2000 (20/1)
(9) Tiz the Bomb
+3000 (30/1)
(11) Pioneer of Medina
+3000 (30/1)
(13) Simplification
+2000 (20/1)
(14) Barber Road
+3000 (30/1)
(15) White Abarrio
+1000 (10/1)
(16) Cyberknife
+2000 (20/1)
(17) Classic Causeway
+3000 (30/1)
(18) Tawny Port
+3000 (30/1)
(20) Ethereal Road
+3000 (30/1)
The 148th Kentucky Derby is scheduled for around 6:00 p.m. EST at Churchill Downs. I like Epicenter and for an upset pick, Smile Happy at 20/1 has to be considered.
Smile Happy has finished 1st, 1st, 2nd, 2nd in his career, with his only losses against the favorites in the Kentucky Derby. He won his graded stakes debut on November 27 in the $400,000 Kentucky Jockey Club Stakes (Gr. 2).
The colt beat Classic Causeway by 3 ¼ lengths in an impressive performance to make it back-to-back races to open his career. Then he ran into Zandon an Epicenter in his next two races.
Despite losing, Smile Happy kept it close by less than 3 lengths in both outings. He draws the most favorable post position in the Derby as well from No. 5.
Epicenter turned on the jets to pull away and win the Louisiana Derby and earn 100 points! 💨

TV: CNBC pic.twitter.com/4f8oyhIz2x

— NBC Sports (@NBCSports) March 26, 2022
Does he have enough to get by Epicenter this time? Epicenter has been breezing and making his work look easy leading up to the Kentucky Derby.
He's 4 for 6 all-time and 1st, 1st, 2nd, 1st, 1st in his previous four starts going into Saturday. Epicenter cleared by 2 ¾ lengths in the $400,000 Risen Star Stakes (Gr. 2) on February 19 and then followed up most recently in the $1,000,000 Louisiana Derby (Gr. 2) on March 26.
Epicenter was stalking and toying with the competition before hitting the burst button in the stretch to pull away from Zozos. He looks good going into the Derby and has to be well-liked on Oaks Derby Double tickets.
Kentucky Oaks Derby Double Second Leg