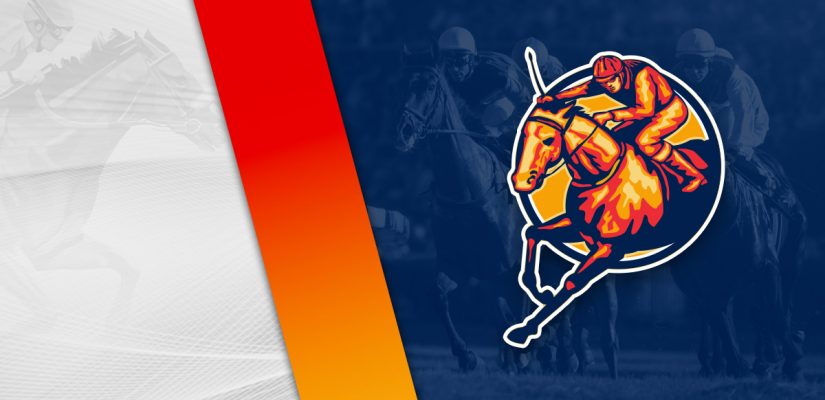 There is Saturday racing after last weekend was shut down because of Covid. It's back to stakes racing throughout the country.
There are at least eight racecourses with at least one stakes race. The most events are being held at Gulfstream Park.
There are six stakes events at Gulfstream Park and the next most at Santa Anita Park with four. Santa Anita is putting on the $250,000 Joe Hernandez Stakes (Gr. 2) on the turf for one of the biggest races.
Over in Arkansas at Oaklawn Park, the $250,000 Smarty Jones Stakes is expected to run. Our first stop is at Aqueduct Racetrack.
Aqueduct has eight races worth $491,000 on New Year's Eve afternoon. Head below for our free Aqueduct Racetrack picks for December 31, 2021.
Race 1
(1) Comedic Timing
+450 (9/2)
(2) Everesting
+1000 (10/1)
(3) Exalted Charm
+800 (8/1)
(4) Castle Chaos
+100 (1/1)
Post Time: 12:50 p.m. EST
Distance: 7 Furlongs
Purse:$80,000
The first race at Aqueduct Racetrack is an $80,000 assignment covering 7 furlongs. Mandatory and Castle Chaos could engage in a duel in the stretch here.
Mandatory is winless in seven attempts and has finished 2nd, 3rd, 2nd, 9th, 4th in his previous five attempts. Three races back, Mandatory placed 2nd behind 2 ½ lengths behind Hometown for an $80,000 prize.
That was a solid go at the to prize, but then Mandatory dropped off to 9th for $90,000 on April 24 at Belmont Park. Mandatory came back to go 4th in an $80,000 assignment most recently on December 2.
More is required but Mandatory has the talent to get it done. Castle Chaos goes in winless two attempts but in good form.
He placed 2nd behind Boldish by ¾ lengths for $60,000 as a rookie on September 2. In his next attempt, Castle Chaos placed 2nd again, this time for a $90,000 prize.
Castle Chaos should have the edge over Mandatory at the wire.
Race 5
(1) Heavy Roller
+2000 (20/1)
(2) Direct Order
+600 (6/1)
(4) Dark Storm
+300 (3/1)
(5) Vettori Kin
+600 (6/1)
(6) Runningforhome
+800 (8/1)
(7) Microscope
+800 (8/1)
(8) Regal Quality
+1000 (10/1)
Post Time: 2:38 p.m. EST
Distance:1 ⅛ Miles
Purse:$50,000
Race 5 covers 1 ⅛ miles on the dirt for a $50,000 purse. Look at Dark Storm and Blewitt to give a good account in Race 5.
Dark Storm is 4 for 20 in his career and has finished 2nd, 6th, 3rd, 4th in his previous four attempts. He showed 3rd two races back on November 7 for a $55,000 purse.
Following that solid go, Dark Storm finished 4th for a $55,000 prize on December 11. A little more was expected there. Down to $50,000, he should have a decent chance.
Blewitt has finished 4th, 4th, 1st in his previous three attempts. In his latest race, Blewitt defeated Twisted Tom by 13 ½ lengths in a blowout for $28,000.
That was a wire-to-wire clinic for Blewitt. It was much too easy, so he's up to $50,000. If Blewitt runs like that again, he shouldn't have a problem.
Race 6
(1) Mexican Wonder Boy
+600 (6/1)
(3) Lost in Rome
+3000 (30/1)
(4) Buy Land and See
+800 (8/1)
(5) Prioritize
+500 (5/1)
(7) Two Thirty Five
+1000 (10/1)
(8) Parsimony
+1000 (10/1)
(9) Pioneer Spirit
+2000 (20/1)
Post Time: 3:08 p.m. EST
Distance: 1 Mile
Purse:$84,000
Race 6 covers a mile on the dirt for an $84,000 purse. Mexican Wonder Boy and Untreated should run a strong race for the top prize.
Mexican Wonder Boy is 7 for 15, with good form recently to finish 1st, 2nd, 1st in his previous three attempts. He is coming off a strong performance to win by 1 length against Hammerin Aamer for $55,000.
This was after a 2 length win for $50,000 and then placing 2nd behind Villanous by 2 ½ lengths for $60,000. Mexican Wonder Boy skips up to an $84,000 assignment, but his form reads well.
Untreated should be there to bother his foes in the stretch. He should be tough to defeat in this one.
Untreated has finished 6th, 1st, 8th, 1st in four attempts, most recently a solid run for a win on November 19.
He beat Adare by 3 ½ lengths for an easy win after struggling in 8th in the Blue Grass Stakes (Gr. 2). That was too tough, but down to his level, Untreated drew clear easily.
Expect the $300,000 colt to clear again for a win on Friday afternoon.