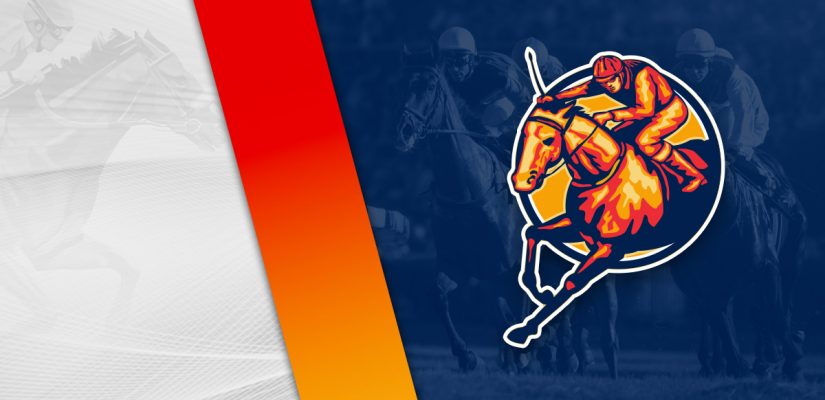 The Fourth of July has a solid horse racing card for handicappers. This is a rare stakes day on a Monday. There are stakes events at Belmont Park, Churchill Downs, and the feature on the Fourth of July at Los Alamitos Race Course in California.
Grade 2 at Los Alamitos Race Course
The $200,000 Great Lady M S (Gr. 2) is the biggest stakes race on Monday. Churchill Downs has three $175,000 events and the biggest overall card.
We'll get started at Belmont Park in New York. Belmont has two stakes races, with the running of the $150,000 Grand Couturier Stakes and $100,000 Manila Stakes. Head below for our best Belmont Park picks on July 4, 2022.
Race 3
(1) Irie Spice
+3000 (30/1)
(2) Inspiration Point
+200 (2/1)
(3) Suppressor
+100 (1/1)
(4) Sharpoon
+1200 (12/1)
(5) Empire Ridge
+450 (9/2)
Race 3 covers 7 furlongs for a $45,000 purse on the dirt. Look at Inspiration Point and Suppressor as serious players in the third at Belmont.
Inspiration Point hasn't had a win in nine career starts. He's finished 2nd, 6th, 2nd in his previous three starts.
The gelding most recently placed 2nd behind Moonshininbright by ¾ lengths in a $45,000 event. That was a pretty strong performance after finishing 6th for $43,000 on April 10.
Suppressor is winless in 11 races, finishing 4th, 2nd, 5th in his latest three showings. He placed 2nd behind Centurion by 1 length for a $46,000 purse on April 8.
That was a solid go, but he didn't do as well at Oaklawn Park in his next and most recent race on April 23. Suppressor finished 4th for $90,000 in that performance.
All things considered, it was a pretty good attempt in that class. Back down to $45,000, Suppressor will likely handle this field.
Race 5
(1) Simple Sugar
+450 (9/2)
(2) Game Theory
+600 (6/1)
(3) Keen Dancer
+1500 (15/1)
(4) Handle the Truth
+1200 (12/1)
(5) Trinity Titoli
+100 (1/1)
(7) Love that Face
+500 (5/1)
Race 5 is a $28,000 event covering 7 furlongs. Love that Face and Trinity Titoli are highly regarded horses in the fifth assignment.
Love that Fact is a one-time winner across ten attempts. The mare won a $35,000 event on March 5 in good form. She defeated Bustin Bay by 3 lengths in a clean performance.
However, Love that Face dropped off in her next three races. In her latest race, the mare finished 8th in a $28,000 event on June 5. Much more is required, but the potential is there.
Trinity Titoli is a one-time winner across seven races, with a winning trip on February 12. The filly beat Bunty Windermere by 3 lengths for $43,000.
The No. 5 hasn't been back to the winner's circle since then, but is coming off a solid attempt on June 5. Trinity Titoli placed behind Gris Tomenta by 1 ½ lengths.
Manuel Franco will go to the winner's circle aboard Trinity Titoli with a similar effort.
Race 8
(1) Demandsrespect
+350 (7/2)
(2) Dolce Sera
+1500 (15/1)
(3) Don't Overlook Me
+300 (3/1)
(4) Hop Picker
+350 (7/2)
(5) Precursory
+200 (2/1)
(6) Quotabelle
+450 (9/2)
Our final look at Belmont Park on the Fourth of July is Race 8. The eighth event is a $90,000 assignment covering a mile on the dirt.
Don't Overlook Me has finished 4th and 6th in two career starts. The filly opened her career in 6th for a $90,000 purse on May 7.
That was a fine performance as a rookie. She's open to improvement, so it could have been worse. In any case, there are expectations for a $390,000 filly.
In her next outing, she finished 4th in a $90,000 assignment. Her speed reading was better in that one, so are we going to see even more progress today? If that's the case, she'll have a chance.
Precursory entered two races as well, with a 4th place performance on May 7. She was well ahead of Don't Overlook Me by more than 10 lengths. The filly came back on June 9 to show 3rd.
In the June 9 start, Precursory showed 3rd over a mile for $90,000. She is ticking along nicely and should be tough to beat.