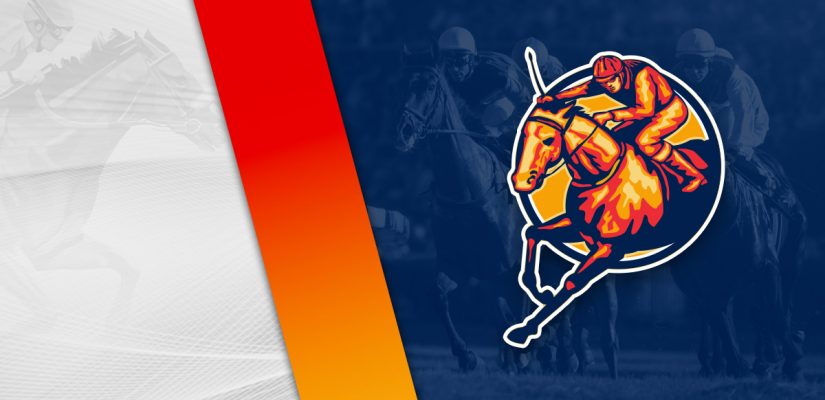 We're on the racetrack Friday afternoon looking for winning horses. Tomorrow is a big card at Belmont Park. There is a total of $2,714,000 to be won at Belmont on Saturday afternoon. The highlight of the card is the running of the $1,000,000 Belmont Derby (Gr. 1).
There are two notable events on the card, one for the boys and another for the girls. Along with the Derby, there is the $700,000 Belmont Oaks Invitational (Gr. 1). Both races run on the turf.
Let's look at the Friday card at Belmont Park this afternoon. Belmont has nine races worth $714,000 in prize money. Head below for our best Belmont Park picks on July 8, 2022.
Race 2
(1) Ready to Venture
+450 (9/2)
(2) Betsy Blue
+160 (8/5)
(4) Alwayz Late
+250 (5/2)
(5) Halo City
+3000 (30/1)
(6) Eloquent Speaker
+300 (3/1)
(8) Mischievous Dream
+600 (6/1)
The second race at Belmont Park is a $94,000 event covering 6 furlongs. Expect solid work from Alwayz Late and Bay Storm.
Alwayz Late has to be considered on this class drop. She is 2 for 12 and should find better success after dropping in classes and staying away from another stakes race.
Alwayz Late has finished 4th, 5th, 2nd, 6th in his previous three outings. In her most recent showing, she finished 4th in the $100,000 License Fee Stakes on May 1.
Prior to that trip, she was 5th in the $100,000 Glen Cove Stakes on October 15. She should be more involved in a $94,000 race.
Bay Storm has 2 wins in 7 career starts. She has finished 2nd, 2nd, 2nd, 1st in her previous four starts and is always in good form.
She won the $100,000 Christiecat Stakes by 3 lengths in September. Since then, Bay Storm has been competitive, including beating Alwayz Late in the Glen Cove.
In her latest showing at Churchill Downs on July 1, the filly placed 2nd behind Richies Great Girl by 3 ½ lengths for $134,000. Down to $94,000, Bay Storm will be tough to beat.
Race 3
(2) Storm Shooter
+160 (8/5)
(3) Johnselectricride
+600 (6/1)
(4) Got the Gold
+400 (4/1)
(6) Ghostmom
+1000 (10/1)
(7) Prince of Joy
+3000 (30/1)
(8) Breaking Stones
+350 (7/2)
The third race at Belmont Park is a $28,000 event covering 6 furlongs. Breaking Stones and Storm Shooter are leading contenders in this one.
Breaking Stones is 1 for 15 and should have a good run from the outside. He's been consistent and should be in the mix in the final furlong once again.
Breaking Stones has finished in the top-3 in three straight performances, including 2nd in his latest start on June 12. He placed 2nd behind Vikram by 7 ¼ lengths in a $16,000 race on June 12.
Storm Shooter had a win in the second race of his career. Overall, he's 1 for 11 and winless in nine races since then.
Storm Shooter most recently finished 8th in a $50,000 race on May 27 after placing 2nd in a $41,000 event. Down all the way to $28,000, this should be much easier for Storm Shooter. He looks like the best.
Race 4 – Grand Couturier Stakes
(1) British Rolaty
+1000 (10/1)
(2) Admission Office
+250 (5/2)
(3) Channel Maker
-125 (4/5)
(4) Soldier Rising
+450 (9/2)
(5) Highest Honors
+500 (5/1)
The $150,000 Grand Couturier Stakes is the feature race at Belmont this afternoon. We're circling two horses to have big performances in Race 4.
Admission Office is 5 for 18 and a graded veteran. 12 of his previous 13 races have been graded attempts, which includes five in a row.
He is coming off a win in the $200,000 Arlington Stakes (Gr. 3) on June 4. That was impressive. In February, Admission Office finished 6th in the $200,000 Mac Diarmida Stakes (Gr. 2).
Channel Maker is 8 for 45 and a graded participant as well. He's entered some tough events, including million-dollar Breeders' Cup races and multiple Grade 1 showings.
Channel Maker won the $350,000 Elkhorn Stakes (Gr. 2) by 1 ¼ lengths at Keeneland in March. That was too easy, so Channel Maker attempted a run in the $750,000 Manhattan Stakes (Gr. 1) on June 11.
That didn't go as well, finishing 9th and dropping big in class to $150,000. It should be too easy if he's interested in running on Friday.