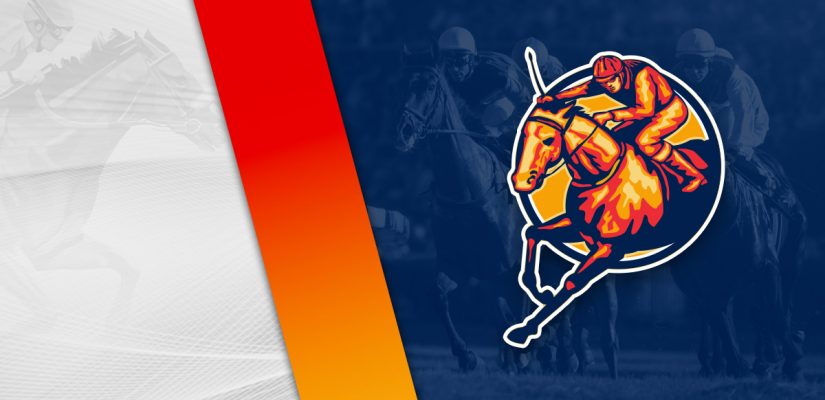 The horse racing grind continues this weekend throughout America and overseas in the UK. Ascot Week continues overseas in Europe, with the biggest racing occurring on Saturday. Bobby Flay-owned Pizza Bianca is the most interesting American runner.
There are plenty of stakes options, but you aren't going to find Ascot events. The $250,000 Poker Stakes (Gr. 3) at Belmont Park is the biggest stakes action in the US.
Our first look on the card is at Belmont Park in New York. Belmont has ten races worth $805,000, six on the turf and four on the dirt. Head below for our best Belmont Park picks on June 18, 2022.
Race 3
(1) Uptown Hustler
+350 (7/2)
(2) Streaming Tap
+1500 (15/1)
(3) Irie Spice
+3000 (30/1)
(4) Super Quality
+800 (8/1)
(5) Naked and Famous
+400 (4/1)
(6) Dads Good Runner
+450 (9/2)
(7) Rugged Union
+400 (4/1)
(8) King of Sting
+800 (8/1)
(9) Starrystarryknight
+600 (6/1)
(10) Marco Polo
+1000 (10/1)
(11) Jimmy the Boot
+800 (8/1)
Race 3 is a $45,000 event covering 6 furlongs on the turf. Rugged Union and Uptown Hustler should have a big chance in this one.
Rugged Union has finished 8th, 8th, 6th in three events. He is coming off some tough work and should appreciate these easier assignments.
In his last start, Rugged Union finished 8th for a $90,000 event on May 1. That was after finishing 8th in an $80,000 event.
A class drop should help Rugged Union well. Uptown Hustler finished 6th on his debut April 23. That didn't go the best in a $100,000 event at Keeneland. That was an ambitious first start for Uptown Hustler.
A transfer to Belmont for a $45,000 event should help nicely. His workouts have gone well and he should be dangerous at this level.
Race 6
(2) Sanctuary City
+350 (7/2)
(4) Public Sector
+250 (5/2)
(5) Wolfie's Dynaghost
+500 (5/1)
Post Time: 3:27 p.m. EST
Distance:1 Mile
Purse:$250,000
Race 6 is the most notable event, with the $250,000 Poker Stakes (Gr. 3) running on the turf. It's a small field with five horses taking to the turf. This is likely a Public Sector and Masen Poker Stakes.
Public Sector is 5 for 11 and has been involved in some tough races. He's finished 6th, 4th, 1st, 1st, 1st in five assignments.
The colt won back-to-back Grade 3 and Grade 2 races from September 4 to October 23. He most recently won the $400,000 Hill Prince Stakes (Gr. 2) on October 23.
Since then, Public Sector finished 4th in the $400,000 Hollywood Derby (Gr. 1) on November 27, 2021. In his latest trip, he finished 6th in the $1,000,000 Old Forester Bourbon Turf Classic Stakes (Gr. 1) on May 7 at Churchill Downs.
Masen is 4 for 8 and has won three of his previous four outings. The British-bred gelding is 1st, 2nd, 1st, 1st, with his recent US debut in April.
He placed 2nd behind Shirl's Speight by a nose in the $600,000 Maker's Mark Mile Stakes (Gr. 1). Masen returned on May 22 to beat Duke of Hazzard by 5 lengths in the $100,000 Seek Again Stakes.
If Masen repeats this effort, then he's likely a winner in the Poker Stakes.
Race 8
(1) Musical America
+1000 (10/1)
(2) Prince James
+250 (5/2)
(3) Pioneer Spirit
+400 (4/1)
(4) Two Thirty Five
+300 (3/1)
(5) Chris and Dave
+450 (9/2)
(6) Air Attack
+600 (6/1)
(7) Lastchanceatglory
+800 (8/1)
Race 8 is a $66,000 event covering 1 1/16 miles on the dirt. Two Thirty Five and Prince James should be in good shape for the eighth at Belmont Stakes.
Two Thirty Five is 10 for 45 and should have a decent chance to get a win on Saturday. He's 1st, 2nd, 5th in his previous three attempts, with a repeat possible.
In his latest race, he beat Crypto Cash by 3 ¾ lengths in a $66,000 race. That was a nice trip after placing 2nd for Crypto Cash for $55,000 on April 8 at Aqueduct.
Prince James is 3 for 21 and finished 4th, 2nd, 5th, 2nd, 1st in his previous five assignments. He won a $37,000 event on January 20.
He most recently finished 2nd in a $94,000 event and 4th on May 21 in the same grade. A drop to $66,000 should suit Prince James well on Saturday.