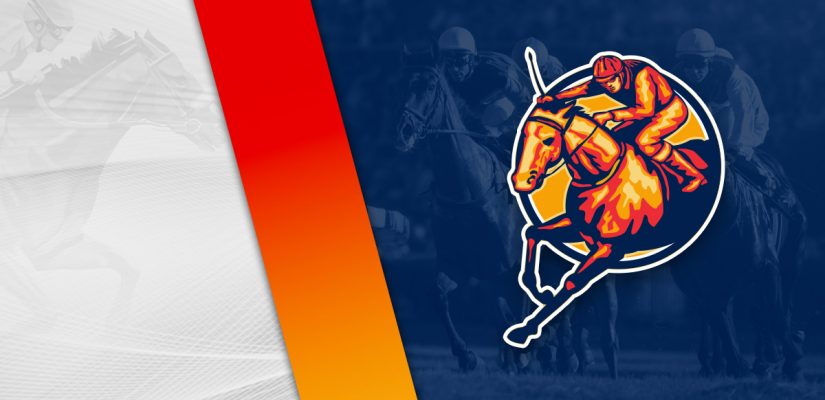 TheSportsGeek is playing the two biggest players on the horse racing card Thursday. We begin at Belmont Park and then go to Churchill Downs for evening racing.
I always like when Churchill Downs is racing in the evening to provide an opportunity to watch the afternoon action and then go to Kentucky for night racing.
Belmont and Churchill Downs
We stop at two of the most well-known tracks in horse racing. Belmont Park has afternoon racing in New York and then we're off to Kentucky for the
Churchill Downs
card.
Belmont Park is putting on a $543,000 card with nine races expected to be run. Head below for our best Belmont Park picks for June 23, 2022.
Race 2
(1) Gris Tormenta
+300 (3/1)
(2) London Gold
+2000 (20/1)
(3) The Honorable Ruth
+800 (8/1)
(4) Rough Tough Love
+180 (9/5)
(5) Tactical Range
+500 (5/1)
Race 2 is a 6-furlong event for a $48,000 purse. Rough Tough Love and Dawnland are top contenders to have success in the second at Belmont Park.
Dawnland has finished 2nd, 5th, 1st, 4th, 4th in five races. She struck on April 1 with a $50,600 event by 1 ½ lengths. That was a good win for the first victory of her career.
In her latest showing, Dawnland placed 2nd behind Rough Tough Love by 1 ¾ lengths for a $55,000 purse. She can get involved again with a similar effort.
Rough Tough Love has finished 1st, 9th, 1st, 4th, 7th in her previous five attempts. The filly beat Dawnload by 1 ¾ lengths in her most recent showing.
That was a great look from Rough Tough Love after getting stuck in traffic at Laurel Park on May 1. This came after a $30,000 win on April 6.
Rough Tough Love is probably the most dangerous to go to the winner's circle.
Race 5
(1) Out of Sight
+400 (4/1)
(2) Sweet Franny Lu
+600 (6/1)
(4) Marvelous Maude
+120 (6/5)
(5) Instinctive
+600 (6/1)
(6) Pop the Bubbly
+800 (8/1)
(7) Epona's Dream
+250 (5/2)
(8) Cara's Dreamer
+500 (5/1)
(9) A Bit o'Irish Sass
+1500 (15/1)
Race 5 is likely a contest between Out of Sight and Marvelous Maude. Out of Sight is looking for a hat trick after winning on May 12 and May 30.
In her latest start, Out of Sight defeated Rheaume by 4 lengths for a $80,000 purse. This was after beating Sals Dream Girl by 1 length in a $75,000 assignment.
Out of Sight can't be written off and she should get a pretty nice price to win at post time. Marvelous Maude likely has the best chance to counter and run better.
Marvelous Maude has done nothing but run well in her career. She's finished 3rd, 2nd, 1st in her previous three outings.
Three races ago, Marvelous Maude beat Home for Christmas by 1 length in a $80,000 event. Marvelous Maude looked good in that performance and is still running well.
The filly most recently showed 3rd on May 22 at Belmont for a $85,000 purse. More was expected as the favorite, but I think she can draw off versus this competition.
Race 8
(1) Principled Stand (1A) Cost Basis
+400 (4/1)
(2) Big Package
+600 (6/1)
(3) King of Dreams
+2000 (20/1)
(4) Whatmakessammyrun
+350 (7/2)
(6) Shekky Shebaz
+1200 (12/1)
(7) Yes and Yes
+500 (5/1)
(9) Mr. Hustle
+800 (8/1)
Race 8 is a 6-furlong event towards the back of the card at Belmont Park. Principled Stand and Matta have to be considered for a winning position in this one.
Matta is 4 for 11 and finished 3rd, 4th, 1st, 1st in his previous four attempts. In his latest attempt, Matta showed 3rd in a $96,000 event on May 29.
That was a fine effort agianst that competition, but he'll need more. If he does get more, Matta can win this one. In his last win, he beat Noble Commander by a half-length in a $64,480 race on September 11.
Principled Stand has finished 1st, 6th, 1st, 1st in four attempts. In his latest race, Principled Stand defeated Buy Land and Sea by a nose for $94,000 on May 13.
That was an impressive go for Principled Stand. He has a $22,500, $92,000, and $94,000 win in is career. This looks like a good spot for Principled Stand to land in the winner's circle again. The price looks right on this gelding.
Best Bet
(1) PRINCIPLED STAND (1A)