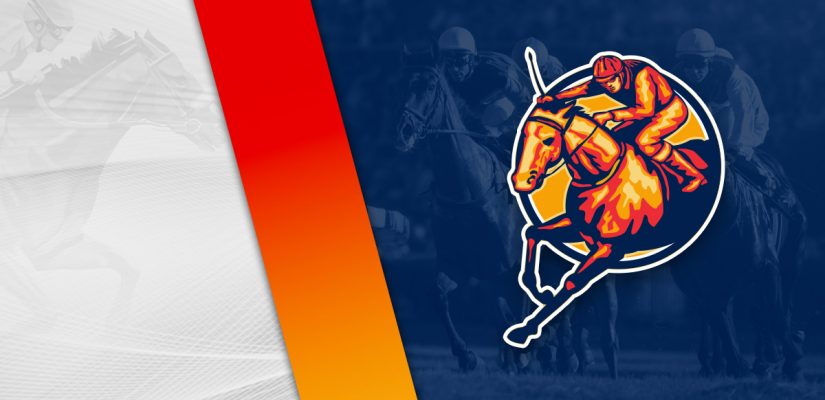 A fun day of stakes racing is in the books at Santa Anita Park in Arcadia on Saturday. Going to Vegas and Medina Spirit came out as big winners on the day. They won the $300,000 features in the Rodeo Drive and Awesome Again Stakes.
$25 Risk-Free Horse Racing Bet!
There is more stakes racing to be had on Sunday. Belmont Park is home to the biggest race in Elmont this afternoon. The $400,000 Frizette Stakes (Gr. 1) is the top Grade 1 race in North America. There's also a $400,000 race at Woodbine with the Breeders' Stakes.
Belmont has three graded races scheduled for Sunday. $900,000 is available to be won between the three events. There is a total of $1,362,000 in prize money on the card in Elmont. For Churchill Downs, check out our Churchill Downs page for more selections. Head below for free Belmont Park selections and Frizette Stakes pick for October 3, 2021.
Race 4 – Pilgrim Stakes
(1) Portfolio Company
+250 (5/2)
(2) Midnight Worker
+800 (8/1)
(4) Limited Liability
+350 (7/2)
(5) Doctor Jeff
+800 (8/1)
(6) City At Night
+1000 (10/1)
Post Time: 2:36 p.m. EST
Distance:1 1/16 Miles
Purse:$200,000
Race 4 is one of three stakes races at Belmont Park on Sunday. This covers 1 1/16 miles on the inner turf for a $200,000 purse. Six runners are expected to participate, with Portfolio Company and Annapolis having a big chance of going in.
Portfolio Company is a one-time winner in two outings. He opened his career as a winner on July 17 with a ¾ length win for a $100,000 purse. That was an impressive run from Portfolio Company.
He was unable to follow up in his next assignment on September 1, but was still in good form at Saratoga. He placed 2nd behind Coinage by 2 lengths in the $150,000 With Anticipation Stakes (Gr. 3).
Despite the miss in the stretch, Portfolio Company can go close with a similar performance in this event. His biggest nemesis is going to be Annapolis in this event.
Annapolis is a one-time winner in one attempt. He defeated Nyquest Nix by 4 ½ lengths in an impressive bid on September 4 for a $100,000 purse. Annapolis is up to $200,000, but this looks more than doable.
Race 8 – Fasig-Tipton Waya Stakes
(1) Lovely Lucky
+1200 (12/1)
(2) Always Shopping
+500 (5/1)
(3) Sister Otoole
+1500 (15/1)
(5) Call Me Love
+600 (6/1)
(6) Beautiful Lover
+450 (9/2)
(7) My Sister Nat
+100 (1/1)
Post Time: 4:44 p.m. EST
Distance:1 ⅜ Miles
Purse:$300,000
In the $300,000 Fasig-Tipton Waya Stakes (Gr. 3) we have 1 ⅜ miles of racing on the inner turf. Call Me Love and My Sister Nat should make this one interesting.
Call Me Love should have a chance in this one, and the odds look right on her to have a look. She has finished 1st, 1st, 7th in her previous three outings.
In her latest win, Call Me Love beat Virginia Joy by a neck for a $150,000 purse in the River Memories Stakes. However, Call Me Love fell in the $250,000 Glens Falls Stakes (Gr. 2) on August 7.
She finished 7th in that one, but might do better in this spot. My Sister Nat should be the toughest to beat in this race.
My Sister Nat has appeared in ten straight graded events and top-3 in eight of ten attempts. That's a good look for My Sister Nat in some tough events.
My Sister Nat placed 2nd behind War Like Goddess by 3 ¼ lengths in the Glens Falls Stakes (Gr. 2), the same race Call Me Love went 7th in.
She couldn't do better in her next attempt, showing 3rd for a $600,000 purse in the Flower Bowl Stakes (Gr. 1). War Like Goddess is just too good for My Sister Nat, but there doesn't appear like a big challenger in this race.
Race 9 – Frizette Stakes
(1) Frosty Brew
+3000 (30/1)
(3) Saucy Lady T
+2000 (20/1)
(4) Hot Fudge
+1200 (12/1)
(5) Jumeirah
+1500 (15/1)
(7) Jester Calls Nojay
+500 (5/1)
(8) Gerrymander
+800 (8/1)
(9) Jester Calls Nojay
+500 (5/1)
Post Time: 5:16 p.m. EST
Distance:1 Mile
Purse:$400,000
The Frizette Stakes (Gr. 1) is a $400,000 Breeders' Cup Challenge Race on Sunday. This isn't the most star studded field, but there are a couple of notable horses to bring attention to.
I'm looking at Gerrymander and Echo Zulu to have a big chance to get this assignment done. Gerrymander finished 2nd and 1st in two attempts on June 10 and August 29.
In her first outing, Gerrymander placed 2nd behind Velvet Sister by 9 ¾ lengths for a $90,000 purse. That was an alright performance, it could have been better, but improvement was noted on August 29.
Gerrymander defeated Distinctlypossible by a half length for a $100,000 purse in 6 furlongs. That was great improvement, and if she's open to more improvement on August 29 then look out for an upset.
Echo Zulu is a two-time winner in two races, winning on July 15 in a $100,000 event as a rookie by 5 ½ lengths. She followed up in the $300,000 Spinaway Stakes (Gr. 1) for a 4 length win on September 5.
A big career is ahead for Echo Zulu if she sticks on this path. Echo Zulu was a $300,000 purchase in September last year and is bred to be a winner. This looks a touch too easy for Echo Zulu. I'm hoping that some people will stay away from Echo Zulu to make this a better price at post time, though.