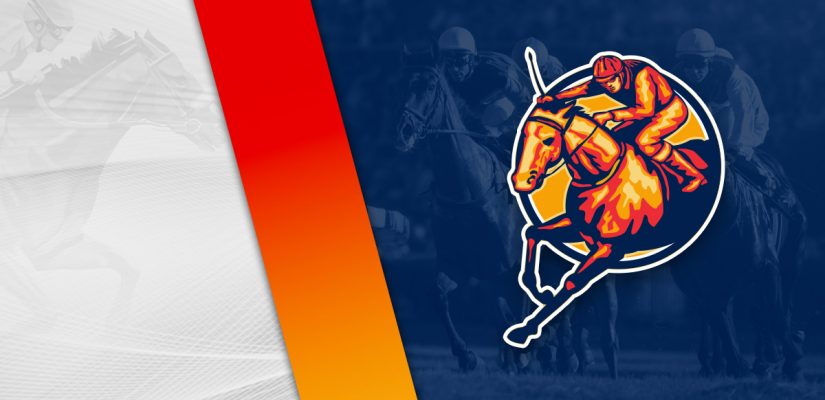 It's Saturday which means we have a host of stakes racing across the country. What it doesn't mean is to up your wagering units because the races are bigger. If you're somebody who grinds horses on a regular basis, I don't need to tell you that much. I treat every race, no matter if it's worth $10,000 or $1,000,000 the same. There might be an occasion where I really like a horse and go a bit bigger, but primarily prefer flat betting on the ponies. Charles Town has the most stakes races today with nine events, but Belmont Park and Keeneland has the wealthiest events.
$25 Risk-Free Horse Racing Bet!
Keeneland was another success on Friday, as we followed up a perfect 3 for 3 day on Thursday to go 2 for 3 on yesterday's card. Santa Anita Park was a positive on Friday, too, with 2 of 3 winners to make a profit at both tracks. I like what I see at Belmont Park on Saturday. Belmont has four $250,000 stakes races and a $150,000 event on the schedule today. A total of 11 races worth $1,501,000 are on the agenda at Belmont Park on Saturday afternoon. Head below for our free Belmont Park picks for October 10, 2020.
Race 6
(1) Enough Nonsense
+800 (8/1)
(2) Jailbreaker
+3000 (30/1)
(4) Kid Cash
+1200 (12/1)
(8) Risk Taking
+350 (7/2)
Post Time: 3:03 p.m. EST
Distance:6 Furlongs
Purse:$63,000
Race 6 presents a $63,000 purse for 6 furlongs on the dirt at Belmont Park. This is a race for inexperienced runners, with only one horse having already made their racecourse debut. Seven others are debuting on Saturday afternoon at Belmont.
The most likely to run a strong race amongst the rookies is Chad Brown's Risk Taking. Risk Taking was purchased for $240,000 in 2019 and expected to be a consistent winner throughout his career. Irad Ortiz has been called on to guide Risk Taking on the track.
Risk Taking has been in good form in prep work leading up to Saturday. He has completed 4 furlongs with times of 48.20, 48.40, 48.60, 48, and 48.12 seconds. That's some consistent workouts from Risk Taking. I think Chad Brown has a good horse on his hands and should make an impact right out of the gate as a first-time runner.
Newbomb is the most experienced participant in Race 6. He made his debut on August 29 at Saratoga and showed up well against a tough field. Newbomb showed 3rd in the $72,000 event after weakening late. He had the lead from the ¼ pole to the top of the stretch by 1 ½ lengths before regressing. Against a weaker field, Newbomb should be able to hold on Saturday.
Race 9 – Jockey Club Gold Cup Stakes
(1) Happy Saver
+200 (2/1)
(2) Prioritize
+400 (4/1)
(3) Name Changer
+400 (4/1)
(5) Mystic Gude
+400 (4/1)
Post Time: 4:48 p.m. EST
Distance:1 ¼ Miles
Purse:$250,000
Race 9 is the $250,000 Jockey Club Gold Cup (Gr. 1) at Belmont Park on Saturday. Five horses are looking at 1 ¼ miles on the main track in this event. Two horses are on my shortlist, with Happy Saver and Tacitus possibly getting into a duel in the stretch run. Happy Saver is a winner with three races and three wins in his young career. He opened his career on June 20 in a $64,000 maiden event and cashed in by 5 ½ lengths.
Happy Saver followed up for a 4 length win in a $74,000 event on July 26. That was too easy, so Happy Saver moved up to the $100,000 Federico Tesio Stakes (Black Type) on September 7 at Laurel Park. Happy Saver beat Morning Morning Qb by 1 ½ lengths after taking over in the stretch.
That was the first race that Happy Saver really had to fight for a win. It was also the first $100,000 race of his career, so it was clear that Happy Saver didn't perform as well up in class. That said, it was enough and he was able to shake clear. Tacitus has more experience, and most importantly, in bigger races than Happy Saver.
He has appeared in 13 races with 4 wins in his career. Tacitus has been through the gauntlet, with outings in five Grade 1 races, including the Kentucky Derby in 2019. He was strong enough to get into the money for 3rd. Since then, Tacitus' biggest race was in the Saudi Cup in February. Tough race, but Tacitus was able to run well enough for 5th.
Since then, Tacitus has finished 4th in the $600,000 Oaklawn Handicap (Gr. 2), 1st in the $200,000 Suburban Stakes (Gr. 2), and 2nd most recently in the $500,000 Woodward Handicap (Gr. 1) on September 5. Tacitus kept it close, but was outpaced by 1 ¾ lengths against Global Campaign. He is coming off a strong workout on October 4 with a time of 47.20 seconds. Happy Saver is a dangerous horse, but likely comes up just short versus Tacitus in the Jockey Club Gold Cup.
Race 10 – Sands Point Stakes
(2) Speaktomeofsummer
+300 (3/1)
(3) Selflessly
+200 (2/1)
(5) Miss J McKay
+350 (7/2)
(6) Positive Power
+5000 (50/1)
(7) Pure Wow
+1200 (12/1)
(8) Drop a Hint
+3000 (30/1)
Post Time: 5:20 p.m. EST
Distance:1 Mile
Purse:$150,000
Our final selection at Belmont Park on Saturday is in the $150,000 Sands Point Stakes (Gr. 2). It features a mile of racing on the turf. Eight horses are expected to arrive at the gate to partake in this Grade 2 race. Selflessly and Tamahere should present bold bids in Race 10. Miss J McKay is going to have an opportunity at the win here as well. She is a model of consistency with five straight finishes in the top-3, which includes in the top-2 on four occasions.
Selflessly is coming off a win on August 28 at Saratoga in the $100,000 Lake George Stakes (Gr. 3) after finishing 5th in back-to-back events. Selflessly was able to get the win as an underdog by a nose. Sweet Melania was the favorite, but Selflessly showed up with a strong performance for the upset. Overall in her career, Selflessly has finished 2nd, 1st, 5th, 5th, 1st. Her other win was in the $200,000 Miss Grillo Stakes (Gr. 2) on September 29, 2019.
Selflessly was purchased for $190,000 at auction in 2017, and has performed as expected thus far. She has been slightly inconsistent, but is fully capable of a win here if she brings the same form to the party as she did in the Lake George Stakes. Following that performance, Selflessly is entered as the morning-line favorite over Tamahere.
Tamahere gets the inside rail out of the gate and should be a major threat to Selflessly. Tamahere is 2 for 6 in her career and making her US debut on Saturday. She is coming off an impressive win in the Prix la Sorellina in a blowout. Tamahere won by 7 ½ lengths to signal her transfer to Belmont Park in the US. Chad Brown will likely have her ready to on Saturday. She might be overlooked by the public after what Selflessly did versus Sweet Melania, so there should be nice value on Tamahere.