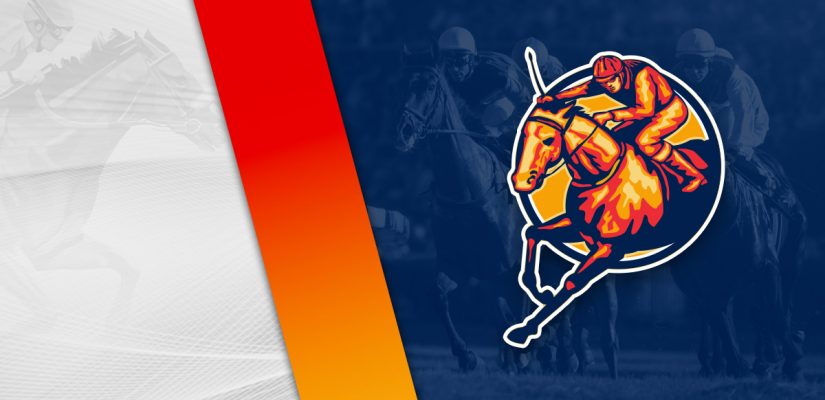 We take aim at the Sunday horse racing slate in North America. It's a small day monetary wise with only four stakes races on the schedule. The biggest event is at Woodbine with the running of the $125,000 Durham Cup Stakes (Gr. 3) on Sunday afternoon. Belmont Park has a couple of $100,000 events and Santa Anita Park has one $100,000 race. That's about all for the stakes racing scene on Sunday, though. In any case, there is still a lot of racing on Sunday with 11 tracks being offered for wagering at BetOnline. While it lasts, be sure to check out the $25.00 risk-free horse racing bet at BetOnline before the promotion expires.
$25 Risk-Free Horse Racing Bet!
Our first stop on Sunday is at Belmont Park, where they are holding a ten-race card for a total of $615,000. Belmont Park is scheduled to have a big racing in two weeks. They will offer eight stakes events in Elmont, NY. There are two on Sunday with two more $150,000 stakes races on Monday as well. Head below for our free Belmont Park picks for October 11, 2020.
Race 1
(1) Fortune's Fool
+180 (9/5)
(2) Mission Wrapitup
+300 (3/1)
(4) Titan's Will
+800 (8/1)
(5) Cobble Hill
+140 (7/5)
Post Time: 12:50 p.m. EST
Distance:6 ½ Furlongs
Purse:$45,000
Race 1 will be our first selection of the day at Belmont Park. This event will cover 6 ½ furlongs on the dirt for a $45,000 purse. Cobble Hill and Fortune's Fool should get into a battle in the stretch in this one. They're on opposite ends of the gate, but with only five horses expected to participate in this race, traffic is not going to be an issue for Cobble Hill from the outside. I'm not really concerned with the post position given that.
Fortune's Fool has not had success, but is dropping in class for Sunday's outing. He has finished 7th, 3rd, 7th, 8th, 5th, 3rd since winning on June 15, 2019 in a $77,000 event. That was a 3 ¼ length win for Fortune's Fool and since then has had difficulties.
In his most recent performance, Fortune's Fool showed 3rd in a $52,500 event. That's a considerable fall from winning a $77,000 race comfortably. Fortune's Fool slides down in class again today trying to find a winnable event. This looks like it could be one of those.
Cobble Hill is 2 for 12 in his career, the same as Fortune's Fool. He was on a roll with finishes of 2nd, 1st, 1st, 2nd, 2nd before struggling most recently on October 1. Cobble Hill finished 5th in a $44,000 event. He was testing the turf on that race, but is better used on the dirt. Cobble Hill tried, failed, and now it's back to where he feels most comfortable on a dirt track. I will side with Cobble Hill to get the job done.
Race 6
(5) Price Talk
+180 (9/5)
(7) Yes and Yes
+2000 (20/1)
Post Time: 3:38 EST
Distance:1 1/16 Miles
Purse:$65,000
We move over to the inner turf for Race 6. This event features a $65,000 purse for 1 1/16 miles of racing. We could have a duel on our hand down the stretch in Race 6. Price Talk and La Hara are likely going to be in the mix in this one. Price Talk showed great improvement after finishing 5th in his debut in a $57,000 event.
He shook the opening jitters out of his system and followed up to win by 3 lengths in a $72,000 race on September 6. That was a nice show of confidence by Price Talk, who was purchased for $70,000 in 2018. After that performance, Price Talk remains in a similar class. It would be a major disappointment if we see Price Talk revert back to the form we saw as a first-time runner on July 16.
Chad Brown's La Hara will most likely give Price Talk the biggest scare in Race 6. La Hara has gotten off to a quick start in his career. He has finished 1st, 1st, 2nd, 2nd in his first four races. La Hara opened his career with a 8 length blowout over Bold Gem for a $41,000 purse on September 7, 2019. It was tighter up in class in his next outing, but La Hara emerged a winner by ¾ lengths.
In two outings since, La Hara has placed 2nd in back-to-back showings. La Hara finished 2nd behind Colonial Liam by 2 ¾ lengths in a $74,000 race, and then 2nd in a loss by a neck in the same $74,000 event. That form would be more than enough against this field on Sunday afternoon. La Hara from the inside rail looks like the play.
Race 9 – Matron Stakes
(1) Rossa Veloce
+800 (8/1)
(3) Union Gables
+800 (8/1)
(4) Amalfi Princess
+1200 (12/1)
(5) Bravo Regina
+3000 (30/1)
(7) Royal Approval
+180 (9/5)
(8) Magisterium
+250 (5/2)
Post Time: 5:20 p.m. EST
Distance:6 Furlongs
Purse:$100,000
The $100,000 Matron Stakes is the co-feature race of the day at Belmont Park on Sunday. Magisterium and Royal Approval are likely to be involved in the stretch run. Magisterium will make her US debut on Sunday at Belmont.
The first four outings of her career were in the UK. She had success over the pond, with results of 2nd, 1st, 1st, 2nd. Magisterium recorded back-to-back wins on June 27 and July 11 at Redcar and Newcastle. In her most recent outing before making the trip to the US, Magisterium came up just short to place 2nd.
She has done nothing but run close or win thus far in her career. However, this is going to be one of her toughest assignments yet. She will have to bring top form to the track on Sunday afternoon if it's going to result in a trip to the winner's circle. Royal Approval should prove to be a tough opponent.
Royal Approval transferred back home to the US after struggling at Ascot on June 20. He immediately felt comfortable at Kentucky Downs, as Royal Approval won by 6 ¼ lengths over Risky Reward for a $90,000 purse at 6 ½ furlongs on the turf. This looks like a good spot for her to record back-to-back wins.