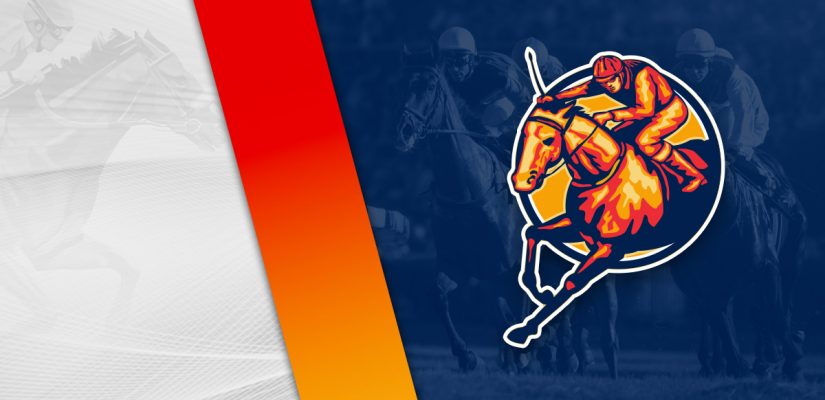 We are off and running on the racetrack on an NFL Sunday. The NFL isn't for everybody, and horse racing isn't for everybody. Fortunately, in the fall there is a little something for any kind of sports bettor. We have postseason baseball, NHL, NFL, and horse racing on Sunday.
When the NBA regular season tips off this week, then we're going to have a full complement of action. I will still be waiting here for when college basketball gets underway, though.
$25 Risk-Free Horse Racing Bet!
BetOnline is offering at least nine racecourses for wagering on Sunday afternoon and evening. The biggest race on the day is at Woodbine with the $600,000 E.P. Taylor Stakes (Gr. 1) on the turf. Our first look is at Belmont Park. Belmont has nine races with $707,000 in prize money. Head below for our free Belmont Park picks on October 17, 2021.
Race 1
(4) Courageous Girl
+450 (9/2)
Post Time: 12:35 p.m. EST
Distance:1 Mile
Purse:$85,000
The first event at Belmont Park is a $85,000 assignment covering a mile on the dirt. Expect something from Cartwheel and Pay Grade in this one.
Cartwheel should have a better than 3/1 chance at getting the win here. She's a four-time winner, with a winning attempt on December 13, 2020 in a $50,000 event.
Since then, Cartwheel has raced in only four assignments, going 2nd, 3rd, 4th. In her latest outing, she finished 4th for a $85,000 purse.
That was disappointing after showing 3rd on July 31 for a $48,000 prize at Saratoga. Cartwheel should be alright in this one, but should find pressure from Pay Grade.
Pay Grade is 2 for 6 in her career, and has finished 3rd, 2nd, 1st, 5th, 1st, 3rd. This one looks like winnable terms for Pay Grade.
In his most recent win, she nipped Ifihadachance at the wire by a neck for a $80,000 purse. That same form should be enough versus this field.
Race 3
(2) Urban Forest
+250 (5/2)
(4) Carpe's Dream
+1500 (15/1)
(5) Citizen Mack
+600 (6/1)
(7) Forced Ranking
+120 (6/5)
Post Time: 1:41 p.m. EST
Distance:7 Furlongs
Purse:$90,000
The third race at Belmont is a $90,000 event covering 7 furlongs on the dirt. Urban Forest and Forced Ranking should put up a big fight in this one.
Urban Forest opened his career on August 14 in a promising attempt. The colt showed 3rd for a $100,000 purse, finishing 4 ¼ lengths and a nose off the pace.
You can't fault that effort from a first-time runner, and Urban Forest could be open to improvement. The colt looked good in a recent workout on October 14 with a time of 48.73 seconds at 4 furlongs.
Forced Ranking did the same in showing 3rd as a rookie on September 6. He looked good in his first attempt at Saratoga for a $100,000 prize.
Forced Ranking finished 4 ¾ lengths back at the wire. The $140,000 colt should appreciate this distance at 7 furlongs on Sunday.
He was coming on strong and just needed more room to operate. Going from 6 to 7 furlongs should assist him nicely in this one.
Race 4
(1) Road To Success
+350 (7/2)
(2) Royal Realm
+450 (9/2)
(3) Johnnypump
+600 (6/1)
(4) Texas Swing
+160 (8/5)
(5) Good Culture
+450 (9/2)
(6) Indoctrinate
+3000 (30/1)
(7) Coach Bahe
+1500 (15/1)
(8) Rocco Strong
+1200 (12/1)
Post Time: 2:11 p.m. EST
Distance:1 Mile
Purse:$41,000
Race 4 goes off for a $41,000 purse covering a mile. Royal Realm and Texas Swing should have the best chance of getting this assignment done.
Royal Realm is a one-time winner in seven attempts, with a winning run on May 14 for a $90,000 purse.
He was a neck winner in that one over Southern Flag for a $90,000 prize. Impressive. However, Royal Realm hasn't looked like that since and is looking for easier pastures on Sunday afternoon.
He most recently finished 7th in a $45,000 race, so Royal Realm continues to drop down in class. Look for Texas Swing to cause some noise in the stretch.
Texas Swing is dropping down in class hard after going 5th on September 1 at Saratoga in a $103,000 assignment.
He has stakes experience, showing 3rd last March in the $400,000 Lambholm South Tampa Bay Derby (Gr. 2). The $275,000 Texas Swing likely found a race that he should like.