The first leg of the Canadian Triple Crown kicks off at Woodbine this Saturday, with the oldest continuously run stakes in North America–the $1 million Queen's Plate Stakes—a 1 1/4 mile marathon on Polytrack.
Post time is set for 5:36 p.m. EDT (Race #10).
Queen's Plate Stakes Online Betting Guide
The first step for betting on the Queen's Plate Stakes is to find the absolute best betting site.  I HIGHLY recommend that you sign up at a trusted, safe, and popular horse betting site BetOnline.  You click visit their website www.BetOnline.com to sign up.  They also offer a free money bonus when you first sign up, which is great to take advantage of.  Not all betting sites offer Woodbine as a track to bet on, so make sure you stick with BetOnline.
Once you sign up I highly recommend that you choose the "Express Payment" for credit cards.  They do have other credit card options, but this one is the quickest way to deposit.  Check out the picture below to see what the deposit option looks like…

Once you have made your deposit you will click on "Horses" along the top, and you will see a list of horse racing tracks to choose from.  Near the bottom you will see Woodbine, click on it.  Once you are in Woodbine you will see which race is coming up, but the Queen's Plate Stakes race we are looking for is Race # 10.  You will then be able to choose from the different types of wagers.  Select your wager(s) and you are all set – enjoy the race, and cashout your winnings :)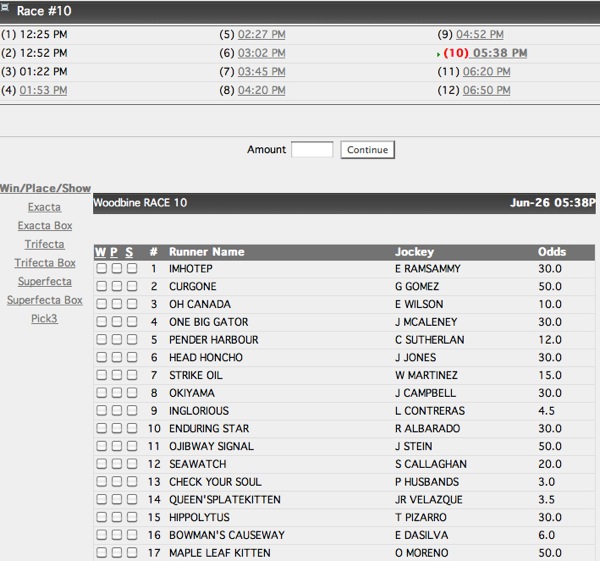 Click Here To Bet at BetOnline.com
Queen's Plate Stakes Horses Odds and Picks
A field of 17 Canadian-foaled 3-year-olds is set to start this year's race- the largest field in the events history–and all have a chance at winning. However, a select few stand out from the others.
Check Your Soul will be coming out of post 13 and is one of the morning line favorites to win the race at 3-1 odds. Charles Fipke's homebred thoroughbred has great pedigree, with a bloodline lineage to horse racing greats, Secretariat and General Assembly. The 3-year-old colt's trainer, Roger L. Attfield has done wonders with Check Your Soul, leading the horse to first place finishes in its last three races.
Queen'splatekitten (7-2) is another favorite in the race and for good reason is garnering a lot of attention from those following this year's event. The horse has won three of its first five races. His jockey, the rider of Animal Kingdom in the Triple Crown races, John Velasquez, will help the horse's chances tremendously in the race.
Inglorious (9-2) will come out of postposition nine, dead center of the pack. This could fare well for the horse that likes to ease its way into the finish line before gunning down the leaders during the final stretch. The only mare in the race, Inglorious comes from legendary Donver Stable, and just recently won the $500,000 Woodbine Oaks June 5, when she collared pacesetter Spooky Kitten in deep stretch for the three-quarter-length score.
This would be a fine pick with great odds and a better chance then the horses below her to win the race. Inglorious' trainer Josie Carroll is one of the best in Canada, and will work well with this kind of horse. Carroll won 26 races last year, and became one of a select few trainers to win both the Oaks and the Queen's Plate when Inglorious won at Woodbine.
Bowman's Causeway (6-1) has made a career of taking out some of the best 3-year-olds on the continent, and is a great pick for the Queen's Plate with his odds. In the Plate Trial, Bowman's Causeway had the top end speed to nearly catch up to winner and Queen's Plate favorite Check Your Soul, finishing three and one-quarter lengths behind him.
This horse has gone toe-to-toe with Triple Crown contenders throughout his career, one being Mucho Macho Man when he nearly beat him at Monmouth Park, but ended the race third.
Bowman's Causeway has all the ability in the world to compete with any horse thrown his way, but has yet to live up to his billing as one of the best second tiered horses in the sport.
Perhaps the fan favorite for the Queen's Plate, Oh Canada (10-1) will have his name called at the beginning when the Canadian National Anthem is sung at Woodbine.
This is my sleeper pick for the race, and with his odds, is a great pick for anyone looking to put down some money, as the horse is far from a long shot to win the race. He hasn't finished below third in any of its first three races, with one coming behind contender Queen'splatekitten.
Matt's Queen's Plate Stakes Pick – Inglorious – I think Inglorious will take advantage of the track and her trainer's experience to take the race. The mare has good all-around technique and is known for her stamina and string finishing kicks.  Click here to bet it…
The second leg of the Canadian Triple Crown is the $500,000 Prince of Wales Stakes July 17 at Fort Erie, while the $500,000 Breeders' Stakes is Aug. 7 on Woodbine's turf course.