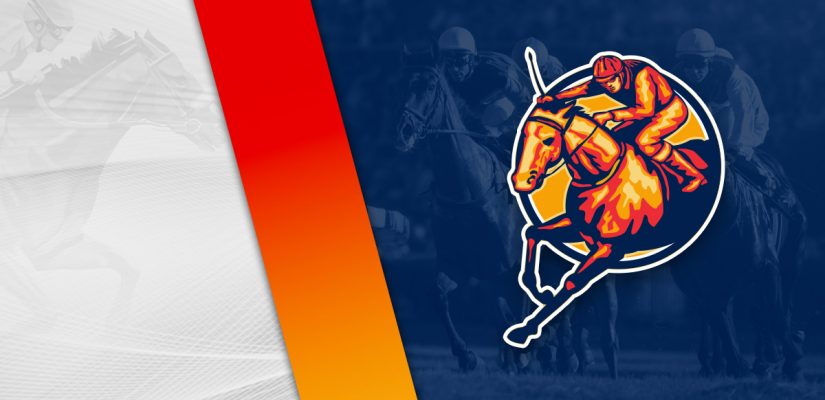 There is afternoon and evening racing on the track Thursday. You can find some heavy hitters in the afternoon. Keeneland and Aqueduct Racetrack are both in action. We have Kentucky racing at Keeneland on Thursday afternoon.
Keeneland opens their weekend card in Lexington. We're playing
Keeneland
this afternoon and then going to West Virginia for the evening card at Charles Town.
Charles Town at Hollywood Casino has a $188,600 card with eight races on the dirt. Head below for our best Charles Town picks on April 21, 2022.
Race 1
(1) Colette's Spirit
+1500 (15/1)
(2) Untamed Lady
+400 (4/1)
(3) Midnight Dragon
+120 (6/5)
(4) Sister Joann
+1500 (15/1)
(5) Alys Great Notion
+350 (7/2)
(6) Lookin Back
+300 (3/1)
The first race at Charles Town is a $13,300 event covering 4 ½ furlongs on the dirt. Lookin Back and Midnight Dragon should have a bold bid with a chance to strike.
Lookin Back is a one-time winner across 24 entries. She needs better after finishing 4th, 9th, 2nd in her previous three outings.
Lookin Back most recently placed 2nd behind Toy Tiger by 6 ¼ lengths in a $13,300 event. That was a nice performance after finishing 9th on March 5 in a $12,100 assignment.
If Lookin Back can hold her most recent form, expect her to take a good trip at the top prize. Midnight Dragon is 4th, 2nd, 3rd, 5th, 1st in five attempts.
The filly is coming off a big performance to beat Grandma Schnur by 2 ½ lengths in an $18,700 event. This was a nice step up for Midnight Dragon after finishing 5th on August 12 in a $29,700 race.
Expect even better from Midnight Dragon on a class drop to $13,300 on Thursday night. She looks like the winner.
Race 2
(2) Mischevious Jesse
+300 (3/1)
(3) Perth Amboy
+120 (6/5)
(5) Theheatofthenight
+1000 (10/1)
(6) Artemis Rising
+600 (6/1)
(7) Commiteeman
+800 (8/1)
The second race at Charles Town is a $14,500 event covering 4 ½ furlongs. Mischievous Jesse and Perth Amboy should be tough customers in Race 2.
Mischievous Jesse is 2 for 13 in his career. He's 1st, 6th, 1st in his previous three attempts. In his latest outing, the gelding beat Belmullet by 3 ¾ lengths in a $17,600 assignment.
That was a nice response after struggling in the same class on February 11. Expect Perth Amboy to provide big resistance in the final furlong.
Perth Amboy is 2 for 8 and coming off a strong performance on March 30. He defeated Strong Safety by 4 ¼ lengths in a $13,300 assignment.
This was a nice run after Perth Amboy finished 4th on March 17 for a $12,100 purse. The improved form was nice to see from Perth Amboy after dropping down to 4 ½ furlongs.
Perth Amboy is much better suited in a 4 ½ furlong event and should look like the best on Thursday night.
Race 4
(1) Beverly Park
+120 (6/5)
(4) One More Factor
+2000 (20/1)
(5) King Nekia
+350 (7/2)
(6) Fort Fortitude
SCRATCH
(7) Jeffery Scott
+3000 (30/1)
Race 4 is a 6 ½ furlong event for a $24,200 purse on the dirt. Expect good work from Savagery and Beverly Park in this event.
Savagery is 7 for 31 and 1st, 2nd, 1st, 2nd, 4th in his previous five outings. He had a 1 length $28,900 win on June 23, but hasn't been back to the winner's circle in two races.
In his latest showing, Savagery finished 4th in a $75,000 purse on August 24. After a layoff, Savagery returns and back down in class to $24,400.
Beverly Park is 14 for 28 and a consistent performer. He's 1st, 2nd, 1st, 2nd, 3rd, 2nd in six races in his career.
In his most recent, he placed 2nd behind a talented Baby Yoda by 3 ¾ lengths on April 14 for $44,000. With Baby Yoda out of the mix and down in class, expect Beverly Park to be a top runner in Race 4.