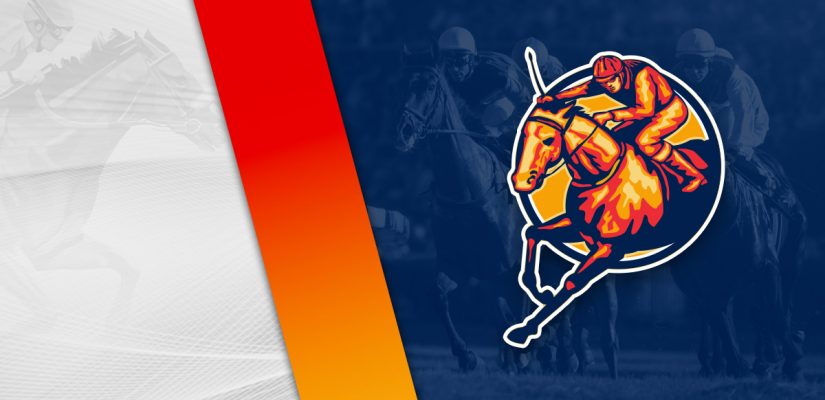 Let's go to the racetrack and play some ponies on Friday afternoon and into the evening hours. This isn't a huge day, with the running of the $300,000 Troy Stakes (Gr. 3) the most lucrative race on the agenda on the card.
If you are interested in big summer stakes racing, then tomorrow is sure to impress. There are two million dollar stakes events, including the Breeders' Cup qualifier $1,000,000 Whitney Stakes (Gr. 1).
TheSportsGeek has horse racing picks at Del Mar and Charles Town this evening. The Hollywood Casino in Charles Town is hosting a $176,800 card under the lights tonight. Head below for our best Charles Town picks on August 5, 2022.
Race 1
(1) Waterloo Rose
+1500 (15/1)
(2) Stevethevandriver
+300 (3/1)
(3) Mischievous Jesse
+120 (6/5)
(4) Scaredy Cat
+500 (5/1)
(6) Jess's Reverse
+600 (6/1)
The opener at Charles Town is a $14,500 event covering 4 ½ furlongs. Race 1 is a sprint that should go between Stevethevandriver and Mischievous Jesse.
Stevethevandriver is 2 for 12 and 6th, 6th, 5th in his previous three attempts. In his latest start, Stevethevandriver finished 6th for a $24,720 assignment on July 4.
He was running pretty well the same in the same class prior to that effort as well. A trip down to the $14,500 level should suit him better.
Mischievous Jesse is 2 for 16 and 5th, 3rd, 4th, 1st in his previous four starts. He was a winner four races back for a $17,600 purse by 3 ¾ lengths. That was impressive form.
However, he wasn't in the same form in his latest effort on July 15. Mischievous Jesse finished 5th in a $33,900 event. After trying her hand against tougher foes, she's down to $14,500 where this should feel easy.
Race 5
(1) November Rose
+1500 (15/1)
(2) Abby the Bull Dawg
+800 (8/1)
(3) Spunky Zoey
+400 (4/1)
(4) Fort Zanna
+500 (50/1)
(5) Lady Cinco de Mayo
+600 (6/1)
(6) Overcooked
+120 (6/5)
(8) Enjoy Summer
+800 (8/1)
Race 5 is a 7-furlong event for a $32,700 purse on Friday night. This race looks well-positioned to be an Overcooked and Spunky Zoey race.
Spunky Zoey hasn't won in eight attempts in her career. The filly has finished 2nd, 3rd, 2nd in her previous three races. In her latest assignment, Spunky Zoey placed 2nd behind Todo Sola by a neck for a $27,100 prize.
That was a fine effort after showing 3rd in a $32,700 assignment on June 24. Expect Spunky Zoey to be a major contender on these terms.
Overcooked is looking for better results after opening her career finishing 5th, 5th, 2nd in three starts. In her latest performance, Overcooked was 5th in a $50,000 event on July 8.
That could have been a better trip after finishing 5th on June 4 at Churchill Downs in a $120,000 assignment at Churchill Downs. Another class drop can't help, right? The $475,000 filly has to figure it out in a $32,700 race and should tonight.
Race 6
(1) Fourdiamondsplease
+6000 (6/1)
(5) Rocket J.
+1500 (15/1)
(6) Mio Graceland
+350 (7/2)
(7) Sugar Lips
+450 (9/2)
Race 6 is a 7-furlong event for a $19,400 prize on Friday night. Expect bold bids from Air Medal and Mio Graceland in this one.
Mio Graceland is 1 for 18 and will appreciate easier terms here. He's finished 9th, 3rd, 2nd in his previous three outings.
Mio Graceland most recently finished 9th on July 16 in a $120,000 event. That was much too tough after showing 3rd on June 11 for a $21,800 purse.
This should be much easier to handle than his recent $120,000 event. That entree was out of character for him. But he'll still have to deal with a top contender in Air Medal.
Air Medal has less experience, with finishes of 4th, 7th, 1st, 6th, 2nd. He has experience going to the winner's circle, with a trip there on May 4. Air Medal beat Red Hot Toddy by a half-length for $32,700.
Well done, but Air Medal dropped off to 7th and then 4th most recently on July 2. After finishing 4th in that outing for a $34,900 prize, Air Medal will take on a $19,400 race on Friday night. This should go much better.