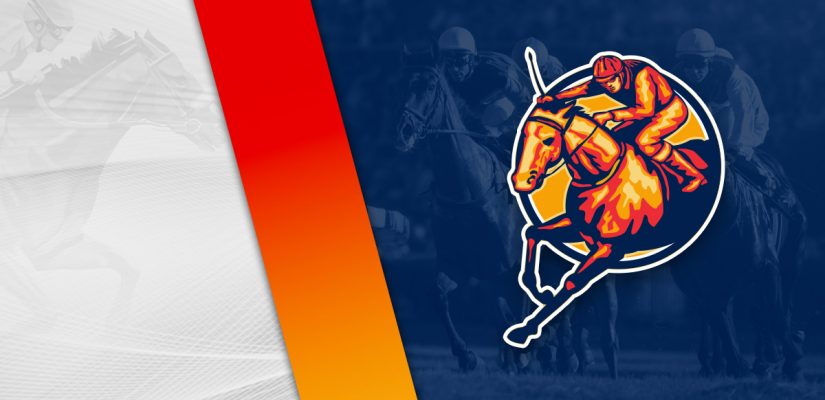 It's a fairly decent day on the racetrack with two notable race tracks in action. Del Mar and Saratoga are both putting on cards on Friday. Saratoga is an afternoon card, while Del Mar gets going later in the day in California.
After playing Del Mar, we're heading to West Virginia for some night racing at Charles Town. It should be a fun night of racing at Hollywood Casino in Charles Town.
There are eight races on the dirt for this card tonight worth $142,200. Hopefully, this also involves winning horses. Head below for our best Charles Town picks on July 29, 2022.
Race 3
(1) Find Your Boaz
+2000 (20/1)
(2) Fu Man Sue
+180 (9/5)
(3) Unnamed Soldier
+1500 (15/1)
(4) Charitable Visit
+200 (2/1)
(5) Bobby Two Times
+2000 (20/1)
(6) Southern Saviour
+1000 (10/1)
(7) The Iron Bank
+2000 (20/1)
(8) Lost in Manhattan
+250 (5/2)
Race 3 is a $15,700 event covering 7 furlongs. Look for Lost in Manhattan and Fu Man Sue should have a good look for the win in the third at Charles Town.
Lost in Manhattan is 7 for 37 and finished 3rd, 4th, 5th in his previous three assignments. In his latest spot, Lost in Manhattan showed 3rd for a $15,700 prize.
The gelding was coming off finishing 4th on June 8 at Mountaineer in a $21,200 event. Down in class, he showed improvement and should be involved in this one.
Fu Man Sue is 4 for 22 and 6th, 3rd, 4th in his previous three starts. He is coming off an okay performance in a $36,300 event on April 13.
A month earlier, Fu Man Sue showed 3rd in a $29,700 event. That form would put Fu Man Sue well clear in the stretch. A repeat of the $36,300 assignment would likely still put Fu Man Sue in front.
Race 7
(1) Bop Marley
+450 (9/2)
(2) Political Decision
+1000 (10/1)
(3) Thorn of Rose Hill
+1500 (15/1)
(4) Vidmer's Courage
+1500 (15/1)
(5) Divining Dancer
+1500 (15/1)
(8) Lil Mr Matt
+800 (8/1)
Race 7 is a $19,400 event covering 7 furlongs later in the night. The nod has to go to Bop Marley from the inside and Pistol P on the outside.
Bop Marley is 3 for 25 and should get up near the front against Pistol P. He's finished 3rd, 4th, 2nd in his previous three attempts.
In his most recent race, Bop Marley showed 3rd for a $19,400 purse on March 26. He'll likely need a bit more to get past Pistol P in the stretch.
Pistol P is 4 for 26 and 3rd, 7th, 3rd in his previous three starts. He's coming along nicely recently against tougher foes.
In his latest performance, Pistol P showed 3rd for a $29,700 prize. That was the best speed figure in this field. He won back in March for a $27,000 purse by 2 ¾ lengths.
This looks beatable for Pistol P down in class to $19,400.
Race 8
(1) Scare Dem
+1500 (15/1)
(2) Acasha's Institution
+1500 (15/1)
(3) Angela's Romeo
+1500 (15/1)
(4) Orangeburg
+400 (4/1)
(5) In the Limelight
+1500 (15/1)
(7) Personable
+500 (5/1)
(8) One Night Mike
+250 (5/2)
(9) Juba Bound
+350 (7/2)
(10) Kvellion
+1200 (12/1)
The final race at Charles Town is late in the evening hours past 10:30 p.m. EST. If you want a late-night horse racing pick, this is the race for you.
Juba Bound and One Night Mike should be well-respected tonight. Juba Bound is winless in three career starts from May 25 to June 30.
He's 4th, 9th, 4th, and looking for a better result in this race. Juba Bound most recently finished 4th in a $32,700 assignment on June 30. This was after finishing 9th in the same class.
His latest start was improvement and that was the best speed reading of his career. More improvement should put Juba Bound in strong contention.
One Night Mike is winless in two starts, but promising and open to improvement. He showed 3rd on September 25 and June 30.
In his latest performance, One Night Mike finished 3rd in a $32,700 event. He was ahead of Juba Bound by a half-length and had the advantage after kicking nicely in the stretch. A repeat of that should be enough.