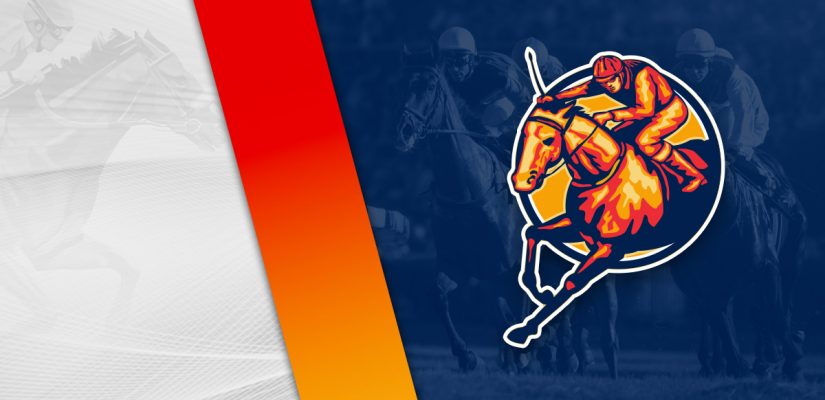 Afternoon and evening racing under the lights highlights our horse racing picks on Friday. We begin the day in New York and then wrap the card up in West Virginia at Hollywood Casino in Charles Town. Belmont Park is where the biggest action is at this weekend.
We'll be going over the Saturday card at
Belmont Park
, which includes the $1,000,000 Belmont Derby (Gr. 1). If you want Belmont picks for Friday, check it all out on the Belmont Park page.
Charles Town has eight races worth $173,000 on the card tonight. Head below for our best Charles Town picks on July 8, 2022.
Race 1
(1) Bull Meechum
+160 (8/5)
(2) Majestic Seas
+160 (8/5)
(3) Command the Cat
+350 (7/2)
(4) Freedom Is Ringing
+1200 (12/1)
(5) Grumpelstiltskin
+500 (5/1)
Charles Town gets going on Friday night at 7:00 p.m. EST. We open our Charles Town picks with Race 1. This should be a sprint between Be Be Bop and Bull Meechum.
It's a short race covering 4 ½ furlongs on the dirt. Be Be Bop will have some ground to make up, but could impress at the wire.
Be Be Bop is 11 for 25 and 3rd, 1st, 4th in his previous three starts. He had a $29,700 win on June 17. That was a close win by a neck.
Bull Meechum is 6 for 13 and 5th, 1st, 1st, 1st in his last four assignments. The gelding most recently finished 5th in the $75,000 It's Only Money Stakes on June 11.
He was coming off a $33,900 win by 2 ¼ lengths on May 25. That was a strong performance to complete the hat trick following a $33,900 3 ¼ length win.
Unlikely to be bothered by a $23,000 assignment from the inside rail at this distance, Bull Meechum should be tough.
Race 4
(1) Moss Boss
+1200 (12/1)
(2) Fluent in Sarcasm
+2000 (20/1)
(3) Kukulkan
+1500 (15/1)
(4) Cape Lookout
+1000 (10/1)
(5) Primal Destiny
-125 (4/5)
(6) To the Front
+140 (7/5)
Race 4 is a 4 ¼ furlong event covering 4 ½ furlongs. This is another short sprint to the wire at Charles Town tonight.
To the Front and Primal Destiny should be directly involved in the finish in the fourth race. The No. 6 has to be a strong contender in this one.
To the Front is 12 for 37 and knocking on the door recently. He's finished in the top-2 in six straight races, including a win on April 1 for $23,000. He is winless in four straight races.
In his most recent outing, To the Front placed 2nd behind Primal Destiny by a head for $23,000. He'll likely need a touch more to beat Primal Destiny.
Primal Destiny is 12 for 24 and looking for a hat trick. He has finished in the top-3 in a wildly impressive 15 straight races.
In his most recent, Primal Destiny beat To the Front by a head for a $23,000 purse. Primal Destiny could make it look easier if he's ready to run in this one.
Race 6
(1) Dimitri's Romance
+1200 (12/1)
(2) Lady Licious
+500 (5/1)
(4) College Kid
-125 (4/5)
(5) Lunar Prayer
+600 (6/1)
(6) Bella Femmina
+1500 (15/1)
(8) Martha's Banner
+1000 (10/1)
Race 6 is a 4 ½ furlong event for a $16,900 purse. Look at College Kid to cause some bid noise in the sixth at Charles Town this evening.
College Kid should like this assignment under the lights against a beatable field. The mare is 7 for 25 and she's 1st, 6th, 4th in her last three starts.
In her most recent attempt, College Kid beat Coach Rube by 2 ¼ lengths for a $29,700 event. That was a successful performance after finishing 6th, 4th, 6th in three races.
Before the win, College Kid finished 6th for a $38,700 purse on May 18. A class drop was required for College Kid to win.
On Friday, College Kid is seeing another class drop to $16,900. This should be more than attainable for him.