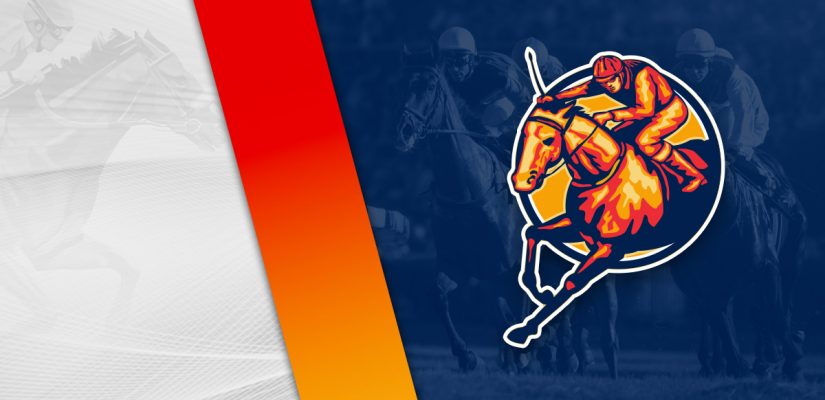 There is afternoon and evening to be had on Thursday. We're playing a late afternoon and evening card for this one. On the weekend, look at what's going on at Santa Anita Park.
Santa Anita will receive the most attention, as the Arcadia-based racecourse has some big stakes races on the agenda. The feature is the $650,000 Santa Anita Handicap (Gr. 1). We'll be at Santa Anita with some picks for Saturday.
For Thursday Sam Houston Race Park and Charles Town is on the agenda. If you want twilight racing under the lights then Hollywood Casino at Charles Town in West Virginia has you covered.
Head below for our best Charles Town picks for March 3, 2022.
Race 4
(1) Golden Hughes
+120 (6/5)
(2) Richie's B L
+1200 (12/1)
(3) Tanaleer
+3000 (30/1)
(4) Doesn't Make Cents
+1000 (10/1)
(5) Split the Pack
+600 (6/1)
(7) Parishioner
+1000 (10/1)
(8) Zip the Line
+2000 (20/1)
Post Time: 8:25 p.m. EST
Distance: 4 ½ Furlongs
Purse:$12,100
Race 4 is a $12,100 event covering 4 ½ furlongs on the dirt. Golden Hughes and Hartel are worth a look to open the day at Charles Town tonight.
Hartel has a win in 25 attempts and on a long losing streak. That said, this looks more on his level. The gelding finished 9th, 2nd, 4th in his previous three attempts.
He placed 2nd behind I'd Like to Know by ¾ lengths in a $12,100 assignment. This was a fine look by Hartel, but then fell to 4th on February 10 for $12,100.
Golden Hughes is going to be tough from the inside out of the gate. The colt is 3rd, 2nd, 2nd, 1st, 2nd, 7th, 4th in seven races.
In his last win, he beat Agent Stone by 4 ¼ lengths in a $29,700 race. That was a good effort. Since then, though, Golden Hughes hasn't been back to the winner's circle.
After finishing 4th on February 12 for $19,800, down to $12,100 this should be his to win.
Race 5
(1) Suzanne's Sugar
+160 (8/5)
(2) Bantam Rooster
+800 (8/1)
(3) Safe Reezan
+500 (5/1)
(4) Bodie's Storm
+600 (6/1)
(5) Our Electra Guitar
+800 (8/1)
(6) Noble Present
+300 (3/1)
(7) Pigeon Forge
+2000 (20/1)
(8) Valid Reason
+1500 (15/1)
Post Time: 8:53 p.m. EST
Distance: 4 ½ Furlongs
Purse:$18,700
Race 5 looks good for Bodie's Storm and Suzanne's Sugar. This 4 ½ furlong event should see both do well with a chance for a win.
Bodie's Storm is 5th, 7th, 3rd in three races. She most recently showed 3rd on February 4 for a $18,700 prize.
This was after finishing 7th on November 27 in a $29,700 race. In this class, expect Bodie's Storm to be competitive again. At a nice price, she might be worth considering.
Suzanne's Sugar made her debut on August 27 and looked fine in a $50,600 assignment. She finished 5th in the tough race.
Despite going 5th, she ran well enough to be the best out of this field in a $18,700 race. On a big class drop, expect Suzanne's Sugar to be a major contender.
Race 6
(1) Glad Moon
+5000 (50/1)
(2) Righteous Renegade
+500 (5/1)
(3) Crazy Idea
+600 (6/1)
(8) William Crotty
+140 (7/5)
Post Time: 9:21 p.m. EST
Distance:1 ⅛ Mile
Purse:$14,800
Race 6 runs for 1 ⅛ miles on the dirt Thursday night. Consider looking at Admire and William Crotty for a win bet.
Admire is 3 for 18 in his career and finished 12th, 6th, 2nd in his previous three outings. In his latest attempt, he placed 2nd behind Sunman by a half-length in a $8,800 event.
Down in class, Admire was more competitive. This should be tougher, but based on that form, he should have a decent chance to go in.
William Crotty is 14 for 75 and looking for his first win since March. He's on a transfer and should find this easier than Laurel Park and Parx.
In his most recent attempt, William Crotty finished 5th at Laurel Park in a $34,500 event on February 18. That broke up a streak of four straight top-3 finishes.
Off to West Virginia for a $14,800 race, look for William Crotty to have this one in his sights.