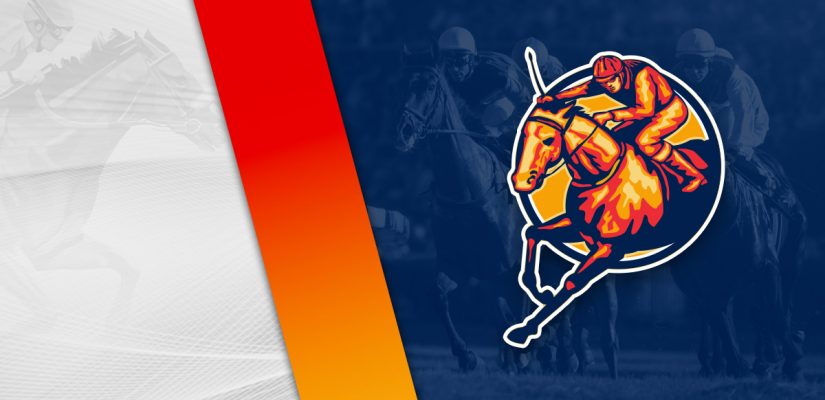 BetOnline has 11 thoroughbred tracks available for wagering in North America on Thursday afternoon and into the evening. The biggest operations are Keeneland, Belmont Park, and then in Canada near Toronto, Woodbine has a racecard. In a tier behind those three, Gulfstream Park has a card in Hallandale Beach.
$25 Risk-Free Horse Racing Bet!
There isn't any stakes racing to check out on Thursday, but that will change tomorrow and Saturday. Remington Park is where you want to look tomorrow if you're looking for a stakes card. Keeneland is the centerpiece of the Saturday card again this weekend.
We have an afternoon and an evening card covered today. For our first go this afternoon, check out the Keeneland page. Then later in West Virginia we have three more selections on the ponies. Head below for our free Charles Town picks for October 14, 2021.
Race 1
(1) Iheartrainacomn
+1500 (15/1)
(2) Pettyforurthoughts
+1500 (15/1)
(3) Sarah's Warrior
+300 (3/1)
(4) Bays Castle
+400 (4/1)
(6) Hazy Winter
+350 (7/2)
Post Time: 7:00 p.m. EST
Distance:7 Furlongs
Purse:$29,700
The opener at Charles Town is 7 furlongs for a $29,700 purse. This primetime event looks to likely have Hazy Winter and Moiraine in the stretch run.
Hazy Winter will be making her debut on Thursday night. She hasn't appeared on the racecourse yet besides some workouts.
Hazy Winter is coming off a promising workout on October 5 with a time of 49.60 seconds. Her connections appear to be thrilled with how she's preparing for her debut, so has to be considered.
Moiraine has appeared in one race and will be making her sophomore attempt on Thursday night. She has looked great in workouts with times of 49, 48, and 49.40 seconds at 4 furlongs.
She looked fine as a rookie on September 24 at Charles Town. Moiraine finished 4th for a $29,700 purse. Her competition is not difficult in this one, so that could be enough to get to the winner's circle.
Race 3
(1) Bobbyfromthepalm
+800 (8/1)
(2) Crazy Idea
+1200 (12/1)
(3) Carter's Run
+500 (5/1)
(4) Castle Bound
+1500 (15/1)
(5) Envision Success
+600 (6/1)
(6) What A Story
+2000 (20/1)
(7) Glad Moon
+2000 (20/1)
(8) Long Gray Line
-167 (3/5)
Post Time: 7:57 p.m. EST
Distance:1 1/16 Miles
Purse:$14,800
Race 3 goes for 1 1/16 miles on the dirt for a $14,800 purse. Bobbyfromthepalm and Long Gray Line should expect to run up well in the stretch in this one.
Bobbyfromthepalm draws a favorable starting position on the inside rail. He is 5 for 20 in his career, and has finished 3rd, 4th, 6th, 6th, 4th in his previous five attempts after winning on April 7.
Bobbyfromthepalm won a $19,000 event by 1 length over Mr Classical. Since then, Bobbyfrompalm has struggled to get into the top-3, but his last attempt was promising.
He finished 4th in his most recent race for a $15,900 prize. Bobbyfromthepalm should be there, but might need more to best Long Gray Line.
Long Gray Line is receiving a class drop on Thursday after finishing 4th, 8th, 6th in his previous three attempts. In his last outing, Long Gray Line finished 6th for a $31,800 prize. This is much easier.
Race 4
(1) Alloverbutthecryin
+2000 (20/1)
(2) Modern Day Romance
+1200 (12/1)
(3) C R's Mandate
+160 (8/5)
(4) Ponticello
+600 (6/1)
(5) Strong Lil Kokoro
+450 (9/2)
(6) Freedom Rider
+140 (7/5)
Post Time: 8:25 p.m. EST
Distance:7 Furlongs
Purse:$30,800
Race 4 covers 7 furlongs on the dirt for a $30,800 purse. C R's Mandate and Freedom Rider should be tough customers in this one.
C R's Mandate is 1 for 9 in his career, and has finished 1st, 3rd, 2nd in his previous three attempts. He was a winner on August 7 in a $18,700 assignment by 2 ½ lengths.
Impressive form and effort from C R's Mandate. He most recently placed 2nd behind River Warrior Rvf by 4 ½ lengths in a $30,800 assignment.
Freedom Rider is a one-time winner through 11 attempts. He defeated Pistol P by 7 lengths for a $27,000 purse. Since then it's been a winless drought, but top-3 in six straight assignments.
Freedom Rider most recently showed 3rd on September 23, just narrowly head by a neck by the upset minded C R's Mandate. The colt has more to offer and should have the upper hand this time.