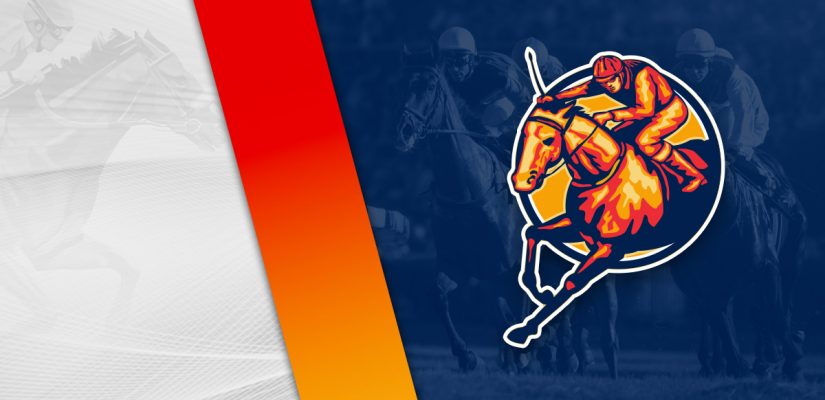 The horse racing grind continues on in a sandwich week between the Kentucky Derby and Preakness Stakes. Anticipation is building for the Preakness, with Rich Strike gearing up for another big run to win the second leg of the Triple Crown.
Rich Strike had only won one race before going to Churchill Downs for the Kentucky Derby. His other win? It was at Churchill Downs as well. He is winless at every other facility he's raced at in his career.
There is a lot more racing to get to before Preakness Day at Pimlico Race Course. Thursday has a nice card with Churchill Downs and Belmont Park on the track. Our first look is at Churchill Downs in Kentucky with post time scheduled for 5:00 p.m. EST.
Churchill Downs has eight races worth $581,000 in prize money this evening. Head below for our best Churchill Downs picks for May 12, 2022.
Race 1
(1) Overly D'oro
+1500 (15/1)
(2) Sergeant Countzler
+180 (9/5)
(3) Drew's Gold
+1500 (15/1)
(4) Fast Forward
+1000 (10/1)
(6) Top of My Game
+200 (2/1)
(8) Jeremy's Jet
+1200 (12/1)
The opening race at Churchill Downs is a $92,000 event covering 5 furlongs on the dirt. Look at Top of My Game and Sergeant Countzler to have a strong presence in Race 1.
Top of My Game is winless in two events to open his career at Keeneland. He is 4th, 3rd in his career most recently showed 3rd for an $80,000 purse.
In his debut as a first-time runner, Top of My Game finished 4th in an $80,000 assignment. Is going up in class to $92,000 going to help Top of My Game?
Sergeant Countzler made his debut on April 20 at Keeneland. It was a solid first-time effort, with Sergeant Countzler showing 3rd for an $80,000 purse.
The $45,000 colt weakened late and couldn't hold on in that one. Against this competition, Sergeant Countzler should have a big chance.
Race 5
(3) Bohemian Boy
+500 (5/1)
(4) Sliabh Aughty
+1200 (12/1)
(5) Grey Streak
+300 (3/1)
(6) Fort Moultrie
+450 (9/2)
(7) Policy Option
+800 (8/1)
(8) Second of July
+1000 (10/1)
(9) Assiduosly
+2000 (20/1)
(10) Fed Money
+1500 (15/1)
Race 5 is a $68,000 event covering 1 ⅛ miles on the turf. The presence of Grey Streak and Kygo must be taken into consideration in the fifth assignment at Churchill Downs.
Grey Streak is a two-time winner through eight attempts. He's finished 8th in back-to-back races going into Thursday.
In his most recent assignment, Grey Streak finished 8th in a $37,000 starter allowance race. This was after he dropped in class after finishing 8th in the $100,000 Tropical Park Derby.
Kygo is 2 for 12 and has graded experience. He is 5th, 10th, 7th in his previous three races. Two races back, Kygo entered the $200,000 Mac Diarmida Stakes (Gr. 2).
That didn't go well, with Kygo finishing 10th in the race. The colt from Germany transferred to Aqueduct after that mishap. He finished 7th most recently on April 14.
It was a disappointment for Kygo in 7th for an $84,000 prize. Despite the lack of success, a slide down to $68,000 should be good for him tonight.
Race 7
(1) Greatheart
+300 (3/1)
(2) Scales of Justice
+1200 (12/1)
(6) Brigadier General
+450 (9/2)
(7) Protonic Power
+1500 (15/1)
Post Time: 7:54 p.m. EST
Distance:1 3/16 Miles
Purse:$127,000
Race 7 is the $127,000 feature at Churchill Downs. Look at Macallan and Greatheart to put in good work for the top prize in this one.
Macallan has a win in three races, finishing 2nd, 1st, 4th in his career. He beat Afjan by 3 ¾ lengths for a $34,000 prize on February 12 at Tampa Bay Downs.
That was a nice go from Macallan, but didn't factor into a $110,000 loss in 4th on April 9 following a transfer to Keeneland. Macallan finished 4th and is looking for better at Churchill Downs.
Greatheart is 9th, 6th, 2nd, 1st in four races. In his most recent attempt, Greatheart beat Tiwanaku by 1 ¾ lengths for a $90,000 purse.
That was mightily impressive after placing 2nd behind Go West by 1 ¼ lengths in the same class on March 25. I'd put Greatheart ahead here from the inside tonight.