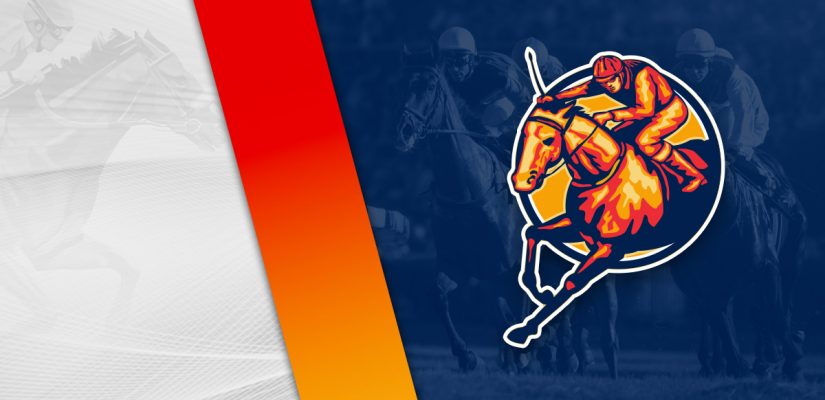 We're heading to the racetrack for an afternoon and evening of horse racing picks. It should be a good day with some notable racecourses operating. Saratoga, Del Mar, Woodbine, and Monmouth Park are all cards on Friday.
We're only a day away from the running of the $1,000,000 Saratoga Derby Invitational (Gr. 1) and Whitney Stakes (Gr. 1). The Whitney and $400,000 Clement L. Hirsch (Gr. 1) at Del Mar are two Breeders' Cup events.
Our first stop is at Del Mar in California. Del Mar has eight races worth $621,000 in prize money. Head below for our best Del Mar picks on August 5, 2022.
Race 2
(1) Win With Pride
SCRATCH
(3) Full Draw
+2000 (20/1)
(4) Star Entry
+800 (8/1)
(5) Circle West
+1500 (15/1)
(7) Going Away Party
+1500 (15/1)
(9) Majestic West
+600 (6/1)
(10) Gray Magician
+350 (7/2)
(11) Cajun Treasure
+350 (7/2)
(12) Storminside
+800 (8/1)
Race 2 is a $25,000 event covering 6 ½ furlongs on the dirt. Look for Alleva and Gray Magician to have a strong chance in the second event at Del Mar.
Gray Magician is 3 for 26 and 4th, 4th, 7th in his previous three starts. In his latest performance, Gray Magician finished 4th in a $34,000 event on July 22.
That could have gone better after doing the same on June 5 at Santa Anita for a $26,00 purse. That effort was less acceptable. Alleva should be the biggest threat to Gray Magician and the rest of the field.
Alleva is 4 for 25 and 1st, 2nd, 6th in his previous three starts. In his most recent attempt, Alleva beat Facts Matter by a nose for $22,000. That was nice work and posted an impressive speed figure of 86.
Prior to that trip, Alleva placed 2nd behind Stay Happy by 2 ½ lengths in a $24,000 event. That wasn't all that bad, either. Alleva looks like the one.
Race 3
(2) Air Force Red
+250 (5/2)
(5) Whatmakessammyrun
+250 (5/2)
(7) Give Me the Lute
+300 (3/1)
Race 3 is a 5-furlong event for an $86,000 purse. Air Force Red and Give Me the Lute should have a strong presence in the stretch run in this one.
Air Force Red has finished 1st, 1st, 8th, 1st, 4th in five career starts. He is coming off back-to-back wins and looking for the hat trick at Del Mar.
In his latest win, Air Force Red beat Irideo by a half-length in a $72,000 event. Air Force Red was coming off a 2 ½ length win over Mubtadaa on April 30 for a $69,00 prize.
Give Me the Lute is a stakes runner with graded experience. The gelding is 1st, 6th, 2nd, 1st in his previous four outings.
He's coming off a win by a neck for a $50,000 purse on June 11 in the Albany Stakes at Golden Gate Fields. He also looked sharp in a Grade 2 assignment three races back in a graded assignment.
Give Me the Lute placed 2nd behind Lieutenant Dan by 2 ¼ lengths in the $100,000 Green Flash Handicap (Gr. 2). Since June 7, 2020, Give Me the Lute has posted a speed figure 92 or better in nine straight races.
The value on Give Me the Lute makes him an attractive bet versus this field.
Race 6 – Good Deal Stakes
(2) Slow Down Andy
+200 (2/1)
(3) Straight Up G
+400 (4/1)
(4) Smuggler's Run
+400 (4/1)
(5) Joker Boy
+1500 (15/1)
(6) Royal 'n Rando
+1200 (12/1)
(7) Creative Peak
+400 (4/1)
(8) Lmlooknformischief
+3000 (30/1)
(9) Big City Lights
+250 (5/2)
The $175,000 Good Deal Stakes covers 7 furlongs on the dirt. Big City Lights and Slow Down Andy should get involved at the wire in Race 6.
Big City Lights is a perfect two-for-two in his career. He was a winner as a first-time runner on May 2. That was an impressive attempt to beat Barsini Red by 12 ½ lengths in a $61,000 event.
The colt defeated Bochombo by 7 ¼ lengths in the $100,000 Fasig-Tipton Futurity on June 20, 2021. Since then, Big City Lights has been on a break. He has been on fire in workouts, so I can't see his form differing much.
Big City Lights was timed at 58.80 seconds at 4 furlongs on July 29. That was incredibly impressive. He's going to need that to beat Slow Down Andy, a son of Derby winner Nyquist.
Slow Down Andy is 3 for 6 and has won big stakes races. He won the $300,000 Los Alamitos Futurity (Gr. 2) on December 11. Slow Down Andy beat Messier impressively by 1 length.
In his most recent graded event, Slow Down Andy won two races back in the $500,000 Sunland Park Derby (Gr. 3) on March 27. Slow Down Andy beat Bye Bye Bobby by a half-length in another impressive effort.
From the inside, Slow Down Andy should have the advantage against a determined Big City Lights. In a good one at the wire, Slow Down Andy likely has this race.