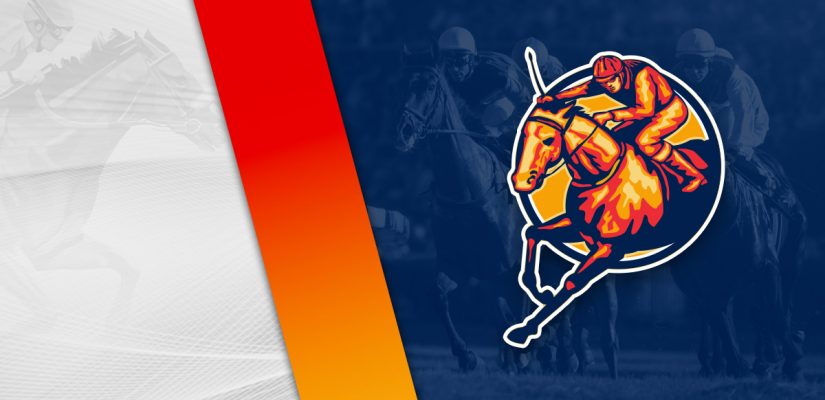 TheSportsGeek is back on the racetrack Friday looking for winning ponies. It's a big weekend at Del Mar and Saratoga. Del Mar has the $400,000 Bing Crosby Stakes (Gr. 1). At Saratoga in New York, the $600,000 Jim Dandy Stakes (Gr. 2) is on the docket.
Evening Horse Racing Picks
We are playing the Del Mar card in California and then heading to West Virginia for racing under the lights at Charles Town. Del Mar has the $100,000 Daisycutter Handicap on the turf on this card.
There is $442,000 in prize money across eight races on Friday afternoon. Five races and three races on the turf are scheduled. Head below for our best Del Mar picks on July 29, 2022.
Race 5
(1) Red Hot Lass
+800 (8/1)
(2) Measureofdevotion
+2000 (20/1)
(3) Jamminjl
+2000 (20/1)
(5) Seven Sisters
+400 (4/1)
(7) Talkative Gal
+1000 (10/1)
(8) Little Rachel
+200 (2/1)
(9) Tropicana Gal
+600 (6/1)
(10) Lovely Colleen
+800 (8/1)
Race 5 is a small $32,000 claiming event on the dirt covering 6 furlongs. This should go well for Seven Sisters and Little Rachel on the grass.
Seven Sisters 2 for 8 and 2nd, 5th, 10th, 2nd in her previous four starts. In her latest outing, Seven Sisters placed 2nd behind Squared Shady by a nose for $21,000 on January 23.
Following that attempt, Seven Sisters went on a brief layoff to work on some things. Her workouts have been encouraging, with a 5-furlong workout clocked at 59.60 seconds on July 13.
Little Rachel is 2 for 9 and finished 5th, 4th, 1st in her last three starts. She struck on February 27 at Santa Anita in a $40,000 win by 2 ½ lengths.
In her latest performance, Little Rachel was 5th in the class. Dropping in class to a $32,000 race should assist her well on Friday.
Race 6 – Daisycutter Handicap
(1) Royal Address
+300 (3/1)
(2) Xmas Surprise
+1500 (15/1)
(3) Sadie Bluegrass
+1500 (15/1)
(4) She's So Nice
+800 (8/1)
(5) Leggs Galore
+160 (8/5)
(6) Havana Love
+1200 (12/1)
(7) Twilight Gleaming
+180 (9/5)
Race 6 is the $100,000 Daisycutter Handicap at Del Mar and the feature race. Expect a potential duel to emerge between Twilight Gleaming and Leggs Galore. Both runners are going to be involved in the stretch run.
Twilight Gleaming is 4 for 7 and top-2 in seven career starts. Even his worst performances have been good efforts. In her latest start, Twilight Gleaming beat Devine Charger by a head for $160,000 in the Mamzelle Overnight Stakes on May 14 at Churchill Downs.
She is the winner of the $1,000,000 Breeders' Cup Juvenile Turf Sprint (Gr. 2) on November 5 at Del Mar. Highly impressive win by a half-length over Go Bears Go.
Leggs Galore is going to provide Twilight Gleaming with plenty of pressure. She has experience and knows how to win. Overall, Leggs Galore has 9 wins in 15 assignments.
In her previous four outings, Leggs Galore has finished 5th, 1st, 1st, 1st. Leggs Galore won the $200,000 Buena Vista Stakes (Gr. 2) by a half-length on March 5. She followed up with a 1-length $75,000 victory on May 21.
Her latest start wasn't the best, but this is where I think we can get value on Leggs Galore. She finished 5th in the $500,000 Longines Just a Game Stakes (Gr. 1) on June 11.
The public should back off Leggs Galore after that race, but she should have enough value to warrant considering.
Race 7
(1) Roses R Blue
+800 (8/1)
(2) Race Judicata
+300 (3/1)
(3) Jasmine Chieftain
+600 (6/1)
(4) She's Bulletproof
+500 (5/1)
(5) Galarina
+3000 (30/1)
(6) Northern Gem
+2000 (20/1)
(7) Ko Olina
+1200 (12/1)
(8) She's a Joker
+3000 (30/1)
(9) Kleen Karma
+600 (6/1)
(10) Smoothlikebuttah
+600 (6/1)
(11) Livin' At the Bu
+800 (8/1)
One more selection at Del Mar on Friday evening. Race 7 a 6-furlong event is where we're looking to conclude the day in California. She's Bulletproof and Race Judicat are likely runners to be at the front at the wire.
She's Bulletproof has finished 6th, 7th, 1st, 1st in four career performances. Three races ago, She's Bulletproof beat, Rose Maddox, by ¾ lengths for a $69,000 purse.
If She's Bulletproof can find that form, expect her to be well involved. However, she most recently finished 7th in a $69,000 event and 6th in a $69,000 race.
Race Judicata is consistent going into Friday. The filly is 2 for 9 and has run well since the beginning of April. In her last two events, she placed 2nd behind Teddy's Barino by 5 ¼ lengths for $69,000.
After that start, Race Judicata ran well again on May 29 at Santa Anita. She placed behind All Dialed In by a half-length for $69,000. Race Judicata is on well right now and should have a big chance.