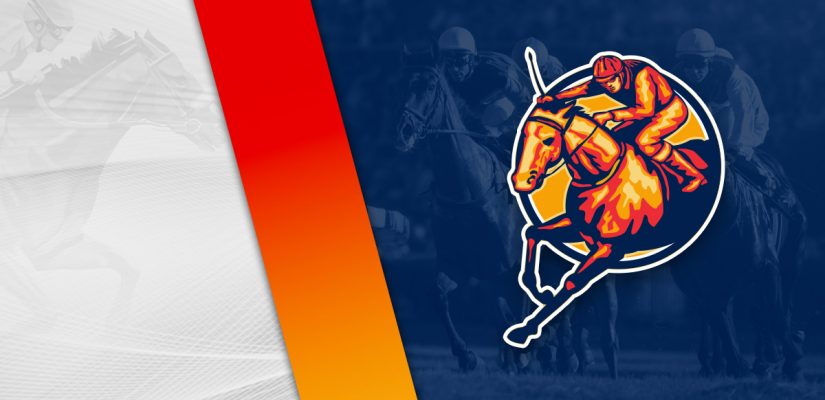 There is a decent horse racing selection on Wednesday, with several race tracks available for wagering. Don't look for any top-tier tracks, but ample options to bet on the ponies.
We had success at Parx and the Horseshoe yesterday afternoon, so that was a nice day overall. Horseshoe and Parx are back on the card Wednesday. We're playing the card in Philadelphia at Parx for today as well.
Looking Ahead To Saturday
Sandwiched between the Kentucky Derby and Preakness Stakes, the $700,000 Man o' War Stakes (Gr. 1) is a big stakes day at Belmont Park. Belmont has five stakes races in Queens on Saturday afternoon.
For our Wednesday plays, we're looking at Parx and Evangeline Downs later in the evening on Wednesday. Evangeline Downs has eight races worth $155,500 on Wednesday. Head below for our best Evangeline Downs picks on May 11, 2022.
Race 1
(1) Gottatakehimto
+400 (4/1)
(2) Mista Valentine
+600 (6/1)
(3) Unbridled Pulpit
+2000 (20/1)
(4) Customize My Quest
+250 (5/2)
(5) Temple of Light
+180 (9/5)
(6) Fortz Bonz
+350 (7/2)
In the first at Evangeline Downs, we have a mile of racing for an $11,000 purse. Customize My Quest and Temple of Light have to be in consideration to win this mile event.
Customize My Quest is a one-time winner through 11 assignments. He has finished 7th, 1st, 2nd in his previous three attempts.
In his latest start, Customize My Quest placed 2nd behind Charli Michael by a whopping 14 ¾ lengths in an $11,000 Race. He was the best of the rest.
Prior to that outing, he beat Kannon With a K by 3 ¼ lengths for a $17,000 performance. That was nice improvement after finishing 7th on February 24 in a $17,000 event.
Temple of Light won a $13,000 assignment on January 28, but hasn't been back to the winner's circle. He hasn't been back to the winner's circle since, though.
This looks like a good spot for him to go back. In his last race, Temple of Light finished 4th for a $12,000 event. That doesn't look good, but up to a mile and easier terms await on Wednesday.
Race 2
(1) Hyperbolist (1A)
+250 (5/2)
(2) Flashback Wind
+1500 (15/1)
(4) Northernreflection
+600 (6/1)
(5) Time to Move
+1200 (12/1)
(8) Ricky Bobby
+1000 (10/1)
Race 2 covers a mile on the turf for a $23,000 purse. Charlie G and Courtman look like good value in the second at Evangeline.
Charlie G is winless in nine attempts, but stands a good chance of going on Wednesday evening. In his last four outings, Charlie G is 2nd, 2nd, 4th, 3rd.
Charlie G most recently showed 3rd in a $46,000 event on March 5. Prior to that outing, Charlie G finished 4th in the same grade. A class drop to $23,000 should put him in better contention.
Courtman could be in for a big upset over this field. Despite 8/1 odds to win, Courtman probably has a better chance of winning than the odds indicate.
He is 2nd, 5th, 2nd, 2nd in four career starts. In his last outing, Courtman placed 2nd after getting disqualified in a $25,000 assignment. He won by a nose, but DQ'd for interference.
Prior to that run, Courtman did the same exact thing. He won a $52,000 race on March 19, but it was called off for interference and Courtman was dropped to 2nd.
If Courtman can run a clean race, he's going to be close at the wire. Getting 8/1 odds looks like a bargain in Race 2 at Evangeline.
Race 7
(1) Sophie's Prayer
+350 (7/2)
(2) Half Koo Koo
+400 (4/1)
(3) Scarlett O'hara
+1200 (12/1)
(4) Lady Hopper
+600 (6/1)
(5) Dixie Lady
+250 (5/2)
(6) Strong Beauty
+200 (2/1)
Post Time: 8:13 p.m. CST
Distance:5 ½ Furlongs
Purse:$30,000
Race 7 is a 5 ½ furlong event for a $30,000 purse at Evangeline. Look at Dixie Lady and Strong Beauty to get into it in the stretch run.
Dixie Lady is 6 for 14 and 1st, 1st, 1st, 3rd, 4th in her previous five attempts. She had a 2 ¾ length $42,000 win on January 20, but hasn't been back to the winner's circle since then.
In her latest race, Dixie Lady finished 4th for a $44,000 purse. A trip down to $30,000 should put Dixie Lady back in top contention.
Strong Beauty is likely going to be tough from the outside as well. The mare is 6 for 16 and coming off a promising attempt on April 23.
She beat Shelby by a half-length in a $26,000 assignment. She was previously stakes racing, so the easier race helped out well.
Strong Beauty showed 3rd in the $100,000 Louisiana Champions Day Ladies Sprint Stakes on December 11. She remains in much easier territory for Wednesday.
The No. 6 is likely the best in Race 7 tonight at Evangeline.