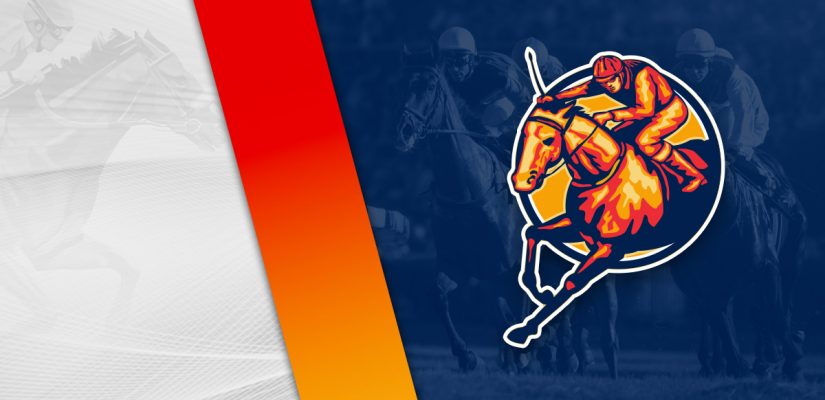 After a profitable weekend on the racetrack, which was closed out with a three for three sweep at Belmont Park. It's back to lower-tier tracks on Monday. BetOnline has eight racecourses scheduled in North America this afternoon and evening. Mountaineer Park is the evening card with post time set for 7:00 p.m. EST in West Virginia.
$25 Risk-Free Horse Racing Bet!
There is big racing at Keeneland to look forward to next weekend. They have six graded races, four of which are Breeders' Cup qualifying events. The main event is the $750,000 Keeneland Turf Mile (Gr. 1) on the grass. The $500,000 Claiborne Breeders' Futurity (Gr. 1) is the next biggest race at Keeneland on Saturday.
There are two small stakes races on Monday at Presque Isle Downs and Finger Lakes. Presque Isle has the Presque Isle Debutante and the Arctic Queen Stakes at Finger Lakes. We are going to make our first stop at Finger Lakes in Farmington. Finger Lakes has a total of nine races worth $189,900. Head below for free Finger Lakes on October 4, 2021.
Race 1
(1) Thanxforlastnite
+250 (5/2)
(2) Traipse In Utopia
+600 (6/1)
(3) Sister Patricia
+160 (8/5)
(4) Trapper Jane
+500 (5/1)
Post Time: 1:10 p.m. EST
Distance:1 Mile 70 Yards
Purse:$12,600
The first race at Finger Lakes is a mile and 70 yarder for a $12,600 purse. Thanxforlastnite and Sister Patricia should be in this race to win it.
Thanxforlastnite is 4 for 36 in her career, and has finished 2nd, 3rd, 6th in her last three. She placed 2nd behind Peggy Sue by a neck for a $12,600 purse. That was impressive.
Thanxforlastnite came back to go 3rd for a $12,600 prize. She finished 6th in her most recent attempt on September 6 for a $12,600 purse. Disappointing.
Sister Patricia is 4 for 33 in her career. She's gone 7th, 4th, 9th, 4th in her previous four attempts. In her latest, Sister Patricia finished 5th for a $12,600 purse. Despite the mediocre finish, a repeat effort might be good enough versus this field.
Race 2
(1) Striking Mike
+600 (6/1)
(2) Kavansburg
+400 (4/1)
(3) Kodiak Brown
+160 (8/5)
(4) Try'n Smart'n Up
+600 (6/1)
(5) Classy Papa
+350 (7/2)
(6) Engineers Report
+500 (5/1)
(7) Take The Edge
+1500 (15/1)
Post Time: 1:39 p.m. EST
Distance:1 Mile 70 Yards
Purse:$12,600
Race is a mile and 70 yards on the dirt for another $12,600 purse. Classy Papa and Kodiak Brown should be the ones to watch in this event.
Classy Papa is 2 for 29, having finished 3rd, 4th, 6th, 5th in his previous four attempts. He showed 3rd on July 26 for a $12,600 purse, and hasn't been in the fray since then.
Classy Papa finished 5th in his most recent outing on August 31. He couldn't get close in the $12,600 assignment, and was held more than 8 lengths away from the front at the wire.
Kodiak Brown has finished 2 for 16 in his career, and has finished 9th, 7th, 2nd in her previous three races. She finished 7th on July 27 for $20,000. That was too tough.
The gelding moved down in class on August 31 and it helped. He placed 2nd behind Kingfish by 2 ¾ lengths for a $12,600 purse. Remaining in the same class should run well versus this competition.
Race 8 – Arctic Queen Stakes
(1) She's Not Bluffing
+2000 (20/1)
(2) Miss Jimmy
+300 (3/1)
(3) Letmetakethiscall
+250 (5/2)
(4) Treatherlikeastar
+1000 (10/1)
(5) Hannah Dances
+800 (8/1)
(6) Wallin Josie
+600 (6/1)
(7) Spin A Yarn
+400 (4/1)
(8) Willow Grove
+2000 (20/1)
Post Time: 4:33 p.m. EST
Distance:6 Furlongs
Purse:$50,000
The $50,000 Arctic Queen Stakes is the feature at Finger Lakes this afternoon. Look for Miss Jimmy and Letmetakethiscall to do something on Monday afternoon.
Miss Jimmy is 9 for 21 in her career, and has finished in the top-2 in six of his previous seven outings. The mare is coming off a win on September 6.
It was a big performance from Miss Jimmy, as she cleared by a length at the wire for a $95,000 purse at Saratoga. Miss Jimmy is coming off a strong workout with a time of 59.20 seconds at 5 furlongs on September 25.
Letmetakethiscall is 13 for 33 in her career, and is going well recently for four wins in her last five attempts. She's coming off a 9 ¼ length blowout for a $75,000 win on March 27.
Off a layoff this could be tough for Letmetakethiscall, though. She's completed 5 furlongs in 1:05.49 and 1:02.90 in her previous two workouts. In a small upset, I prefer Miss Jimmy in this spot in the Arctic Queen Stakes.