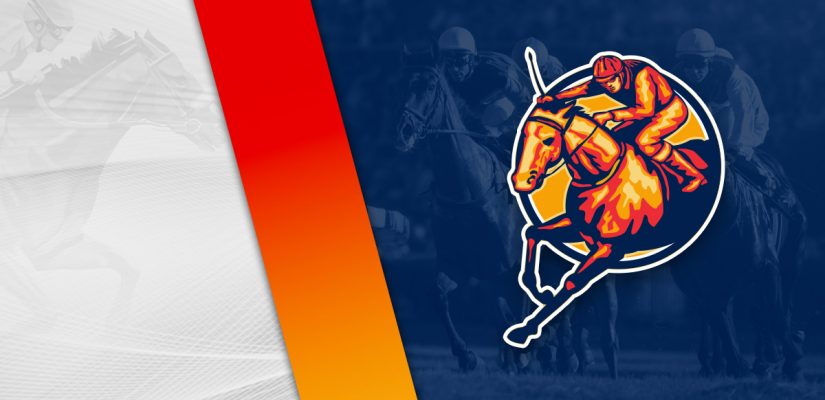 After a big weekend of racing at Keeneland and elsewhere in North America, we gear down on Monday for a small card. There are five thoroughbred tracks in the US open for wagering, and then an additional card in Canada at Fort Erie.
$25 Risk-Free Horse Racing Bet!
Despite the small schedule, there is a stakes race on the agenda at Finger Lakes Racetrack. The New York Breeders' Futurity is scheduled to have more than $200,000 in prize money. Not bad for an early look in the week.
For the upcoming weekend, you can find the biggest assignment at Belmont Park with the $400,000 Hill Prince Stakes (Gr. 2). The Breeders' Cup qualifying races are in the books, so don't go looking for a Challenge Race.
We'll get to a multi-race bet at Indiana Grand on Monday afternoon. This is the early Daily Double and Pick 3 at Indiana Grand in Shelbyville. Feel free to do what you want with it, including playing just a Daily Double, two Daily Doubles, or the Pick 3. Head below for our free Indiana Grand Pick 3 and Daily Double picks for October 18, 2021.
Race 1
(2) Indy Rebel
+1200 (12/1)
(3) Sha Kon O Hey
+400 (4/1)
(5) Student Prince
+3000 (30/1)
(6) Broken Justice
+450 (9/2)
Post Time: 2:25 p.m. EST
Distance:1 1/16 Miles
Purse:$36,000
The first assignment and leg of our multi at Indiana Grand covers 1 1/16 miles for a $36,000 purse. Sha Kon O Hey and Altered boast the best chance of going in for a win this afternoon in Race 1.
Sha Kon O Hey is winless in nine attempts, with encouraging results recently that should put him into contention on Monday afternoon. He's finished 2nd, 3rd, 3rd in his previous three races.
Sha Kon O Hey placed 2nd behind Cielo Blu by 1 ½ lengths in a $38,000 event. This was a good try for Sha Kon O Hey.
However, he wasn't really able to build on it, and most recently showed 3rd in a $38,500 event on August 31. Expect him to go close again, but Altered might be too tough.
Altered is winless in nine races, though this event presents a beautiful opportunity. He showed 3rd in his last two attempts, showing on August 30 for a $36,000 purse.
Altered did the same in his next race on September 14 in the same class. He was up and caught late at the wire. These terms and competition should suit him better. I like Altered to open the day in Shelbyville with a win.
Race 2
(1) Imtheprince
+450 (9/2)
(2) Beaumont Beaux
+1000 (10/1)
(3) Hard Night
+3000 (30/1)
(4) Chrome Finish
+160 (8/5)
(5) Dreams of Yvonne
+2000 (20/1)
(6) Fiftyfive Strong
+350 (7/2)
(7) El Bohemio
+300 (3/1)
(8) Tree Geniuses
+2000 (20/1)
Post Time: 2:56 p.m. EST
Distance:1 Mile 70 Yards
Purse:$15,500
Race 2 covers a mile and 70 yards for a $15,500 purse. I would give Fiftyfive Strong and Chrome Finish and a good look in this one.
Fiftyfive Strong is a one-time winner with a score in his most recent attempt on August 31. It made for the fourth straight assignment that Fiftyfive Strong has finished in the top-3.
He won a two-horse race on August 31 over Dime Cuando by 5 ½ lengths. Much too easy with zero competition.
Prior to that outing, Fiftyfive Strong showed 3rd in a $17,500 event on July 12. This was after placing 2nd behind Ferryboat by 3 ¾ lengths in a $16,000 race.
Chrome Finish is dropping in class after going 8th on September 9 at Kentucky Downs in a $43,000 assignment. Before that loss, Chrome Finish was a 5 length winner over Blake B. for a $19,000 purse.
Back down to $15,500 from a $43,000 loss, expect Chrome Finish to be a tough runner in this one.
Race 3
(1) Jazzy Times
+300 (3/1)
(2) Yes He Can
+350 (7/2)
(3) Rollin With Olin
+1000 (10/1)
(4) Living Vicariously
+1500 (15/1)
(5) Lost In Limbo
+2000 (20/1)
(6) Creative Credit
+1000 (10/1)
(7) Never Have I Ever
+160 (8/5)
(9) Sturgill
+1200 (12/1)
(10) First Deputy
+1000 (10/1)
Post Time: 3:27 p.m. EST
Distance:5 Furlongs
Purse:$32,000
Race 3 covers 5 furlongs for a $32,000 purse on the turf. This closes out our multi-bet on Monday afternoon at Indiana Grand. Jazzy Times and Never Have I Ever are going to have a bold chance to potentially complete the ticket.
Jazzy Times is 6 for 45 in his career, and has finished 2nd, 2nd, 1st, 3rd, 3rd, 4th in his previous six attempts. He had a win on June 23 for a $100,000 purse in the Dark Star Turf Sprint Stakes. It was an impressive win by a head.
Impressive race from Jazzy Times, though hasn't been as sharp recently. Jazzy Times finished 4th on October 7 for a $40,000 purse. This was after showing 3rd on August 11 in the $65,000 William Garrett Stakes.
Never Have I Ever is 9 for 22 in his career, and has finished in the top-3 in five of his previous six attempts. He is coming off a big showing on September 4 in a $32,000 assignment.
Never Have I Ever defeated Seven Scents by 1 ½ lengths in a good look for the gelding. A repeat performance should be enough.