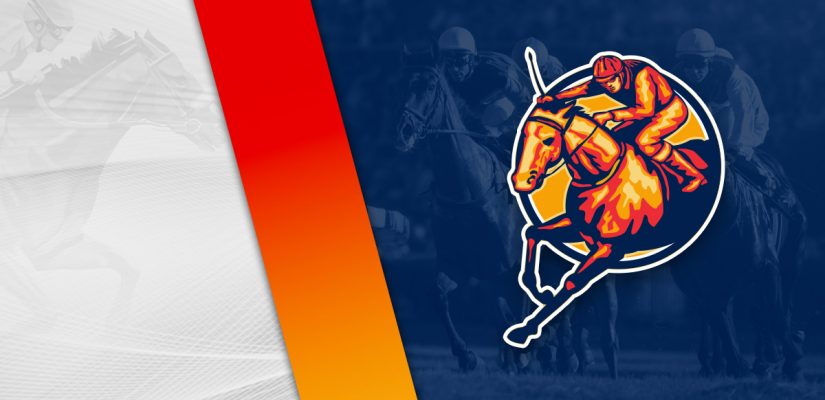 Indiana Grand is one of 12 racecourses offering thoroughbred racing betting at BetOnline on Wednesday. There should be some harness racing if that's your thing today as well. Northfield Park always has a gauntlet of races throughout the week. There were 15 races at Northfield Park last night. I haven't dabbled too much into harness racing in the past. As far as I recall, I've made a few wagers and won them all, so can't complain about that.
Indiana Grand is scheduled to have ten races on Wednesday for a total of $233,500 on the docket. Seven events are scheduled for the dirt, while three are expected to run on the turf. It's supposed to be a nice day in Shelbyville, with temperatures in the upper 70's so don't expect any races being transferred to the main track from the grass.
$25 Risk-Free Horse Racing Bet!
There isn't much in the way of stakes racing on Wednesday. Monmouth has one $100,000 stakes race in the running of the Jersey Shore Stakes, but that's all for marquee racing. The same goes for Thursday, with Keeneland hosting the only notable stakes race with the running of the Sycamore Stakes (Gr. 3).
The feature race at Indiana Grand is worth just $36,500, though more money is at Indiana Grand on Wednesday than most other tracks. We also have picks at Emerald Downs for Wednesday if you are interested in more horse racing picks. Head below for our free Indiana Grand picks for October 14, 2020.
Race 3
(1) Justa Simple Girl
+600 (6/1)
(2) Quiet Contender
+1500 (15/1)
(3) Golden Command
+600 (6/1)
(5) Ginormous
+1500 (15/1)
(6) Da High Commission
+200 (2/1)
Post Time: 3:16 p.m. EST
Distance:5 ½ Furlongs
Purse:$36,500
Race 3 is the feature race at Indiana Grand, with 5 ½ furlongs for a $36,500 purse. Da High Commission and Azurita could get into a duel in the stretch for the win in Race 3. It should be a good one. Da High Commission has had some momentum recently to finish 1st, 2nd, 6th, 2nd in her previous four outings. In her win on June 28, Da High Commission won by 10 ¼ lengths in a blowout, though that was for only a $15,000 purse.
In her most recent jaunt, Da High Commission finished a length behind Shes the Cause in a $36,500 event. She is fully capable of keeping up in this class, as that performance showed. Da High Commission was first out of the gate and had the lead in the stretch, but was unable to hold on in the final furlong.
It would have been a wire-to-wire win if she was able to fend off her foe. Note that race was at 6 furlongs, so perhaps 5 ½ furlongs will suit her more. In 13 career races, Da High Commission has won two outings.
Azurita is feeling good after going 2nd, 1st, 1st in her last three races. After finishing 7th as a rookie on June 22 in a $33,000 event, Azurita was able to follow up to place 2nd and then back-to-back wins. In her win on August 5, Azurita won by 7 lengths in a $33,000 race and then returned on September 17 to earn another easy win by 4 ½ lengths. This is just a tad up in class on Wednesday, but should be a suitable event for Azurita to win.
Race 5
(1) Sweet Byrnlie
+1500 (15/1)
(2) Quite a Babe
+1200 (12/1)
(3) Abby's Destiny
+100 (1/1)
(4) Love Broke Thru
+350 (7/2)
(5) Shape of You
+350 (7/2)
(6) Colonial Jim
+1500 (15/1)
(7) Elle's Crown
+1000 (10/1)
Post Time: 4:12 p.m. PST
Distance:6 Furlongs
Purse:$11,000
Race 5 is our next stop at Indiana Grand on Wednesday afternoon. This event will feature 6 furlongs on the main track for a $11,000 purse. Shape of You and Abby's Destiny should have a strong showing in this one. Shape of You is 4 for 28 in her career, with her most recent win on August 18, 2019 at Ellis Park. That's 13 straight races without a trip to the winner's circle for Shape of You.
She showed some signs of life in her most recent outing to show 3rd on September 25. Shape of You finished 3rd in a $10,800 event for okay form. In her previous five outings, Shape of You has finished 11th, 2nd, 4th, 4th, 3rd, so four straight performances in the top-3 might be something to build on for her. This isn't the trickiest of races in the world, so she should be able to make something happen. Getting some of the prize money should be attainable here.
Abby's Destiny has been going to the winner's circle in recent runs. She has finished 1st, 1st, 2nd, 1st, 5th in her last five outings. After winning a $11,000 event on September 16, Abby's Destiny went up in class to a $15,000 race, but fell out of form at that level and finished 5th out of 6 horses. Back down to a class where she feels most comfortable, look for Abby's Destiny to run a much stronger race versus this company.
Race 6
(1) Local Honey
+1500 (15/1)
(2) Double Advantage
+160 (8/5)
(3) Comes N Threes
+450 (9/2)
(4) Daaher Street
+800 (8/1)
(5) Fever Temple
+350 (7/2)
Post Time: 4:40 p.m. EST
Distance:1 Mile
Purse:$34,500
Race 6 is one of the bigger races at Indiana Grand on Wednesday. We have a mile of racing for a $34,500 purse between seven runners. Bayou Cat and Double Avantage have both been coming on hard recently and should stand a decent chance of getting the top prize in Race 6. Double Advantage likely has a slight advantage of this contest, though.
Bayou Cat is 1 for 8 in his career with his first win recorded in his most recent outing. He beat Defence Model by 3 ¼ lengths for a $33,000 purse as the betting favorite. In 5 of 8 career races, Bayou Cat has finished in the top-3. He is coming off a pretty nice workout on October 7 with a time of 49 seconds at 4 furlongs.
Double Advantage is a recent winner as well with a win on September 23 for a $33,000 purse over a very solid Flying Samurai by 2 ½ lengths. This was after starting off his career going 6th, 6th, 1st in disappointing fashion. Double Advantage is not exactly a cheap horse.
He was purchased at auction for $180,000 in 2018. A horse with that price tag is expected to win $33,000 races and beyond. He gets a favorable starting post position from the No. 2 spot, while Bayou Cat is closer to the outside. If Double Advantage runs up to his full potential, a win should be within easy striking distance.